John McCain's Former Running Mate Sarah Palin Not Invited to Memorial
Senator John McCain's presidential running mate, former Alaska Governor Sarah Palin, will reportedly not be attending his memorial.
Carla Eudy, a fundraiser who has worked with and been friends with the McCain family for decades, confirmed to People magazine that both President Donald Trump and Palin were not invited to the funeral.
NBC News White House Correspondent Kelly O'Donnell tweeted on Wednesday that Palin wasn't expected to attend and that a source for the family wouldn't comment on the matter out of respect for the McCain family.
"Out of respect to Senator McCain and his family we have nothing to add at this point," the family source told O'Donnell. "The Palin family will always cherish their friendship with the McCains and hold those memories dear."
The announcement of Palin's absence from the memorial came on the 10-year anniversary of McCain choosing Palin as his vice-presidential running mate in the 2008 election. During a rally in Dayton, Ohio, in 2008, McCain called Palin a woman with an "exceptional record" for standing up to corruption and the government when it's wasting taxpayer dollars. He added that she had "strong principles, a fighting spirit and deep compassion."
"She stands up for what is right and she doesn't let anyone tell her when to sit down," McCain said before introducing Palin to the cheering crowd.
In his book, The Restless Wave: Good Times, Just Causes, Great Fights, and other Appreciations, McCain applauded Palin for her performance as his vice-presidential nominee but admitted that he wished that he had selected former Connecticut Senator Joseph Lieberman instead.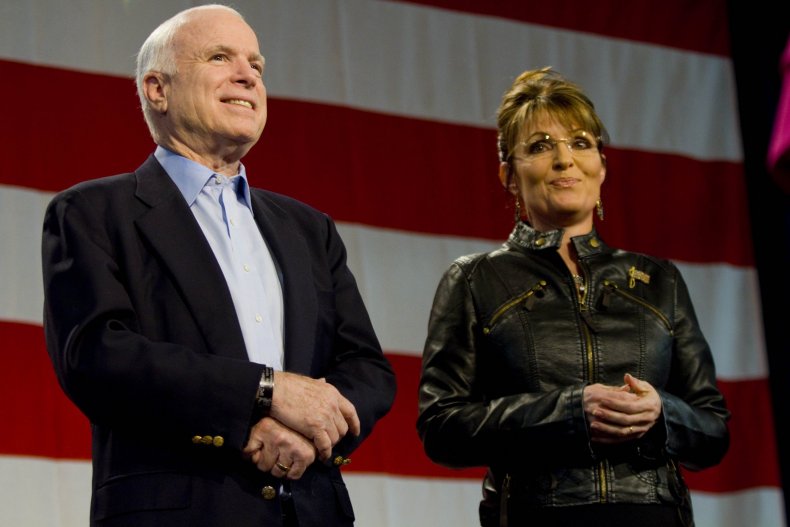 Palin told NBC News that hearing McCain had regrets about choosing her as his 2008 running mate was a bit of a "gut punch," but that she was going to choose to "look back on the good times that we did have together."
Following McCain's death, Palin paid tribute to her former political partner on Twitter on Saturday, saying that the world lost an "American original."
"Sen. John McCain was a maverick and a fighter, never afraid to stand for his beliefs. John never took the easy path in life - and through sacrifice and suffering he inspired others to serve something greater than self," she wrote. "John McCain was my friend. I will remember the good times. My family and I send prayers for Cindy and the McCain family."
On Wednesday, the public was invited to pay their respects to the senator, whose flag-draped casket was brought to the Arizona Capitol. A private ceremony also took place, during which Governor Doug Ducey said that imagining Arizona without McCain is like "picturing Arizona without the Grand Canyon."
McCain's casket will also be brought to the U.S. Capitol for another viewing and McCain's final memorial service will take place on Sunday. He passed away on Saturday at the age of 81 after a battle with glioblastoma.