John McCain Tells Hillary Clinton To 'Shut Up' Like He Did After Losing to Obama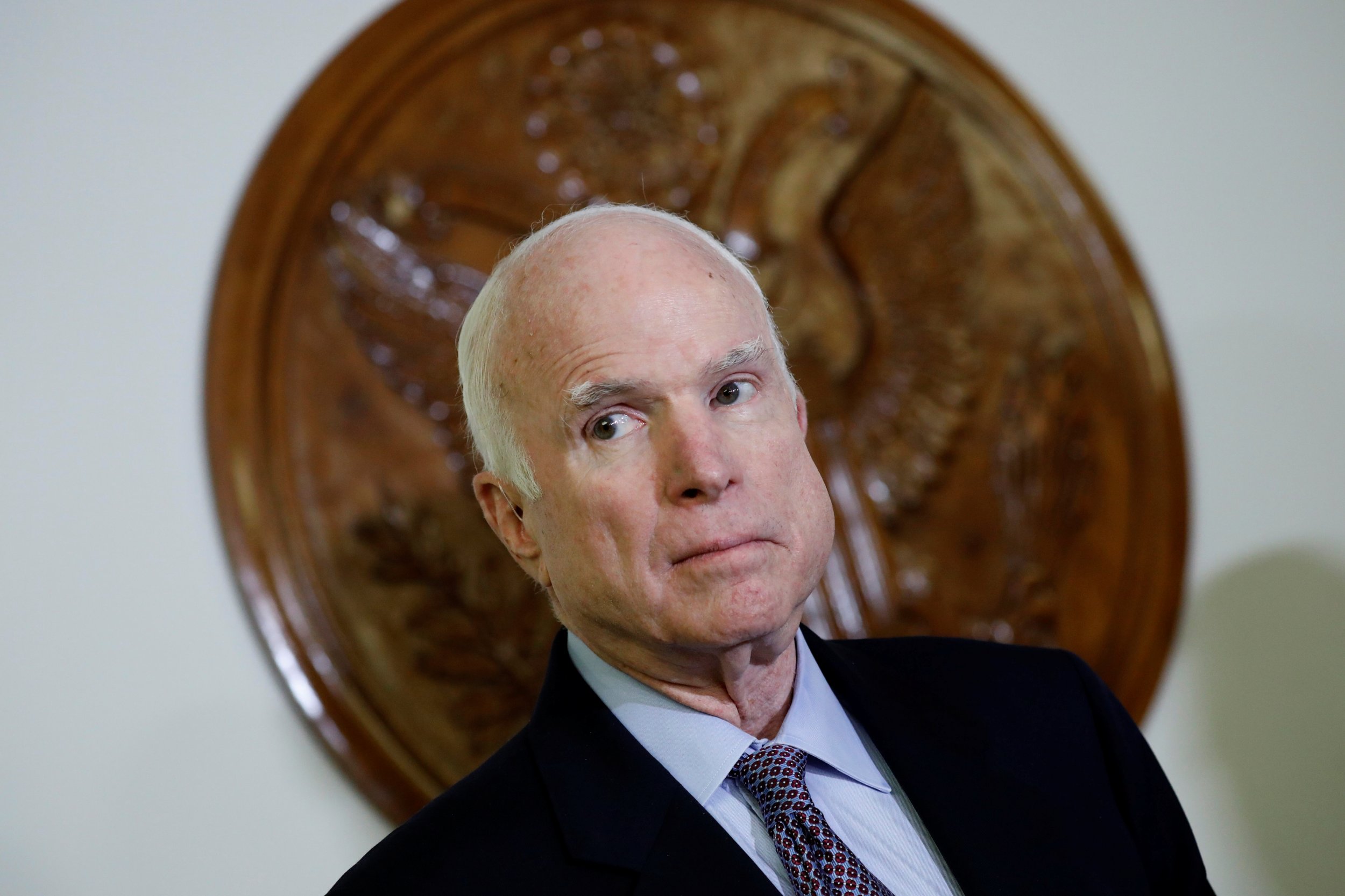 Senator John McCain says Hillary Clinton should not have published her book so soon after losing the 2016 election because it makes her look like she's still campaigning and has nothing else to do.
"What's the fucking point? Keep the fight up? History will judge that campaign, and it's always a period of time before they do," McCain told Esquire magazine in a long interview Monday. "You've got to move on. This is Hillary's problem right now: She doesn't have anything to do."
McCain, 81, spoke with the magazine about his recent cancer diagnosis and the mutual animosity between him and President Donald Trump. But he had sharp criticism for Clinton as well, arguing that the defeated Democratic candidate should have taken a page from his 2008 presidential run as a Republican against Barack Obama.
"One of the almost irresistible impulses you have when you lose is to somehow justify why you lost and how you were mistreated: 'I did the right thing! I did!'" He said. "The hardest thing to do is to just shut up."
Clinton's book What Happened was published at the beginning of September, less than a year after the election and seeks to explain why she lost.
Read more: Donald Trump tells Hillary Clinton to get on with her life, but he's the one tweeting about the election a year later
During her book tour this fall, Clinton laid blame on Russia's hack of her campaign's emails: "Even if Russian interference made only a marginal difference," Clinton said during a speech at Stanford University this October, "this election was won at the margins, in the Electoral College."
In November Clinton told Mother Jones reporter Ari Berman that "there are lots of questions" about the election's legitimacy. Russian meddling and GOP voter suppression "likely" cost her Wisconsin, she said.
Her book and complaints about how the election have left her open to criticism from President Trump that she is the "biggest loser of all time" because she can't get over her loss. "Get on with your life," Trump told Clinton in a tweet this month.
After McCain was defeated in 2008, a book called Game Change featuring contributions from Steve Schmidt, a senior advisor to McCain's presidential run, revealed the campaign's struggle to get his running mate Sarah Palin—then Governor of Alaska—educated on basic facts. Palin did not understand North and South Korea are separate countries and Saddam Hussein was not behind September 11, according to reports.
McCain, who now has has plans to write his own memoir, told Esquire he wanted to set the record straight, but resisted.
"Listen, my own campaign manager was part of a book that trashed me. Steve Schmidt was one of the big contributors to Game Change," he said. "You've got to understand that you can't rewrite history."