John McCain's Vietnamese Jailer Pays Tribute: 'I Liked Him Personally'
John McCain's former Vietnamese jailer has voiced praise for the senator and former prisoner of war, who died on Saturday.
Colonel Tran Trong Duyet was in charge of the Vietnamese prison where McCain was held after his plane was shot down in 1967 until he was released in a prisoner exchange in 1973. Speaking to Vietnam News, an English-language daily in the country, Duyet paid tribute to the senator over the weekend.
"At that time I liked him personally for his toughness and strong stance. Later on, when he became a U.S. Senator, he and Senator John Kerry greatly contributed to promoting Vietnam-US relations so I was very fond of him," Duyet said.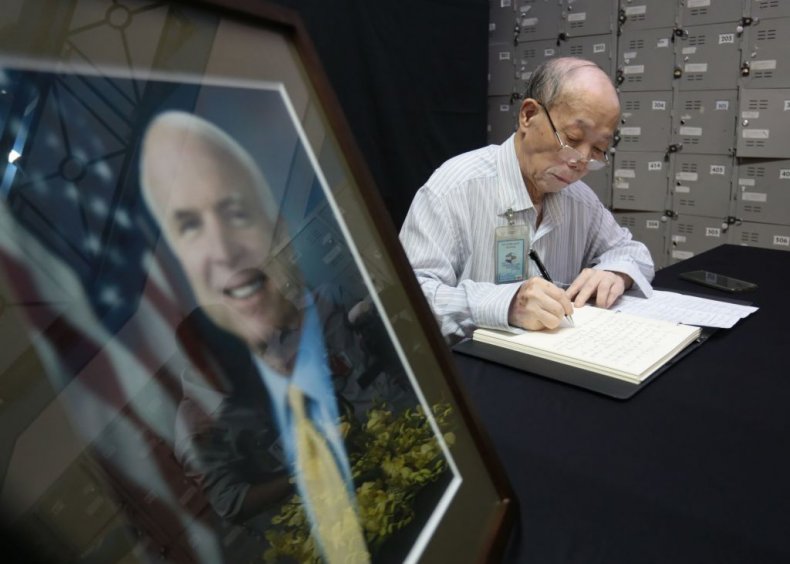 "When I learned about his death early this morning, I feel very sad. I would like to send condolences to his family. I think it's the same feeling for all Vietnamese people...," he added.
During his time as a POW, McCain faced torture and was held in solitary confinement for two of the five and a half years he was captive. He was also initially refused medical treatment after being captured after his crash, despite serious injuries.
His personal experience with torture made McCain a staunch opponent throughout his political career of the U.S. using such practices in interrogations. However, despite his ordeal at the hands of the Vietnamese, the senator co-sponsored legislation with former Senator John Kerry in 1994 to end economic sanctions against the nation.
According to Military Times, many people in Hanoi, the capital of Vietnam, came out to the U.S. embassy to pay their respects to the deceased war hero. Others visited a monument by Truc Bach lake, the location McCain landed with his parachute after ejecting from his damaged aircraft. A condolences book was also placed at the U.S. embassy for those who wished to pay their respects to sign.
According to the Vietnam News Agency, Prime Minister Nguyen Xuan Phuc and National Assembly Chairwoman Nguyen Thi Kim Ngan personally sent their condolences to the family of the senator. Foreign Minister Pham Binh Minh also visited the U.S. embassy to pay his respects.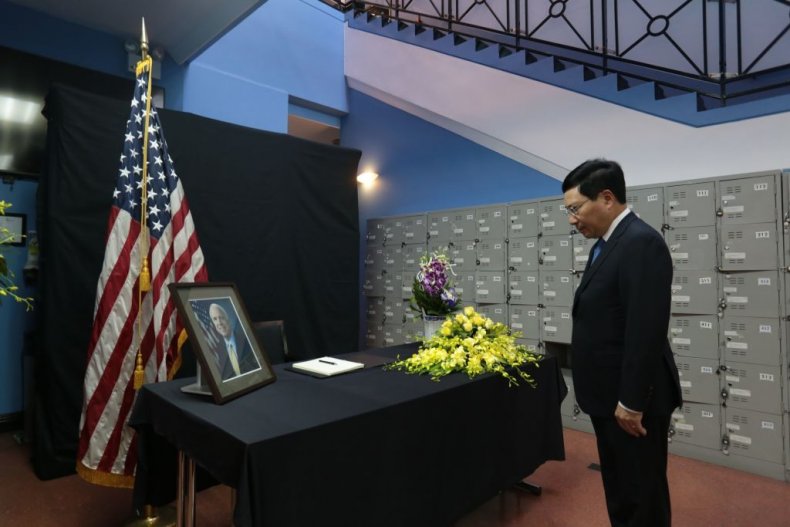 "We treasure efforts made by McCain in building and developing the Vietnam-US relations over the past decades," Foreign Ministry Spokesperson Le Thi Thu Hang said.
Pham Gia Minh, a 62-year-old businessman who signed the condolences book, told the Associated Press that "war is losses and suffering ... But the will of a brave nation is to go beyond that to look to the future."
"The Vietnamese people have that will and Mr. John McCain has that will," he said. "We both have that will to overcome the painful past, overcome the misunderstanding to together build a brighter future."