John McCain Wants Immigration Reform, But Is That Possible in Trump's America?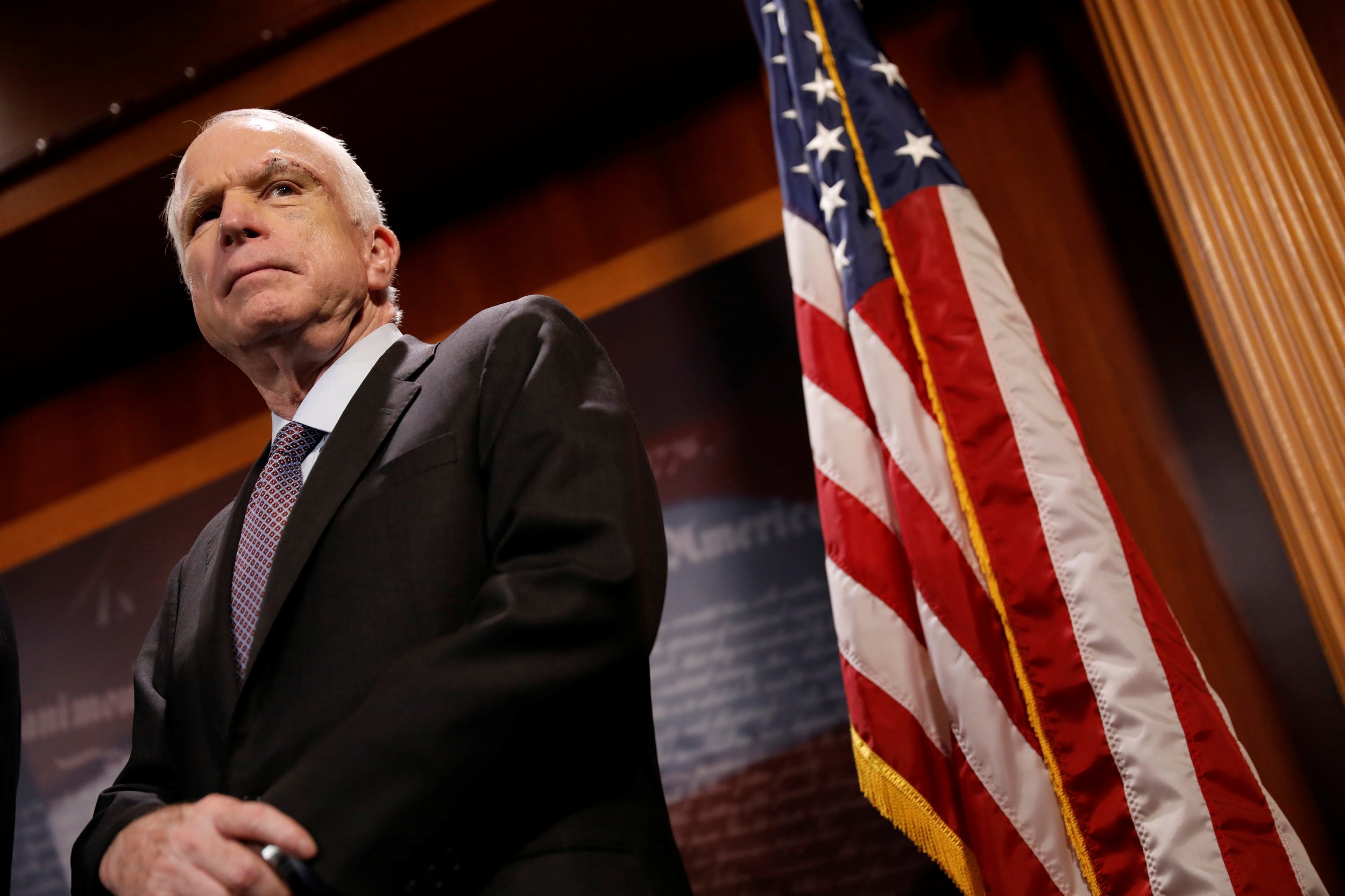 Arizona Senator John McCain, temporarily beloved by some on the left for casting a deciding vote against Obamacare repeal, wants the Senate to pursue bipartisan immigration reform. But with the high-profile immigration reform failure in 2013 and the election of immigration hard-liner Donald Trump, McCain will face an uphill battle.
McCain told The Arizona Republic Thursday that he discussed the matter with Senate Minority Leader Chuck Schumer before leaving Washington for brain cancer treatment.
"Immigration reform is one of the issues I'd like to see resolved," McCain said. "I've got to talk to him [Schumer] about when would be the best time. I think there are all kinds of deals to be made out there. I really do."
Immigration reform will be an incredibly difficult task in the current political environment, however. In 2013, McCain and Schumer worked together on a bipartisan "Gang of Eight" bill which passed the Senate but died in the House. That bill would have created a path to citizenship for undocumented immigrants already in the United States in exchange for increased border security and visa tracking.
Most congressional Republicans likely will have no interest in supporting any proposals Democrats would be willing to sign on to. Arguably, Trump made building a wall on the southern border the central tenet of his winning campaign. His administration is touting a decrease in border-crossing rates, and increases in requests from localities for removal of undocumented immigrants who allegedly have committed crimes.
This week, the administration expressed support for a long-shot bill that would create a merit-based immigration system prioritizing English-speaking immigrants and reducing overall legal immigration numbers.
But McCain told the Republic he believes Trump's calls for a border wall could reopen bipartisan negotiations on the issue, adding that Schumer agreed it is time for the Senate to return to discussing it.
"Basically it's what we passed last time, brought up-to-date with the new challenges," McCain said. "It's still there. We got 68 votes, I think, the last time. I don't think that's going to be any different next time."
Fellow Arizona Republican Senator Jeff Flake also was a "Gang of Eight" member and discusses the process in his new book, Conscience of a Conservative. He wrote that the bipartisan group "proved that the process as designed can actually work."
Although McCain admitted Trump may not agree to move forward on the issue, he said if it passes the Senate and House by a large enough margin, he may not have a choice.
"I don't know, but what I do know is that if we could pass it through the House and Senate the way we passed it through the Senate last time, it's like this Russia [sanctions] bill, it doesn't matter," said McCain. "Do you think he signed it because he liked it?"