John McCain, Who 'Recognized the Threat' Russia Posed to Ukraine, Makes Appearance in Impeachment Trial Arguments
Lead House impeachment manager Rep. Adam Schiff of California deployed the use of a video Friday featuring the late Sen. John McCain, a former Arizona Republican who frequently drew scorn from President Donald Trump and acted as a thorn in the side of the administration.
On the final day of their opening arguments, the Democratic managers sought to convince senators why Trump was guilty of the second impeachment article against him—obstruction of Congress—and should be removed from office.
"One American, a war hero and statesman who is no stranger to this body, recognized the threat posed by Russia's invasion of Crimea, Senator John McCain," Schiff said.
The short clip showcased McCain describing an opportunity for the U.S. to help Ukraine and fend off Russia's grip on the Eastern European region. The U.S. military aid for Ukraine that Trump withheld as he pressured the country to investigate the Bidens was meant to assist fighting off Russian aggression.
"Democracy gets rid of corruption, economy is really improving and it's right on the border of Russia," McCain said in an interview with Bloomberg TV. "I think it makes [Russian President Vladimir Putin] very nervous if there were a success in Ukraine in bringing about a free and open society and economic success, which is not the case in Russia, which is propped up by energy."
Schiff added that "achieving the Ukrainian success that McCain and many of us hoped for proved to be a daunting task."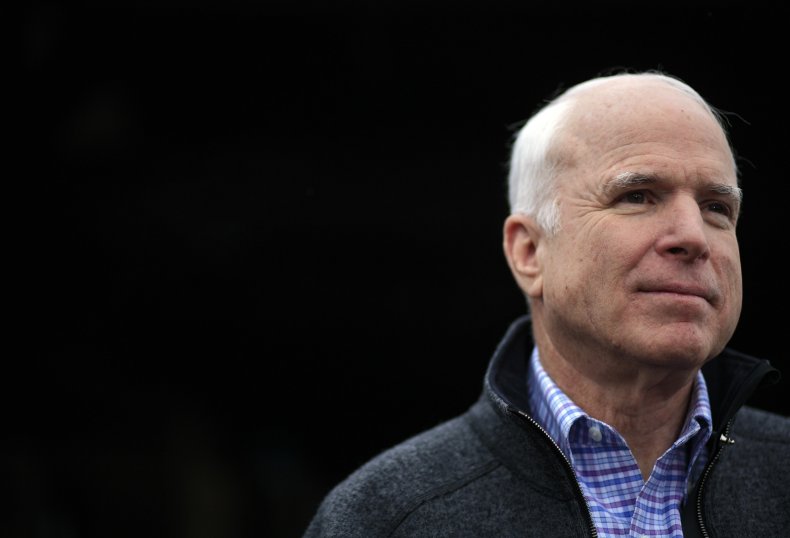 The clip of McCain, who lost a battle to cancer in 2018, was yet another example of the impeachment managers using the words of Republicans and some of Trump's staunchest defenders against him.
In addition to showing senators the testimonies of the various current and former administration officials and legal scholars who testified in the House impeachment inquiry, the managers used footage of those closest to Trump. That included Sen. Lindsey Graham (R-S.C.), Attorney General William Barr, Trump legal team lawyer and Harvard professor Alan Dershowitz, and acting White House chief of staff Mick Mulvaney.
Democrats also used clips featuring Trump himself, who in the past has publicly called on foreign governments to investigate the Bidens and has said he'd accept dirt from other countries on his domestic political opponents.
Most notably, McCain was remembered for his iconic thumbs down vote that helped defeat the Republican effort to repeal key portions of the Affordable Care Act, former President Barack Obama's signature health care law.
Since then, Trump has directed numerous insults at the former lawmaker, before and after his death, including characterizing his health care vote as a "stain" for McCain's legacy and deriding him as "last in his class" in college.
Trump claimed credit for the late senator's Washington, D.C., funeral where he laid in state, an honor bestowed to few, and that he failed to receive a proper thank you from the family members McCain left behind.
"I gave him the kind of funeral that he wanted," Trump said at the time. "I didn't get [a] thank you, but that's okay."