John McCain's Mother Roberta McCain Credited Long Life to No Exercise and 'Not Doing What I'm Supposed to Do'
Roberta McCain, mother of late politician John McCain, died on Monday at the age of 108. While her death brought a flood of condolences from the American people, many rejoiced for the long and lovely life McCain lived.
Before her death, McCain commented on how she'd come to live so long, and the advice she gave may surprise you. In a conversation with Vogue in 2008, McCain detailed her "luck"-filled life, and how she lived, at the time, into her 90s.
"I don't do anything I'm supposed to do. I don't exercise and today, I've already eaten a half a box of caramel popcorn," she said, a line which ended her Washington Post obituary on Monday. "Honey, I've had a dream life, and it was all luck."
Twitter conversations centered around the line, though there's much more to it than forgoing the gym in respect for McCain's life. Reporter from The Daily Beast, Lachlan Markay, shared the quote on Twitter and it opened a door to other words of advice for living a long, happy life.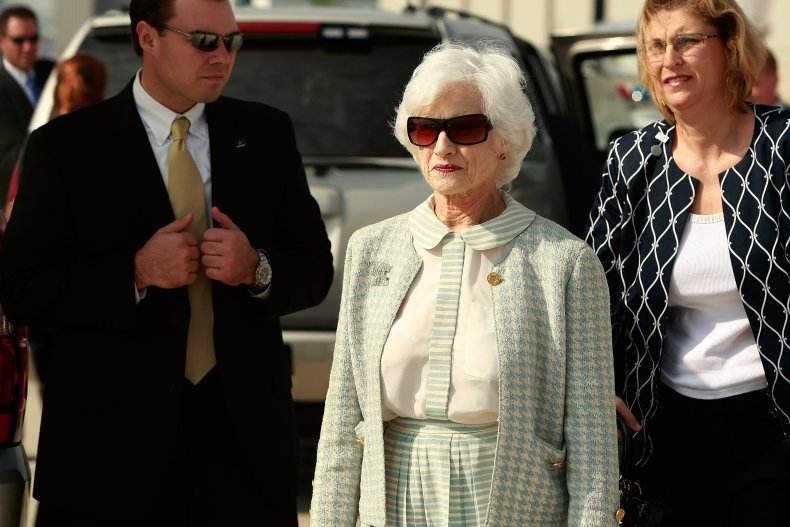 "My grandmother lived to 104. her recipe for a long life?" wrote @ellenink. "Cheap vodka (the kind that could take wallpaper off the walls), cigarettes, and telling people exactly what she thought. nary a vegetable to pass her lips, unless fried."
It seemed this unhealthy diet wasn't an isolated tactic. "Mine made it to 98, on a diet of mostly Bailey's Irish Cream, jelly beans, and hot dogs," wrote @Tom_Blersch.
Other comments seemed to agree that McCain, even to those who did not know her, seemed like a beautiful woman inside and out.
The mother's death comes about two years after that of her son, John, who died of brain cancer in 2018 at the age of 81. McCain was introduced to the public when John had his first presidential run in 2000. He later went on to win the Republican presidential ticket against Barack Obama in 2008. At the time, she was 95.
McCain had plenty of unique stories to tell about her life, like when she eloped to Mexico to marry a man her mother didn't approve of. "I realize now I was so immature. I just took life as it came — still do," she said to Vogue.
McCain leaves behind family members including granddaughter Meghan McCain, political commentator and panelist on The View. McCain offered a tribute post to her "nana" on Twitter Monday.
In addition, John's widow Cindy McCain announced the passing of McCain on the platform.