Convicted Murderer John Modie on the Run From Ohio Prison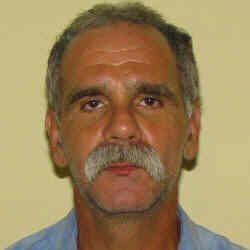 A manhunt is underway after a convicted murderer escaped from a southern Ohio prison on Sunday night.
John Modie, who was convicted of robbery, murder and escape in Cuyahoga County, Ohio, was imprisoned in the Hocking Unit of the Southeastern Correctional Complex in Nelsonville, Ohio, located about 70 miles southeast of Columbus. He was discovered missing when he was not present during an 11 p.m. count on Sunday night, according to the Ohio Department of Rehabilitation and Correction. Details on the method of his escape haven't yet been made available.
Modie, 58, was sentenced to 15 years to life for killing a woman in 2003, according to police records. On Monday morning, the department confirmed Modie's escape in a post on Facebook. He's described as a white male with gray hair and a gray moustache, 6 feet 4 inches tall and weighing roughly 230 pounds.
"We are working with the local law enforcement agencies and the Ohio State Highway patrol. All available resources are being utilized to apprehend John Modie," the Ohio Department of Rehabilitation and Correction said in a statement Monday. "We ask for public assistance by reporting anything suspicious to law enforcement. You may see officers from various agencies in the area. Considering the storms that passed throughout the night, we suspect the escapee may seek shelter."
The department added that Modie "should be considered dangerous."
Hocking College, located three miles away from the facility from which Modie escaped, said Monday that its main campus is closed until noon because a "dangerous inmate has escaped from local prison." The college advised students to stay indoors and report any suspicious activity.