John Mulaney Called 'Transphobe' After Letting Dave Chappelle Open for Him
John Mulaney is facing the wrath of social media users after being branded a "transphobic" for performing with Dave Chappelle.
Chappelle opened for Mulaney at a recent show of his but both comedians have received criticism after Chappelle, who has faced numerous accusations of being transphobic in the past, reportedly told "transphobic" and "homophobic" jokes as part of his set.
Former Saturday Night Live writer Mulaney, who has a huge following online, has been pulled into the controversy as his fans question why he allowed Chappelle to open for him.
Audience members attending Mulaney's From Scratch stand-up show in Columbus, Ohio, on Friday shared their frustration online after Chappelle appeared as a surprise guest.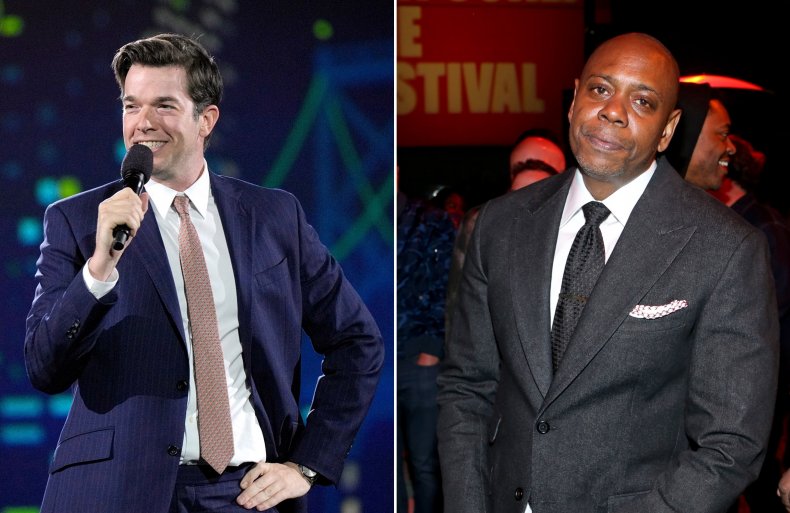 In a six-tweet thread, @boobeoisie described their experience at the show and recalled what Chappelle said onstage.
"Tell me why I just went to the John Mulaney show and Dave Chappelle was a surprise opener and made not only a transphobic joke but a homophobic one," they wrote. "He told a joke about how he was attacked by a homeless man and thought it was a trans man at first.
"Then [he] made a joke about two 17 yr olds in the crowd masturbating and then called them gay," @boobeoisie said. They also claimed that Chappelle was loudly booed by a few people for the "transphobic" joke but the majority of people "cheered and laughed."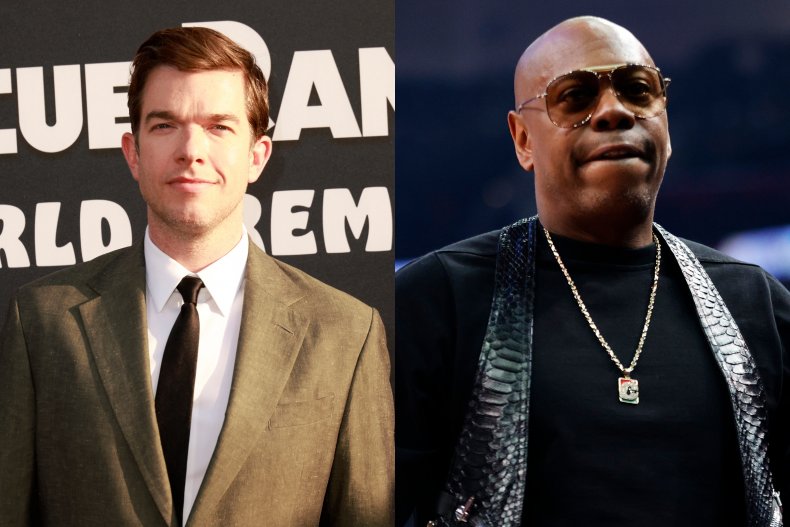 Twitter user @testosteronejew said they felt "ambushed" by Chappelle who they said "told a bunch of transphobic jokes" then Mulaney "hugged him at the end." @raegan_givant wrote: "12,000 people laugh at a transphobic joke, while you're a trans person in the audience who didn't know the transphobic comedian would make a surprise appearance at the John Mulaney show? yeah. wasn't fun."
One Twitter user expressed their regret at purchasing tickets for an upcoming performance. "So sorry I bought tix for Durham. Had no idea you were a transphobe. Surprise! We're gonna sit out the rest of your career, bye," wrote @hexelnutt.
Another Twitter user who said they were in the audience of the show defended Mulaney and attempted to explain what happened. "He made one transphobic joke, the joke was one line after one line of setup and it went as followed," @FillsAnime wrote. "'I mean, it wasn't a gun, it was a knife! A gun that identifies as a knife?' He then paused, smiled a bit, and moved on quickly." In a lengthy Twitter thread, the author said that Mulaney looked extremely uneasy afterwards.
Newsweek could not independently verify these claims.
While Chappelle has faced plenty of backlash over the past few years, Mulaney became the target for many for his association with Chappelle.
"John Mulaney allowing and even encouraging transphobic jokes at his show is insane to me because is he even aware of who's his audience," questioned @guillermothgoth.
American writer Jeff Yang tweeted that "for some fans, this was painful, unpleasant and threatening. And it being a free bonus doesn't make it better."
"WOW do i care about him platforming transphobes and siccing them on the queers in his audience with absolutely no warning," writer Jeanna Kadlec wrote. She added: "You are judged by the company you keep, my guy."
Creator and writer of the blog Gender Analysis Zinnia Jones questioned Mulaney. "John Mulaney is dangerous to us for the same reason as Dave Chappelle, he's offered the public a choice between the funny guy they know who makes them laugh, or disposing of trans people as valid beings with an interest in our own humanity," she wrote.
"Very brave of John Mulaney to make sure no one in the audience could record the show knowing that he was gonna bring out Dave Chapped Lips as an anti-trans treat," wrote author Saeed Jones. Many Twitter users came back at this and mentioned that every show of Mulaney's and many other comedians don't allow audience members to have their phones out anymore.
Mulaney's latest movie Chip 'n Dale: Rescue Rangers is available to watch on Disney+ now.
Newsweek has reached out to John Mulaney, Dave Chappelle and Jeff Yang.