John Mulaney Would Accept Pete Buttigieg's Offer to Play Him in a Movie
In a tweet on Friday, comedian John Mulaney tweeted that he accepted former South Bend, Indiana Mayor Pete Buttigieg's offer to play him in a biopic.
When asked who he'd like to play him in a biopic, Buttigieg responded with the former Saturday Night Live-writer. "I'm hoping for John Mulaney," he said to a rapturous applause.
"I could see that," Fox-affiliate host Elex Michaelson said.
Poking fun at his lack of film roles, the comedian tweeted that he would accept. "As I accept all movies offered (2 so far) I accept," Mulaney wrote. While not explicitly an endorsement, it does bring the candidate's resemblance to the comic to light.
Buttigieg's campaign did not immediately respond to Newsweek's request for comment. Attempts to contact Mulaney directly were unsuccessful.
Mulaney is slated to host SNL for the third time on February 29. Current SNL cast member and 'Weekend Update' anchor Colin Jost has played the former mayor in past sketches but perhaps after Buttigieg's endorsement, The Comeback Kid comic may step into the role.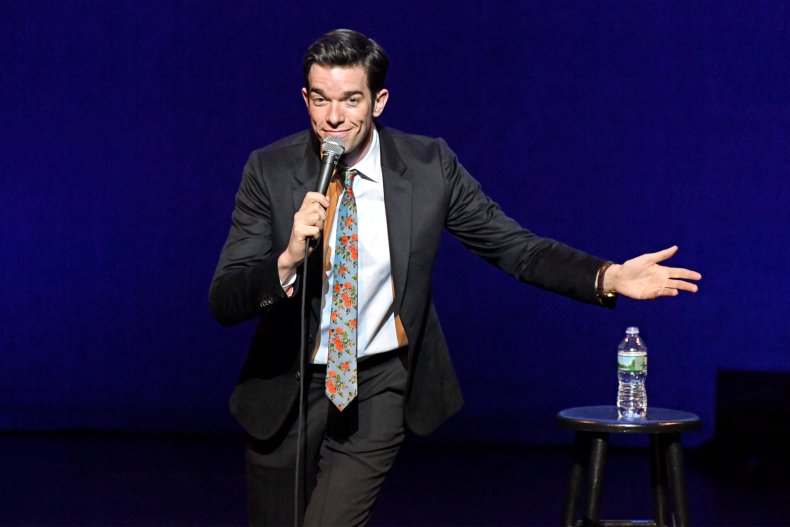 During the Los Angeles town hall, Buttigieg participated in a lightning round with a series of questions about some of his favorite things and preferences. The presidential candidate named "Hotel California" by the Eagles as his go-to karaoke song (but refused to sing a line), Captain Picard from Star Trek as his favorite TV character of all time, dog-walking as his first job, Ben and Jerry's Cherry Garcia as his favorite ice cream flavor, and said the question "Are you tired?" is the one he's sick of answering.
The comic's fans tweeted both their support and chagrin for Mulaney's acceptance of Buttigieg's suggestion. One fan tweeted that Mulaney's acceptance "ruined her day." Others tweeted that they'd support Buttigieg both reluctantly and enthusiastically. At least one fan wrote that he'd like to see Mulaney step into the role.
While the comedian's filmography may be lacking -- his only two movie roles are Spider Ham in Spider-Man: Into the Spiderverse and an upcoming role in a new Cinderella adaptation -- Mulaney has scored a number of television roles since his SNL departure in 2012.
Mulaney wrote and starred in his own self-named sitcom for Fox. He's also appeared as a fictionalized version of himself in HBO's Crashing. He's also performed across streaming services with a lead role as Andrew Glouberman in Netflix's coming-of-age, animated comedy Big Mouth and portraying author Henry David Thoreau in Apple TV's Dickinson.
Mulaney's most recent project was the children's variety special John Mulaney and the Sack Lunch Bunch, which featured Richard Kind, Jake Gyllenhaal, Russian Doll's Natasha Lyonne, and The Talking Heads' David Byrne.