John Mulaney Supporters Share Messages of Support As Comedian Checks Into Rehab
John Mulaney has checked into rehab to aid his struggles with alcohol and cocaine abuse.
The stand-up comedian, 38, is reported to have checked into a facility in Pennsylvania, as first reported by PageSix.
Mulaney has been open about his past struggles with substance abuse and addiction and has often referenced his use of drugs and alcohol in his comedy routines.
Fans of the Big Mouth star have been sharing messages of support on social media, as Mulaney is reportedly due to start a 60-day stint in rehab to get the help he needs.
Speaking to Esquire last year, Mulaney was frank about his struggle with sobriety, revealing he started drinking as a young teenager, before progressing to cocaine in his early 20s.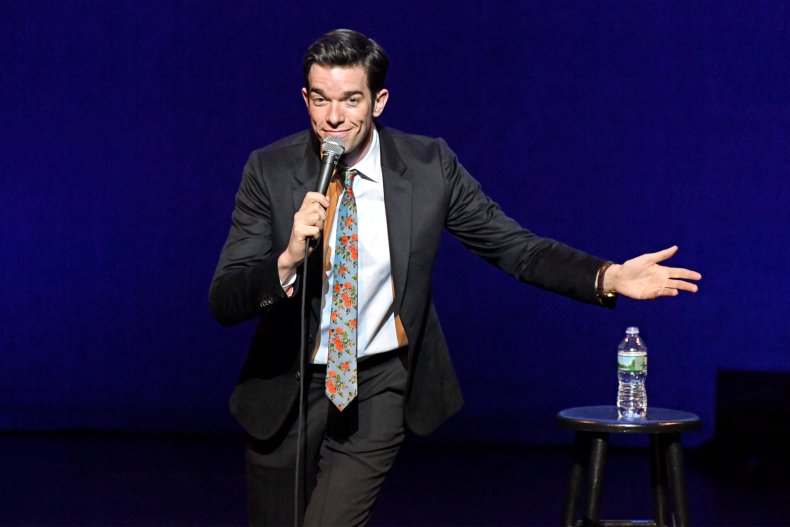 "I drank for attention," he said. "I was really outgoing, and then at twelve, I wasn't. I didn't know how to act. And then I was drinking, and I was hilarious again ... I never liked smoking pot. Then I tried cocaine, and I loved it. I wasn't a good athlete, so maybe it was some young male thing of 'This is the physical feat I can do. Three Vicodin and a tequila and I'm still standing. Who's the athlete now?'"
He explained that he became sober at 23. "I was like, 'You're f***ing out of control,'" he said of that time in his life. "And I thought to myself, 'I don't like this guy anymore. I'm not rooting for him.'"
In 2012, in his comedy special New in Town, he said: "I don't drink. I used to drink, then I drank too much, and I had to stop. That surprises a lot of audiences, because I don't look like someone who used to do anything."
Messages of support for Mulaney have been circulating on Twitter as fans and fellow famous faces wished the comedian the best in his recovery journey.
"Nothing but good cheer and support for @mulaney, who is the best at everything he does, including the slaying of personal demons," fellow comedian Dan Telfer tweeted. "You are human and you got this."
Producer Ashlee Latimer added: "I hope John Mulaney makes it through this and that he and the people close to him are given the privacy they deserve in this season. And I really hope that we take the collective compassion and grace we feel towards him and learn to extend it to all who deal with addiction."
Podcast host Katie Nolan wrote: "let the news of john mulaney be a reminder to us all that we are going through a collective trauma with this pandemic, and for many of us that's on top of struggles we were already having. check on your people. asking for help isn't cowardly, it's courageous."
Author Maureen Johnson said: "I love John Mulaney. His shows never fail to make me happy. And hearing the news that he is going into rehab--or anyone going in--I always take that as good news? It means that is a step toward getting well--a good and healthy one. So all good health and happiness to him."
Actress Olivia Munn of The Newsroom fame tweeted: "Sending SO MUCH love and support to John Mulaney. You got this."
Voice actor John DiMaggio, famous as the voice of Futurama's Bender wrote: "The only jokes I want to hear about @mulaney in rehab are the jokes he tells about it after he gets out. #mulaney #onedayatatime."