John Oliver Blows Up 2020, Mocks Trump in Cathartic Final Episode
2020 has been a difficult year for most of us and one we'll certainly be happy to see the end of.
One late night host who also can't wait to see the back of this year is John Oliver who gave fans an excellent moment of catharsis (and the perfect gif) in his final episode of the year on Sunday night.
"2020 was absolutely terrible and I really hope next year is going to be better, but the truth is [that] what happens next is up to all of us," the comedian said on the Last Week Tonight season finale.
He mourned the deaths of Ruth Bader Ginsburg, Kobe Bryant and Chadwick Boseman.
"For f***'s sake, 2020 made me learn who Carole Baskin is," he moaned. "It made me set up a Google alert for Carole Baskin, so I'd immediately know if she was ever convicted of that thing we're all pretty sure she did," he said of the Tiger King personality.
Oliver closed his final show of the year by telling 2020 it could "go f*** itself."
"It's going to depend on how willing we are to fight, how well we learned from what happened and how much we are able to care about each other."
He explained that while he doesn't know what is going to happen next, he knows "what happens now."
Oliver then rose and grabbed a detonator, whilst proclaiming: "Let tomorrow be about solutions. Today is about vengeance... f*** you, 2020. Get f***ed."
He then activated the detonator, causing a large 2020 sign behind him to dramatically explode.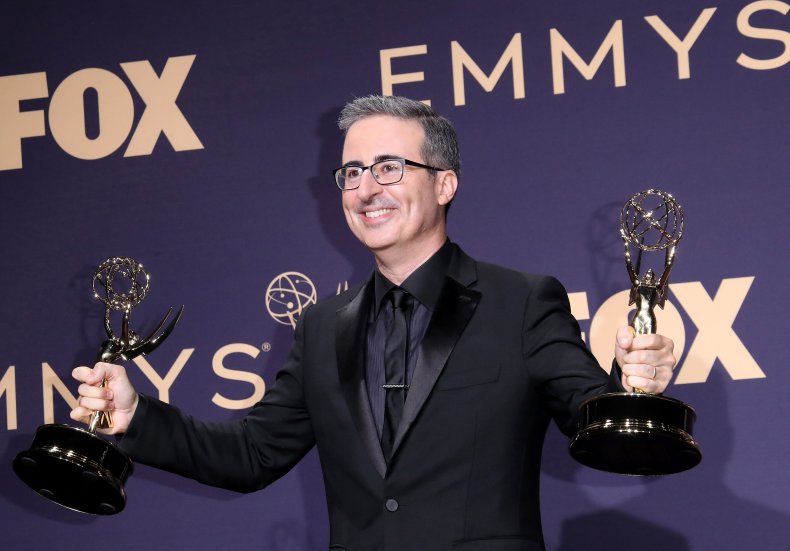 Needless to say, the image of the 2020 sign being blown up was just what many viewers needed to see.
"Watching @iamjohnoliver literally blowing up a huge sign of the numbers 2020 and saying "F*** you 2020, get f***ed!" was strangely cathartic and satisfying," one fan tweeted.
While another added: "Watching John Oliver on @LastWeekTonight blow up 2020 was one of the most therapeutic things I've seen."
Elsewhere in the show, Oliver took aim at President Donald Trump's refusal to concede the presidency to Joe Biden.
"As a parting gift to the country, Trump is somehow managing to divide us even further while also hobbling his successor at the worst possible time, which is absolutely unforgivable," he said.
"At least in the short term, things are going to suck for a while, but we have to try and repair this damage."
Meanwhile, another highlight came from Adam Driver who made a surprise FaceTime call to Oliver to reprimand him for constantly thirsting over him.
"I'm sick of people stopping me on the street and asking me if I'm going to punch a hole in you like a Marriage Story wall! And you know what? You should be ashamed of yourself because you know this was inappropriate," Driver angrily joked.
Last Week Tonight with John Oliver is due to return to screens in February 2021.