John Oliver Accuses Israel of 'War Crimes,' Says U.S. Should Reconsider Its Stance
John Oliver discussed the ongoing Israel-Palestine conflict during the opening segment of his show last night, accusing Israel of committing a "war crime" and explaining why the fighting couldn't be described as "tit for tat."
Sunday night's Last Week Tonight began with Oliver saying he wouldn't explain the history of the conflict or propose a solution, but explain why the incidents of the past week are "just wrong."
"One side has suffered over 10 times the casualties, something which speaks to both the severe power imbalance at play here and how that often gets obscured by how we choose to talk about it," he said. "But this week's actually been a pretty good reminder that while some things are incredibly complex and require a great deal of context, others are just wrong."
A flashpoint in the latest violence has been the legal battle over attempts to evict several Palestinian families from buildings in the Sheikh Jarrah neighborhood of East Jerusalem. Israeli officials describe it as a private real estate dispute between Jewish owners and Palestinian tenants or squatters that is being resolved in the Israeli courts. Palestinian leaders and their supporters around the world view the expected evictions as a symbol of the wider Israeli strategy of building Jewish settlements on land Palestinians want for a state.
Oliver noted that the Israeli Foreign Ministry has indeed described the matter as a "real estate dispute," while the UN's Commissioner for Human Rights has said that the expulsions would violate Israel's obligations under international law.
"So it is not hard to see how sanitized terms like evictions or property disputes rankled those who live there," he said.
Oliver went on to say how describing rockets fired by Hamas, the militant group that controls Gaza, and by Israel were far from "tit for tat."
While Oliver said Hamas firing rockets towards Israel was "reprehensible," he said that the majority of the group's rockets did not reach their targets.
"Israel has a so-called Iron Dome," he said. The Iron Dome, which is largely funded by the U.S., has the "advantage of being an actual defense system that exists unlike Gaza's which is mostly try not to be where the bombs are landing," Oliver said.
Here, he also said that the vast majority of Palestinians are not part of Hamas. "They don't get together and all decide to launch rockets, it's not a f**king co-op board," he said.
Oliver continued: "Not all the rockets were shot down, Israeli civilians were killed this week, but the point is, this isn't tit for tat. There is a massive imbalance when it comes to the two sides' weaponry and capabilities. While most of the rockets aimed toward Israeli citizens this week were intercepted, Israel's airstrikes were not. They hit their targets."
Those targets included a house in a refugee camp, a building housing media organizations including The Associated Press and Al Jazeera, and a 13-story office and apartment building, Oliver said.
"While Israel insisted that there were military targets in that building and they destroyed it as humanely as possible, even warning people to evacuate it beforehand, for the record, destroying a civilian residence sure seems like a war crime, regardless of whether you send a courtesy heads-up text," Oliver added.
He also noted that Israel Defense Forces had turned before-and-after images of the apartment bombing into a "triumphant" meme that was posted online.
"In general, you should probably never meme a war crime," Oliver said. "The fact is, the citizens of Gaza don't have an Iron Dome to protect them the way that the citizens of Israel do. It's one of many ways they're at a significant disadvantage."
Oliver went on: "To people in Gaza, it can seem that the only time anyone pays attention to what's happening there is when Hamas is firing rockets which is understandably very frustrating because they've been living under a suffocating blockade for 14 years."
Israel and Egypt imposed a land, sea and air blockade of the Gaza Strip in 2007 after Hamas seized power. Israel has said it is needed to stop potential arms imports, while rights groups denounce it as a form of collective punishment.
"In Israel and the occupied Palestinian territories, Palestinians are essentially being governed by a form of apartheid, an assessment echoed by both international and Israeli human rights groups," Oliver said. "Life in Gaza is hard even when they are not being bombed, and the U.S. government has implicitly co-signed on the brutally hard line Israel's been taking."
Oliver said the Joe Biden administration's response to the violence has been "deeply underwhelming."
The U.S. is "heavily implicated," Oliver added, "not just by serving as Israel's diplomatic shield at the UN, but by constantly refusing to criticize the indefensible."
He concluded: "There is a real tendency, particularly in America, to 'both-sides' this situation, and I'm not saying that there aren't some areas where that's warranted, but it's important to recognize there are also areas where it's simply not.
"Both sides are firing rockets, but one side has one of the most advanced militaries in the world. Both sides are suffering heartbreaking casualties, but one side is suffering them exponentially."
The Associated Press reported that Israeli airstrikes on Gaza City flattened three buildings and killed at least 42 people on Sunday. The death toll since the airstrikes began last week is at least 188 killed in Gaza and eight in Israel. Some 55 children in Gaza and a 5-year-old boy in Israel were among the dead, according to AP.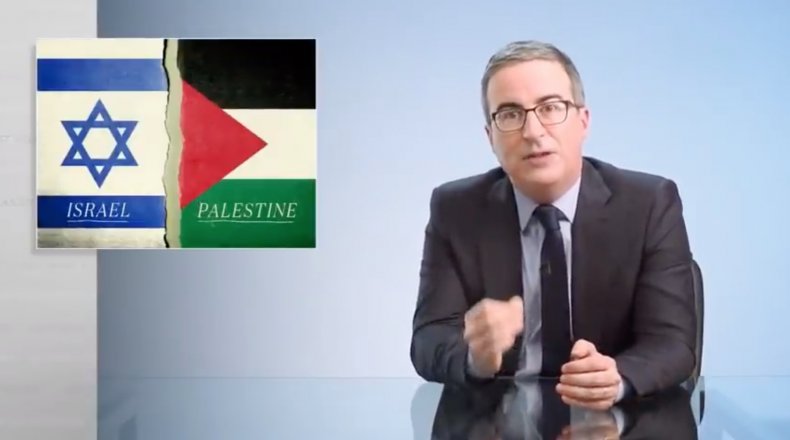 Oliver added: "If you believe Israel's actions are warranted and proportionate this week, you're welcome to try and make that argument."
But he went on to say that using "convenient sanitized terms" like real estate disputes and airstrikes on militants feels "a little disingenuous when what you're describing is forcing people from the homes they've lived in for decades and killing civilians and children."
He continued: "Again, none of this frees Hamas from responsibility but Hamas doesn't represent all Palestinians just as what Israel is doing right now doesn't represent all Israelis, or indeed Jewish people. Lots is complicated here, but some things are pretty simple. One side is suffering much more.
"And if America really wants to help, it might want to seriously consider changing its long-held position here because for decades, the backbone of America's policy in the Middle East has been that America is an unwavering friend to Israel, which is a great thing to try and be but at the end of the day, I would hope that a real friend would tell me when I'm being an asshole and definitely, when I'm committing a f**king war crime."