John Oliver Calls out 'A**hole' WWE Boss Vince McMahon Ahead of Wrestlemania
John Oliver dedicated most of the latest edition of his weekly HBO show to the plight of professional wrestlers, and has taken a swipe at the most powerful figure in the sports entertainment industry.
Oliver pointed out that Wrestlemania, due to return next week earned $930.2 million in revenue last year, making it the sixth most lucrative sport in TV rights. He then accused WWE chairman Vince McMahon of exploiting his wrestlers without any regard for their welfare.
He showed a montage of clips of wrestlers who died relatively young, including Randy "Macho Man" Savage at 58, Eddie Guerrero at 38, and "King Kong" Bundy, at 61.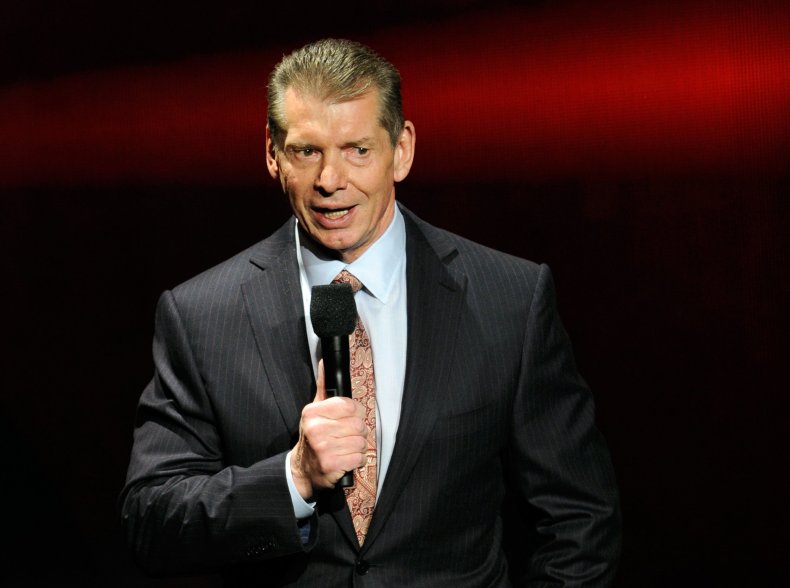 Oliver criticized McMahon for avoiding responsibility for their welfare by keeping his performers as independent contractors—and not full-time employees—while making them sign exclusive contracts.
This meant that they would not be entitled to the rights of typical workers, such as annual leave, health insurance or pensions.
After playing a clip where McMahon used the "n-word" in a joke that went down badly, Oliver said it was an example of the villain that he plays in WWE storylines.
Oliver said: "While the character Vince is an a**hole, it's important to know that the real Vince is also an a**hole."
"Many fans legitimately hate him because while the WWE has made him a billionaire, many wrestlers say he's treated him terribly," he added.
He played a clip of an interview with former star Bret Hart describing how McMahon often treated his wrestlers like "circus animals." who "end up with nothing when it's over."
Oliver did point out that McMahon's company had made some reforms, like banning chair shots to the head and introducing concussion protocols, but there was no off-season where the athletes could recover and there is no long-term health provision.
"Even the NFL, for all its massive faults, now offers players health reimbursement accounts and have established a legacy fund for older players who may be dealing with health issues.
"And when you have lost the moral high ground to the f**ing NFL, you are morally subterranean," Oliver added.
The host of Last Week Tonight described McMahon as a "billionaire on the broken backs of his non-employees" and called on fans to make their voices heard during next week's WrestleMania.
"If fans in that arena want McMahon to pay for wrestlers' long-term health care or just to call them employees, they could choose to make up chants about that. The event is live, the crowd is miked, they won't be able to cut that out," he said.
In an emailed statement to Newsweek, headed "John Oliver ignores facts", a WWE spokesperson said the HBO host "is clearly a clever and humorous entertainer, however the subject matter covered in his WWE segment is no laughing matter."
"Prior to airing, WWE responded to his producers refuting every point in his one-sided presentation. John Oliver simply ignored the facts.
"The health and wellness of our performers is the single most important aspect of our business, and we have a comprehensive, longstanding Talent Wellness program.
"We invite John Oliver to attend Wrestlemania this Sunday to learn more about our company," the spokesperson added.
This story has been updated to include a statement from WWE.