John Oliver Video of Charlie Rose is Extra Creepy After Sexual Harassment Claims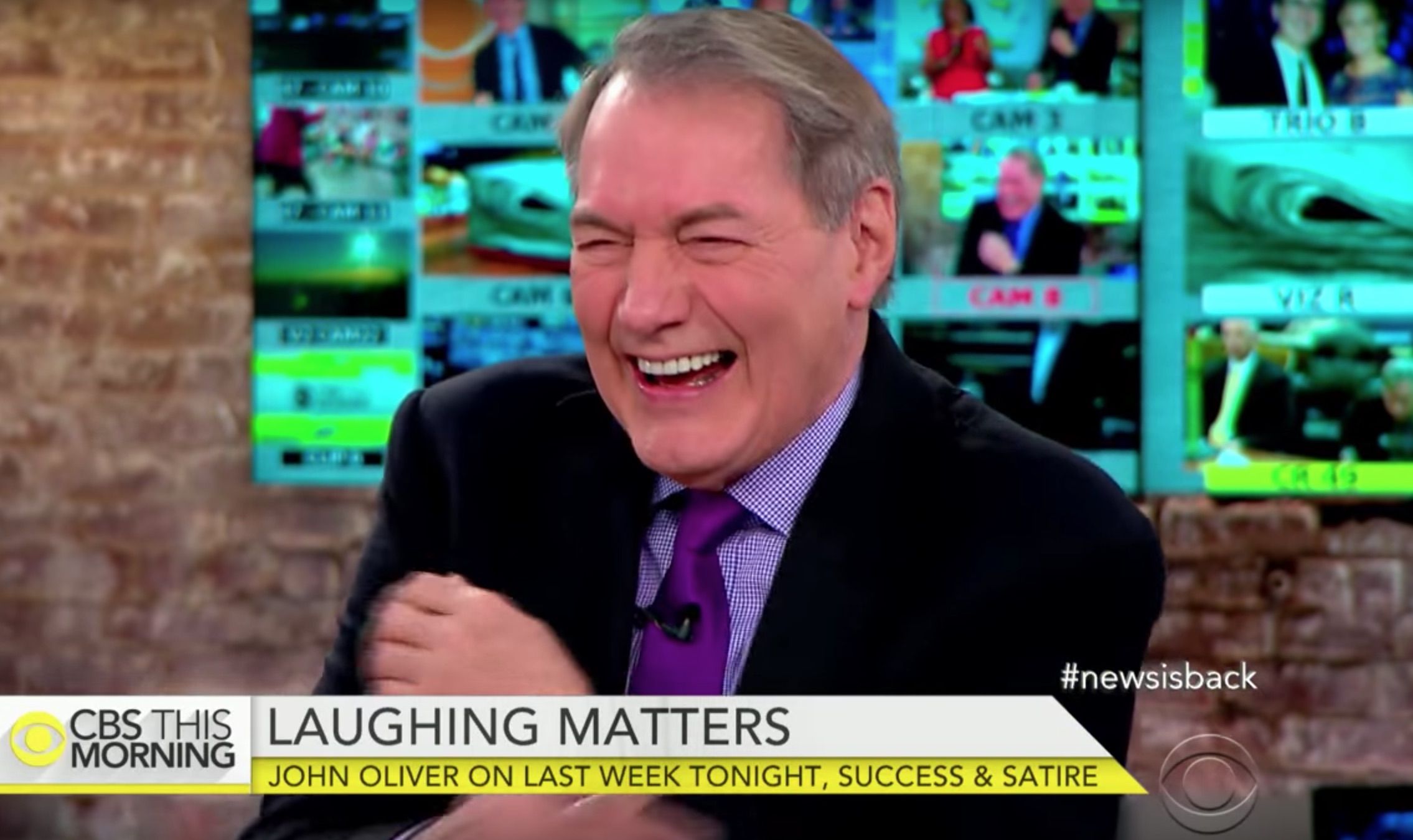 Talk show host and journalist Charlie Rose was the latest to come under fire over sexual harassment allegations. The Washington Post dropped the newest bomb on Monday: Eight women, including three on the record, claimed Rose allegedly made unwanted sexual advances, including inappropriate phone calls, groping and appearing naked in front of them.
Some were shocked to hear the allegations, thought not if you've been watching Last Week Tonight. Host John Oliver has long poked fun at Rose and his CBS This Morning co-hosts for their awkward, innuendo-filled banter. Yet in light of the new allegations, those moments feel less hilariously awkward and more...deeply creepy. The pornographic music that accompanies the segment, "And Now This: More Of CBS This Morning's Awkward Sex Talk," doesn't help.
In the clip, Rose oogles co-host Gayle King's chest, implies he had sex with her and kisses Norah O'Donnell on the cheek—among other things. Both King and O'Donnell laugh and play along, though at one point King jokingly asks Rose to leave her alone. Neither King or O'Donnell have commented on the allegations—yet.
Months after the initial "CBS This Morning's Awkward Sex Talk" segment, in October 2015, Oliver was a CBS This Morning guest; he once again brought up the sexual innuendos. "There's much more sexual tension here than whatever Matt Lauer's doing," Oliver said. Rose dissolved into laughter, turning red, to Oliver's delight. "Look at Charlie covering his face like a bashful French girl!"
The allegations against Rose range from the late 1990s to 2011, from women ages 21 to 37. Many were, or had aspired to be, Rose's employees. Of the eight women who came forward to the Post, three went on the record. Reah Bravo, Kyle Godfrey-Ryan and Megan Creydt worked on Rose's self-titled PBS show. Godfrey-Ryan said the TV host would call late at night and tell her about fantasies he had of her swimming naked in a pool.
Five of the women said Rose put his hand on their upper thigh. Two said he emerged naked from the shower in front of them while on a business trip. One said he groped her backside at a work party.
Rose both acknowledged and apologized for his "inappropriate behavior" in a statement to the Post, but maintained that he believed at the time all of his advances were wanted and consensual.
The full statement read,
In my 45 years in journalism, I have prided myself on being an advocate for the careers of the women with whom I have worked. Nevertheless, in the past few days, claims have been made about my behavior toward some former female colleagues.

It is essential that these women know I hear them and that I deeply apologize for my inappropriate behavior. I am greatly embarrassed. I have behaved insensitively at times, and I accept responsibility for that, though I do not believe that all of these allegations are accurate. I always felt that I was pursuing shared feelings, even though I now realize I was mistaken.

I have learned a great deal as a result of these events, and I hope others will too. All of us, including me, are coming to a newer and deeper recognition of the pain caused by conduct in the past, and have come to a profound new respect for women and their lives.