John Oliver Danbury Sewage Plant is Not the First Time Something Unsavory Has Been Named After Him
Officials in Danbury, Connecticut, have named a sewage plant after John Oliver—but it's not the first time something unsavory has been named after the comedian.
Mayor Mark Boughton announced the move on his Facebook page after the British comedian went on an expletive-filled tirade about the city on his HBO show.
"We are going to rename it the John Oliver Memorial Sewer Plant," the Republican mayor said in a video posted to Facebook. "Why? Because it's full of crap just like you, John."
The post titled: "John Oliver, don't mess with Danbury."
On a recent episode of Last Week Tonight with John Oliver the comic ranted about the racial disparities that come with the jury selection process in Danbury. He also mentioned Hartford and New Britain.
"If you're going to forget a town in Connecticut," he said, "why not forget Danbury? Because, and this is true, f*** Danbury!"
Referencing Danbury's "charming railway museum" and its "historic Hearthstone Castle", he spat: "Danbury, Connecticut can eat my whole a**."
Oliver added that he knew "exactly three things about Danbury," and went on to say: "USA Today ranked it the second-best city to live in 2015, it was once the center of the American hat industry and if you're from there, you have a standing invite to come get a thrashing from John Oliver, children included, f*** you."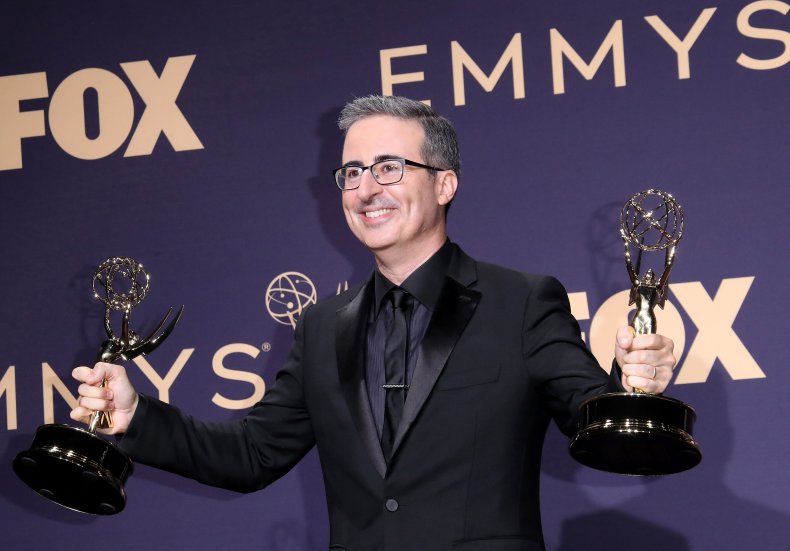 In 2017, Mayor Boughton was part of another story on Last Week Tonight when Oliver poked fun at the lengths officials were going to in order to get Amazon to build facilities in their cities.
Mayor Boughton's retaliation on Facebook mentioned that also. He said: "Oh by the way, thanks for showing that Amazon video. We did get Amazon here in Danbury."
Mayor Boughton is not the first public figure to retaliate against the comedian's rants.
In 2018, Russell Crowe got his own back on Oliver, who bought a number of items from Russell Crowe's "divorce auction" to help out struggling Alaskan Blockbuster video stores, including obtaining the jockstrap the actor wore in the film Cinderella Man.
Shortly after the auction, Crowe tweeted that he wanted to reward Oliver's genuine love for Australians and Australia and had a koala chlamydia treatment ward named after him.
So there is genuinely a ward at the Australia Zoo wildlife hospital named The John Oliver Koala Chlamydia Ward.
"Well played Russell Crowe. Well played indeed. That may honestly be the greatest thing I've ever seen," Oliver at the time on his show.
"What I'm essentially saying here is we've accomplished everything we set out to do on this show. Which means thanks very much everyone, but we are f****** done here. That's right, let's shut it down. This show is over."