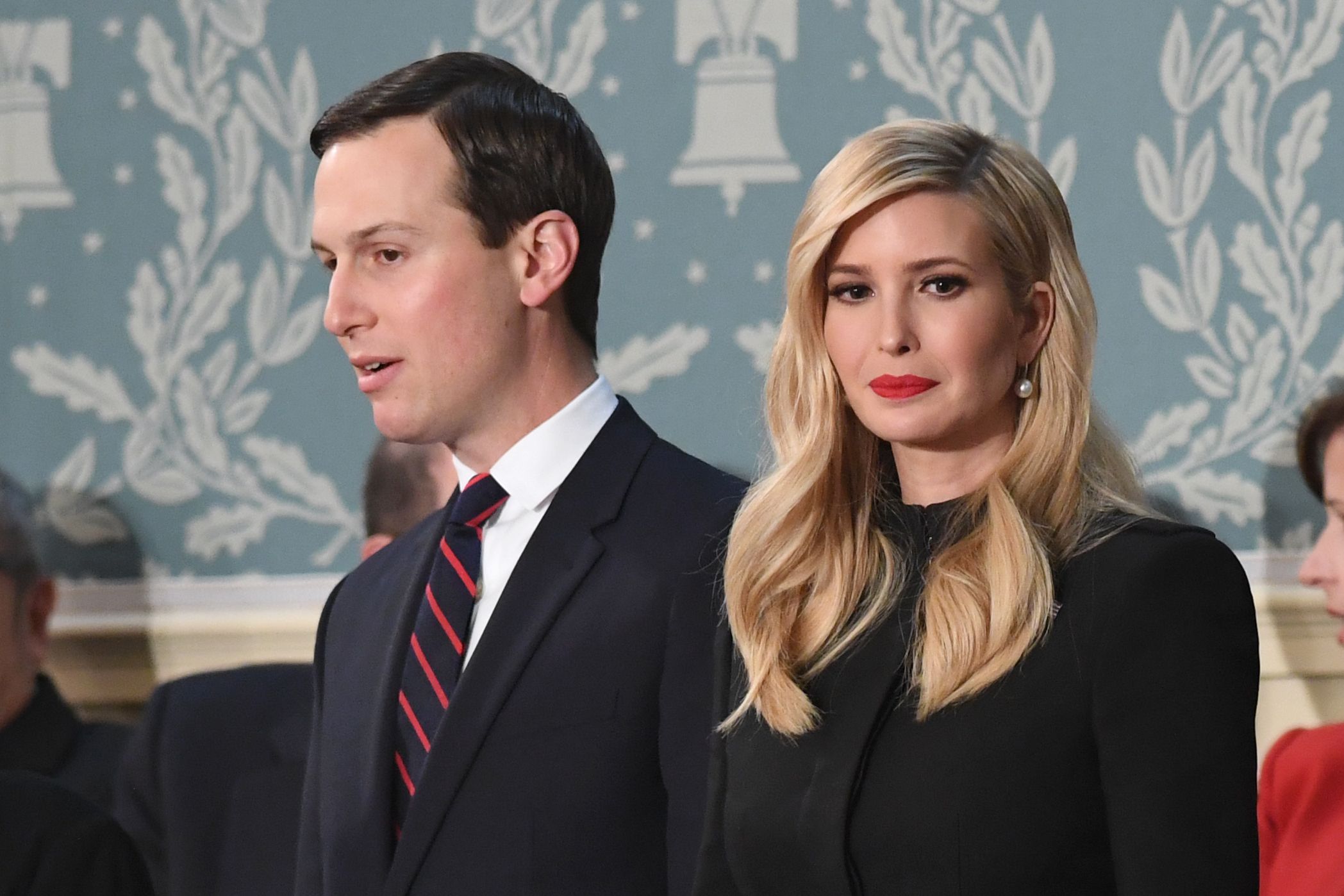 John Oliver skewered Jared Kushner and Ivanka Trump on Sunday's episode of Last Week Tonight. Taking aim at the couple's relative lack of political experience, he blasted their White House positions and security clearance as examples of nepotism.
Nicknaming Kushner "Diminutive Nothing Boy 1," in reference to the ongoing Mueller probe into alleged collusion with Russia, Oliver took a swipe at the youthful senior advisor's diplomatic work in the Middle East.
"Jared is right where you would expect a boy of his age to be. Trying to broker a peace deal in one of the most intractable conflicts in recent geopolitical history," the comedian said.
Oliver speculated that Kushner maintains his relaxed, "radiant" appearance in spite of his role because he simply doesn't understand the complexities of the mammoth "to-do list" his diplomatic commitments entail.
Although the senior aide looks like "a 17th century portrait of a Dutch teenager," Oliver said the stress he is surely under should give him the wrinkles of late former secretary of state Warren Christopher, who served in President Bill Clinton's cabinet back in the mid-1990s.
Oliver did, however, praise Kushner's ability to to navigate the "psychosexual Stalingrad that is marriage to Donald Trump's daughter."
Moving on to Ivanka, the comedian laid bare his views on nepotism in the White House. Targeting Trump's recent declaration on The View that her father had "no involvement" in her and Kushner's controversial security clearance, Oliver said she was either lying or genuinely believed the pair were deserving of the privilege.
Her statement contradicts a recent report in The New York Times that claims her father ordered his former chief of staff, John Kelly, to grant Kushner "a top-secret clearance" back in 2019. Kelly and former White House counsel Don McGahn both reportedly stated their concerns about the move in internal memos.
If Ivanka truly believes she and her husband achieved their clearances on their own merit, Oliver said, "there are some things that [she] really should know."
"Ivanka...you only became an executive vice president of the Trump Organization at 24 because you're Donald Trump's daughter, not because you are a 24-year-old business prodigy," he said.
"You only got a book deal because you're Donald Trump's daughter, not because you're a brilliant author and wordsmith, and you only hosted the Miss Teen USA pageant because your Dad owned the contest, not because of your sparkling on-camera presence," he added.