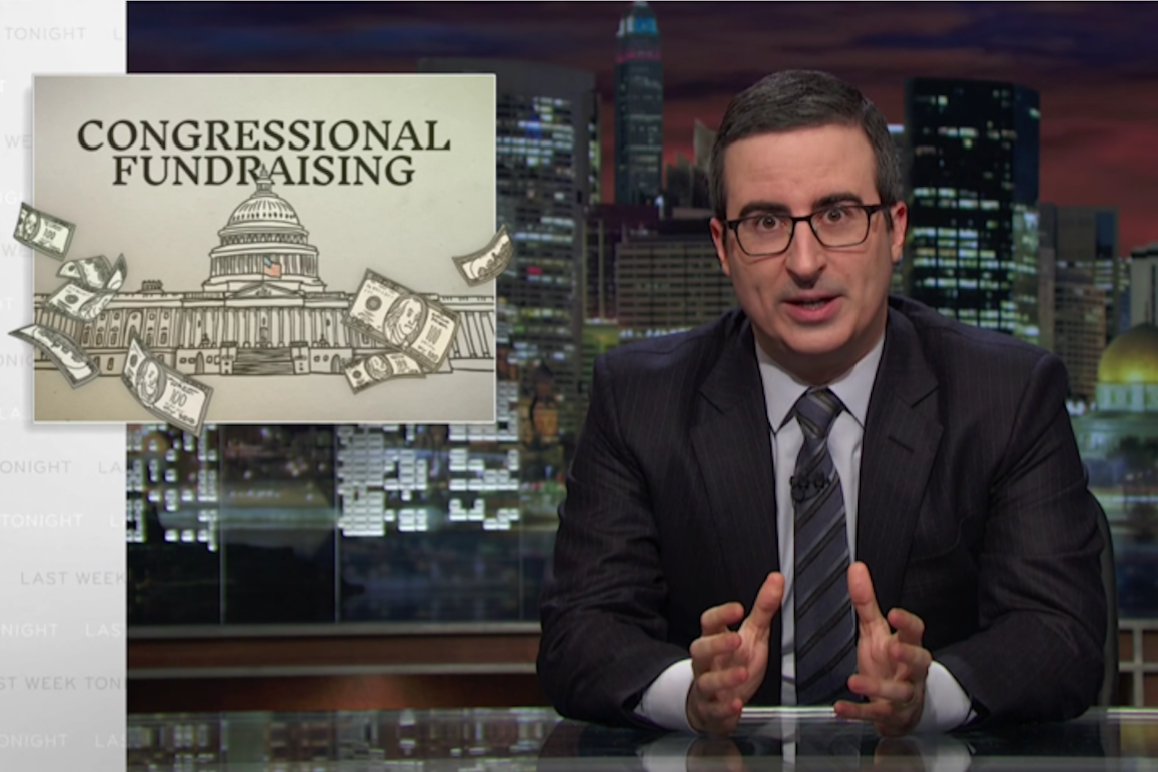 On Sunday's episode of Last Week Tonight, John Oliver spent just over 21 minutes appalling viewers with statistics and testimony detailing the obscene amount of time, energy and resources lawmakers spend raising money. The segment points out the ways in which the needs of constituents only come into focus if there's time left over after fundraising goals have been satisfied. Sadly, Oliver said, this is to be taken literally.
The Time Spent Fundraising
Lawmakers spend way more time raising funds than most Americans realize. Oliver pointed to a 2011 report by The Hill that estimated that between 25 and 50 percent of politicians' time is occupied with soliciting donations. Former Senate Majority Leader Tom Daschle in 2014 said that in the two years leading up to an election, money-gathering efforts make up around two-thirds of a lawmaker's schedule. Two. Thirds.
There are more statistics. During the 2014 election cycle, candidates for the House and Senate raised an estimated $1.7 billion. The Sunlight Foundation estimates that during this same cycle, members of Congress held more than 2,800 fundraisers. Toward the end of last night's segment, Oliver spoke with Representative Steve Israel, a Democrat from Long Island, New York, who is retiring partially because he didn't think he could "spend another day in another call room making another call begging for money." Israel told Oliver that in his 16 years in office, he held 1,600 fundraising events. That's one every three days. For 16 years.
These unbelievable testaments to time spent on the phone and glad-handing potential donors are the result of what is essentially a mandate from the parties to churn up money, if not for the lawmaker's own re-election then for dues owed to the party itself. A leaked PowerPoint presentation from the Democratic Congressional Campaign Committee (DCCC) revealed that an ideal daily schedule consists of four hours of time spent on the phone. Oliver highlighted a 2014 video clip of retiring New York Representative Carolyn McCarthy talking about how, when she was a rookie, she was pulled out of her first committee hearing and told she needed to get on the phone and start raising money.
Oliver summed all of this up: "Washington is like Rod Stewart's haircut: party in the front, party in the back…frankly, too much party and no business anywhere to be found."
How the Money Is Raised
Because lawmakers have to hold so many fundraisers, they have to get creative about the ways in which money is gathered. Building this machine of events and solicitations within their administration is, in terms of time allotted, the biggest part of their job.
Oliver highlighted representatives who have held fundraisers in honor of everything from their birthdays to their wedding anniversaries. There are golf and fishing outings; there are breakfasts, lunches and dinners; there is even the co-option of arena concerts. When Taylor Swift's 1989 tour came to Washington, D.C., lawmakers took it as an opportunity to bring in some sweet cash. Tickets were sold for thousands of dollars.
But the most significant and most time-consuming method for making money is as old-fashioned as it gets: picking up the phone.
The Call Center
Because federal law prevents lawmakers from asking for money from within the confines of their own offices, each party's headquarters features a call center where potential donors can be solicited without repercussions. These call centers are not glamorous. In fact, they sound no different from where you might imagine people are calling about your cable bill. As Israel explained:
You have a bunch of cubicles set up with those cheap fabric dividers. You sit at a little desk, and you have a phone, and you have an assistant next to you and you have a call book. And the call book has sheets of every donor, past donors and their records. And the assistant gets a supporter on the phone and gives the phone to you. And then you engage in polite conversation. And then you get to the point. And then you hang up. And then you flip the page to the next donor. And then you make another call. And you continue doing that until you have the resources in order to get re-elected.
"Oh my God, that's depressing," said Oliver after a few seconds of staring blankly.
But as Oliver pointed out, the most disturbing part about the amount of time lawmakers spend soliciting donations—other than that they're not spending that time, you know, making laws—is that because the people lawmakers are calling are those well-off enough to afford forking over $1,000 or more to a representative, those people's concerns inevitably become the concerns of the lawmakers. As Oliver said, all this time on the phone placating the elite "cannot help but affect the way you see the world."
It's clearly time to call for some reform. Unfortunately, the people capable of enacting those changes have another call to make first.