John Oliver Explains the Terrifying World of Debt Buying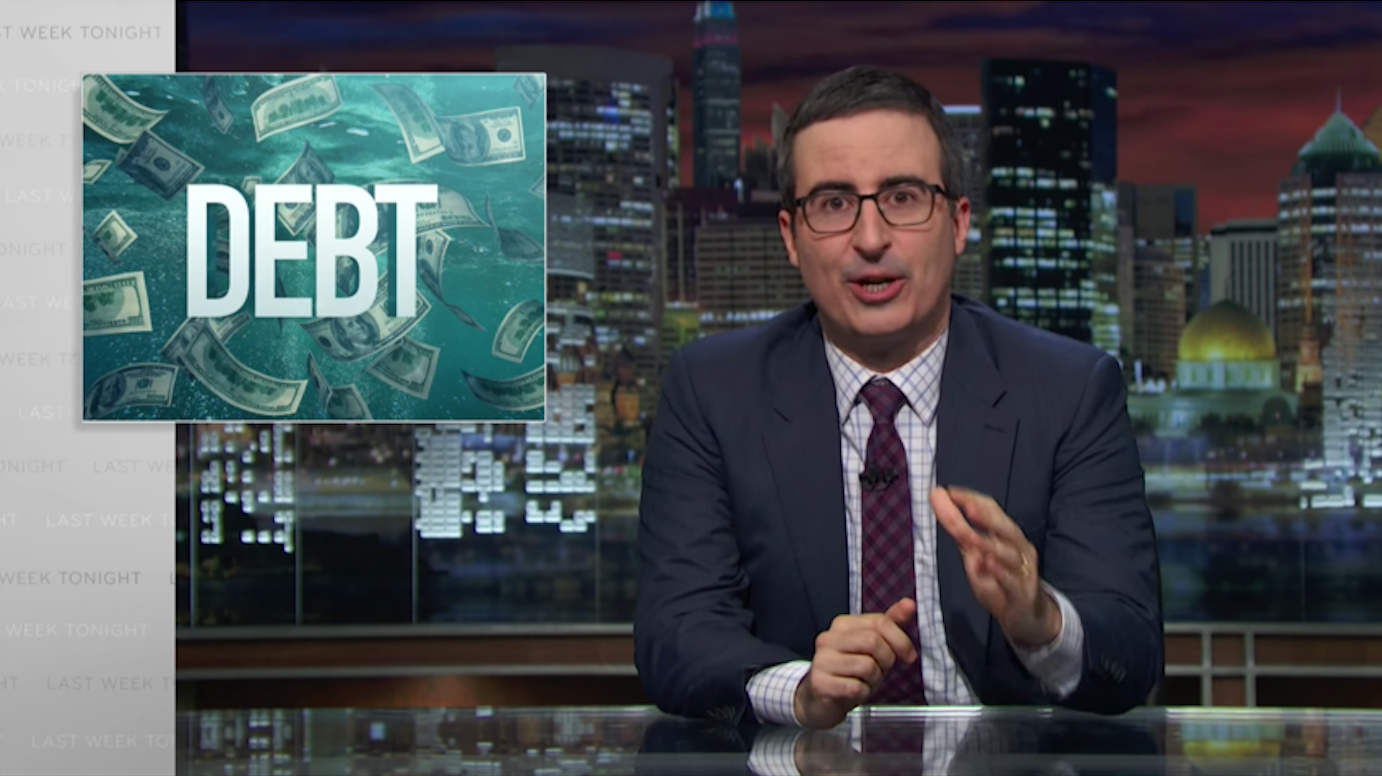 After taking off Memorial Day weekend, John Oliver on Sunday returned to doing what he does best: exposing the hell out of shady, unregulated industries that exploit financially distressed consumers. This week, it was debt buyers.
According to the Federal Reserve, Americans collectively owe $12 trillion in debt, $436 billion of which is "seriously delinquent," meaning it is over 90 days past due. Banks often sell the debt of the customers to third-party debt-buying companies for a fraction of what it's worth. These companies then are able to go after the debt-ridden consumer for the full amount. (The largest debt-buying company, Encore, says that 1 in 5 Americans either owe them money or have owed them money in the past.)
As Oliver puts it, debt buying and collection is "a grimy business" that "badly needs more oversight." Here's why:
Banks sell debt to third parties "as is" and "with all faults"
Banks sell off debt to debt-buying companies with a sense of decorum usually reserved for hauling a trash bag of shredded documents and lollipop wrappers out to the alley. Nothing is vetted, and most of the information typically comes in the form of an Excel spreadsheet listing names, social security numbers, account balances and outstanding debt. Now, this may be shocking, but these debts that are sold often no longer exist. There's even a name for them: zombie debts. These are debts that have been neutralized through bankruptcy or that are too old to be sued over or that have flat-out been paid. It doesn't matter, though. They are now in the hands of debt-buyers who will go to just about any means to collect them.
Debt collectors are ruthless
Some of the means debt-buyers or the collection agencies they hire have used to collect, as pointed out by Oliver:
Threatening murder.
Threatening to "wake up every neighbor in your entire fucking building."
Calling someone a loser and suggesting they jump in front of a train.
Threatening to have someone's dog "arrested," shoot the dog and eat the dog.
Finding out where someone works and calling their boss at home.
Pretending to be a government agency.
Lovely. None of this is legal, of course, but debt buying doesn't attract the most noble of enterprising individuals. Skirting the law is just part of the business. According to the Federal Trade Commission, in 2014 consumers filed 280,000 complaints with federal authorities related to debt collection.
They will (pretend like they want to) take you to court
But the most common method debt buyers use to get their money is to take people to court...or at least to pretend like they want to take people to court. According to Human Rights Watch, they are "among the heaviest individual users of state court systems," and in some cities, they "have been found to file more cases than any other type of plaintiff." It's all a ruse, though. The cases are filed with the hopes that the consumer will not show up to court, which means they have to pay the debt.
It's way, way too easy to become a debt buyer
Most states allow you to purchase debt with no license, and many allow you to collect on debt with no license. As Oliver puts it, "Any idiot can get into it." Which is why Oliver decided to get into it himself. He was able to start and incorporate a company called Central Asset Recovery Professionals (or CARP, after the bottom-feeding fish), and named himself chairman. He then bought up nearly $15 million in debt for only $60,000. But instead of collecting it, Oliver decided to forgive it, making Sunday night's Last Week Tonight the show with the largest one-time giveaway in television history. Eat your heart out, Oprah.