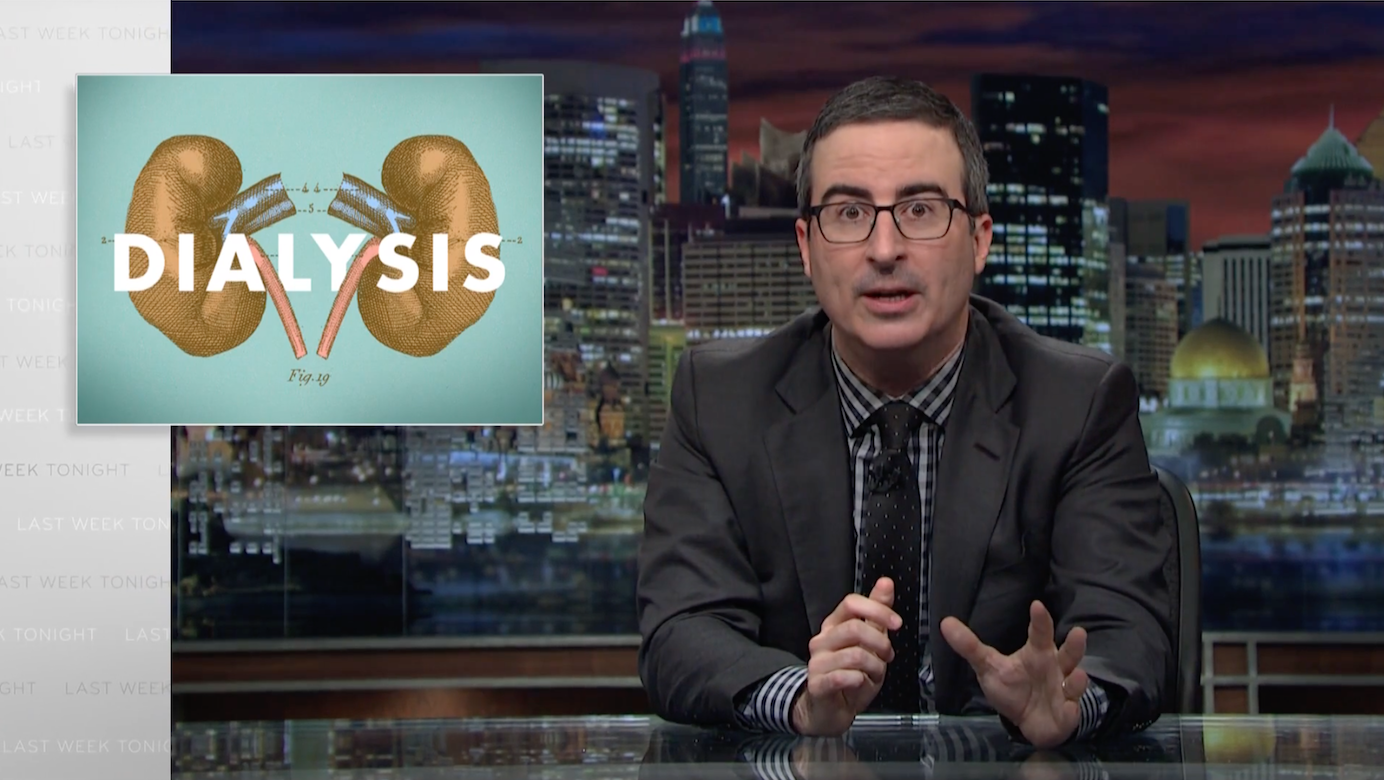 Did you know that chronic kidney disease is the ninth-leading cause of death in the United States? Or that as of the end of 2014, more than 460,000 Americans were undergoing dialysis? Do you even know what dialysis is? John Oliver broke it all down on Sunday night's episode of Last Week Tonight, and as is often the case when he breaks things down, he is charging that a lot of money is being made by entities taking advantage of people who are desperate for help.
Related: John Oliver explains why net neutrality is in trouble under Trump
So what is dialysis? Dialysis is a treatment for kidney disease in which a machine extracts a patient's blood, cleans it and then returns it to the patient's body. "Think of it as a Brita picture for your blood, which, yes, is more disgusting than I needed to make it sound," says Oliver.
One of the problems with dialysis is that it is very expensive. Prior to 1972, if an American couldn't afford it, he or she died. In '72, Richard Nixon—yes, Richard Nixon—signed a bill ensuring that the government would pay for the dialysis of anyone who needed it. Medicare now spends around $34 billion per year on dialysis.
One of the other problems with dialysis is that despite how much money is spent on it, America has "one of the industrialized world's highest mortality rates for dialysis care," according to ProPublica. This is largely due to for-profit dialysis centers, Oliver says, adding that they became a necessity as the number of patients increased by a factor of more than 40 since Nixon signed the bill in 1972. "We're basically paying for a fully loaded Lamborghini and getting a drunk done on roller skates," says Oliver in reference to the disparity between investment and the quality of care.
There are 7,000 outpatient dialysis center in the United States, 70 percent of which are owned by either DaVita or Fresenius. For the purposes of the segment, Oliver highlighted DaVita, which is the largest of these two major for-profit dialysis companies. He contends that the reason kidney disease mortality rates are so high is because companies like DaVita will cut any corner possible to turn a profit, even if it means putting the wellbeing of its patients in jeopardy. And it certainly has turned a profit: DaVita is worth $13 billion, and made $789 million in 2016.
The reasons for this are many. For one, they don't staff their facilities as well as they should. According to the American Journal for Kidney Diseases, for-profit centers have 35 percent fewer nurses per patient than government facilities. They also force their employees to rush patients in and out as quickly as possible, which has resulted in nurses failing to disinfect equipment adequately.
DaVita has been accused in lawsuits of giving kickbacks to doctors who recommend its facilities (that was settled for $389 million), using more vials of a drug called Venofer than necessary so its can get more money from the government (settled for $495 million) and using larger doses of another drug, Epogen, than necessary (settled for $55 million). Three cases, five years, nearly $1 billion in settlements.
DaVita has also been accused of failing to properly educate potential patients about the benefits of receiving a kidney transplant, which is a far more preferable option than undergoing dialysis. Oliver sent four staffers to educational classes at four different DaVita centers. They found that a transplant was treated as an option that was no better or worse for patients than dialysis. One instructor even said that some patients prefer dialysis because of the "community" they find at DaVita centers.
"We need to make sure that dialysis clinics have better oversight," Oliver concluded. "We need to create better incentives for transplants and for treating kidney disease earlier to keep patients out of dialysis in the first place."
"This country did a truly amazing thing," he added. "Richard Nixon did a truly amazing thing. He said we should take care of people with kidney diseases, and we did it. We should keep doing it, but we could do it a lot better. The care of America's kidneys is way too important to be treated like a fast food experience."