Comedian John Oliver has praised President Donald Trump for calling off military strikes against Iran but joked that even when he's doing something right, the president does it "in the exact same style that he does the wrong thing."
The host of Last Week Tonight with John Oliver was reacting to news that the president backed down from escalating hostilities with Iran, calling off attacks on Iranian targets when he learned of the possible casualties. The strikes had been planned as a response to the downing of a U.S. drone in the region.
"I am glad Trump didn't end up dragging us towards an unnecessary war this week but the manner in which we got so close should be a genuine concern to everyone. After call off the strike at the last minute he walked us through his decision and it is chilling to watch 40 seconds of his mind at work," Oliver joked on his Sunday night show.
The show then cut to a clip showing Trump on NBC's Meet the Press, which aired Sunday morning. "So, they came and they said sir we're ready to go, we're ready for a decision. I said I want to know one thing before you go, how many people will be killed, in this case Iranians? I said how many people are going to be killed," Trump told NBC's Chuck Todd.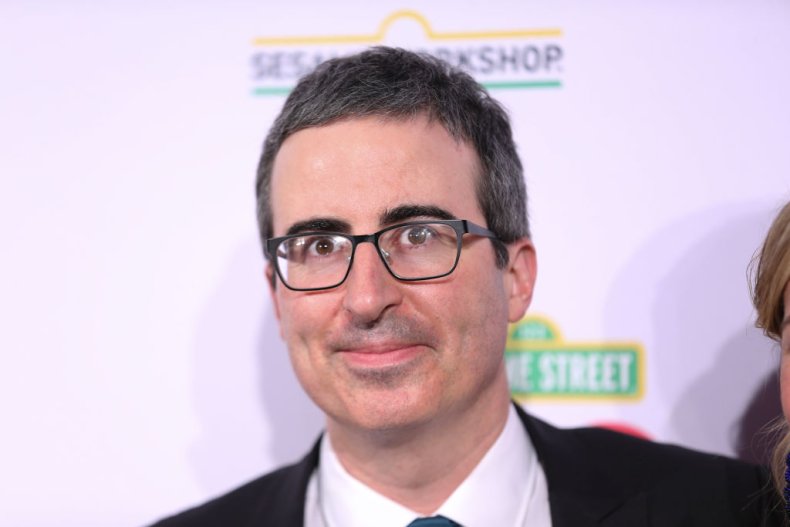 "They came back, they said sir, approximately 150. And I thought about it for a sec and I said, you know what, they shot down an unmanned drone, plane, whatever you want to call it, and here we are sitting with 150 dead people that would have taken place probably within half an hour after I said go ahead. And I didn't like it," the president added.
In response, Oliver said watching Trump's thought process was like watching someone cooking a great dish from the wrong ingredients and then proceeded to speculate that the president was likely lying about how events had transpired.
"It is amazing to watch him do the right thing in the exact same style that he does the wrong thing. Because many of the same ingredients were there: joyously quoting people calling him 'sir,' expressing childlike disbelief that he gets to hang out with generals, needlessly pointing out the potential dead were, in this case, Iranians," Oliver joked. "And of course telling a lie that makes him look good because there is no way he wasn't told about potential casualties the moment the plan was presented to him," he went on.
"Considering the ingredients, this might have been the best possible outcome. It's like watching someone put chicken guts, jello and human hair into an oven and then take out a cake 20 minutes later. I am relieved and sort of amazed at where we ended. But I worried that the next time we put the same garbage through this process this probably isn't going to be the result that we all get," Oliver said, concluding the segment.