John Oliver Explains Why Closing Guantanamo Is So Important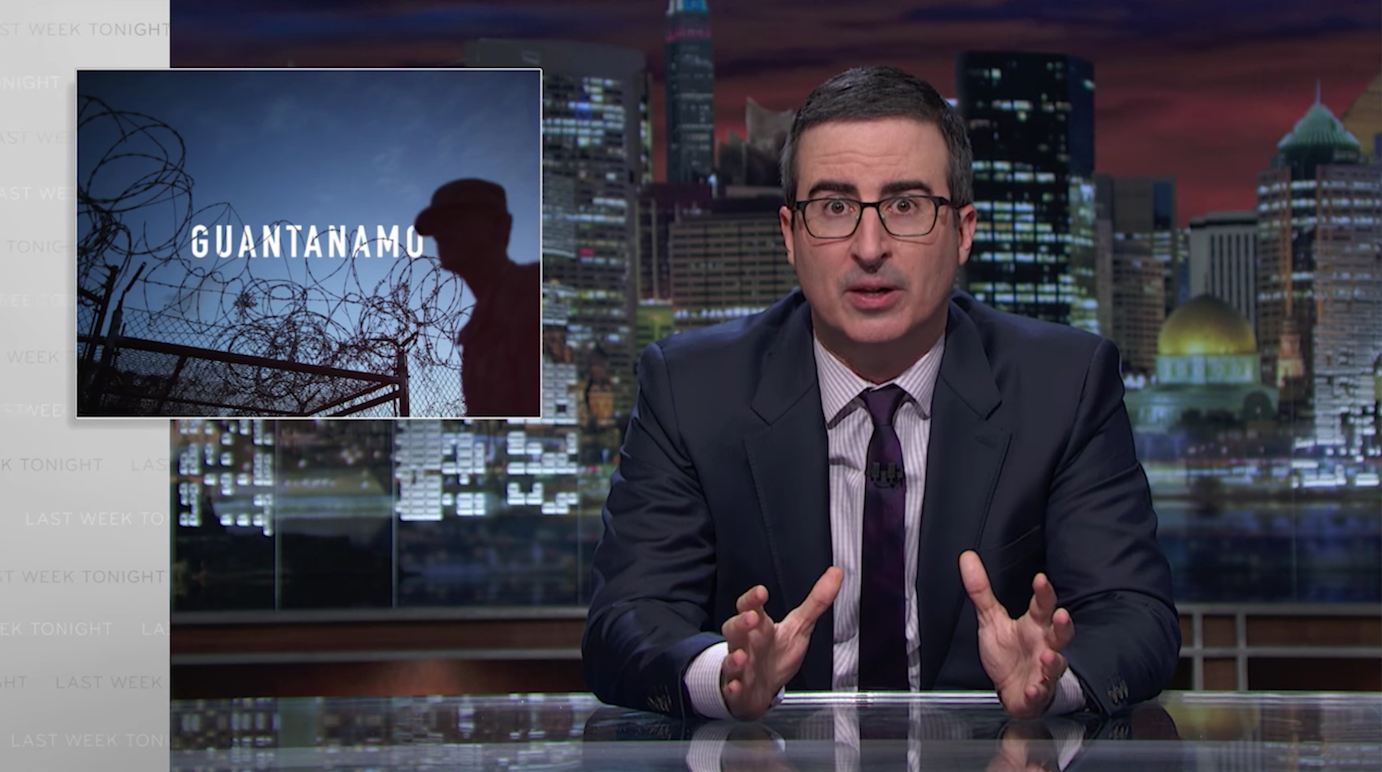 The U.S. prison at Guantanamo Bay presents a tricky situation. On the one hand, many feel it needs to be closed because it is inhumane and because innocent people are being held there. On the other hand, 52 percent of Americans feel it should stay open, and how to handle its 61 detainees is far from a black and white situation.
So convoluted is the nation's Gitmo problem that even President Barack Obama has been unable to close it despite promising to do so several times throughout his two terms in office. John Oliver opened the feature segment of Sunday's episode of Last Week Tonight with a montage of seven such instances, the earliest coming in 2009. Oliver calls Obama's inability to shut down the facility one of the president's "inarguable failures."
There are plenty of reasons Guantanamo Bay needs to be closed. According to the New Yorker, keeping it open cost $445 million in 2015 alone—equaling $7.29 million per prisoner—and that doesn't include a rental fee: Since 1903, the United States has sent Cuba an annual check for $4,085 in exchange for use of the island.
There's also the issue of the dubious circumstances surrounding how the United States has chosen to imprison suspected terrorists. At one point, suspects found to be wearing a certain popular model of Casio watch were sent to Guantanamo with little other evidence of supposed wrongdoing. As a result, many of the detainees have been found innocent: In fact, 710 have been released since the facility opened. According to leaked documents, of the 212 Afghans who have been detained, "almost half were...either entirely innocent, mere Taliban conscripts...or had been transferred to Guantanamo with no reason for doing so on file."
Still, it remains difficult to simply "close" the facility. Ten of the 61 current detainees are having their cases handled by a military commission; 20 are slated to be released but are waiting for various governmental agencies to determine which countries to send them to; and 31 have not been charged but also have not been cleared for release. These 31, as Oliver points out, are the difficult cases: The United States feels they have done something wrong, but the evidence it too murky to levy conventional charges on them. It would be a huge risk to simply release them, but according to Oliver, it's a risk we need to take. "There might well be detainees who we scooped up as young men who we think are guilty," he says. "But they will never get a trial, and they will be there until they die. At this point, we all have to ask ourselves: Are we OK with that?"
The bottom line is that Guantanamo Bay is simply not right. Many Americans have criticized it; the United Nations has criticized it; even Russia's president has criticized it, calling the facility "medieval."
As Oliver concludes, closing Guantanamo would not be a sign of weakness or resignation; it would be a sign of strength.
"When you see a bumper sticker that says, 'Freedom Isn't Free,' this is what that means: standing up for our highest ideals even when it means accepting a certain amount of risk. When that bumper sticker is displayed above a pair of red, white and blue truck nuts, it's a good reminder that doing something like that takes balls."