John Oliver Explains Why Net Neutrality Is in Trouble Under Trump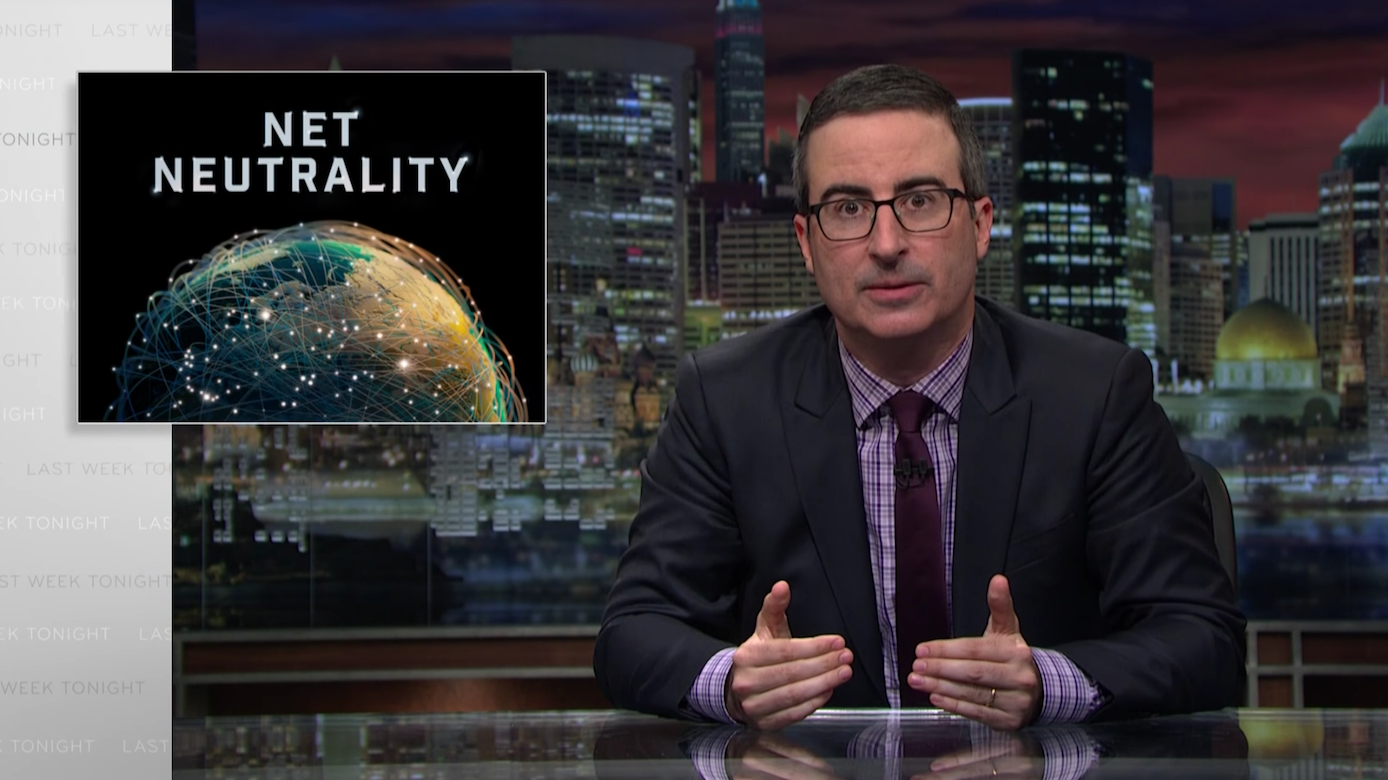 Updated | One of the first John Oliver segments to gain national attention came in 2014, when he called for viewers to flood the FCC's website with comments opposing net neutrality restrictions. The next day, that site crashed due to "technical difficulties with our comment system." It was the first of many instances in which Oliver would spur grassroots activism among his viewers, whether it be through pushing a hashtag or flat-out soliciting donations to worthwhile organizations. On Sunday night, Oliver ran back his initial call to action by once again encouraging viewers to visit the FCC's website and make their voices heard. This is because, once again, net neutrality is in trouble.
Related: John Oliver examines what Ivanka Trump and Jared Kushner have done
Two years after Oliver shut down the FCC's website, the U.S. Court of Appeals upheld new net neutrality rules supported by President Barack Obama. "Today's ruling is a victory for the open, fair, and free Internet as we know it today—one that remains open to innovation and economic growth, without service providers serving as paid gatekeepers," the Obama administration said in a statement.
Now that Donald Trump is in office, however, that "open, fair and free internet" is in jeopardy. His administration in April announced plans to roll back Obama-era net neutrality protections. The man who did the announcing was Ajit Pai, a former lawyer for Verizon whom Trump appointed as chairman of the FCC.
"For decades before 2015, we had a free and open Internet," Pai said in April. "Indeed, the free and open internet developed and flourished under light-touch regulation. We were not living in some digital dystopia before the partisan imposition of a massive plan hatched in Washington saved all of us." (An explanation of what all this means is below.)
Net neutrality is the idea that internet service providers (ISPs) should not be able to obstruct the flow of information online. For example, as one reporter proposed to Pai in 2017, if Comcast decided to produce a streaming TV show, net neutrality regulations are what prevent it from slowing down a user's connection to Netflix, which would give Comcast an unfair advantage. As Oliver says, "It is the principle that internet service providers should not be able to engage in any sort of fuckery that limits or manipulates the choices you make online."
What Pai means by pointing out that the internet "flourished under light-touch regulation" is that this type of thing never really happened, so there's no reason to institute regulations against it. Unfortunately for Pai, it has happened. As Oliver points out, Verizon, AT&T and T-Mobile in 2013 blocked Google Wallet on their phones in an effort to push their own payment app, which is precisely the type of "fuckery" net neutrality regulations would restrict.
Another falsehood Pai has put forth as a reason to ax net neutrality regulations is that they mean less investment in infrastructure. But as Oliver notes, "infrastructure investment is harder to measure than you may think, and Pai's numbers are in dispute."
According to a recent TechCrunch article highlighted by Oliver, "several companies are on the record saying their business has been largely unaffected" by heightened regulation. In 2014, Verizon Executive VP and CFO Francis J. Shammo told investors that it "does not influence the way we invest" and that the company would "continue to invest in our networks and in our platforms."
Regardless, Pai is indeed the chairman of the FCC, and he did formally propose to end net neutrality regulation. The FCC has invited comment on its website, and just as Oliver did in 2013, he is once again calling on viewers to flood the site with their displeasure. Filing a complaint is a little more complicated this time around, but Oliver is here to walk you through the process. Fast-forward the video to 15:40 to find out how.
Just as it did when he directed viewers to it in 2014, the FCC's website crashed Sunday night following Oliver's latest call for viewers to express their opposition to axing regulations meant to ensure net neutrality. As he explained in the segment, Oliver bought the URL gofccyourself.com, which redirects to a page allowing people to comment on the proposal. As of Monday afternoon, the site is back up and running. Comment away.
This post has been updated with information about the FCC website.