John Oliver On How Easy It Is For Olympic Athletes to Dope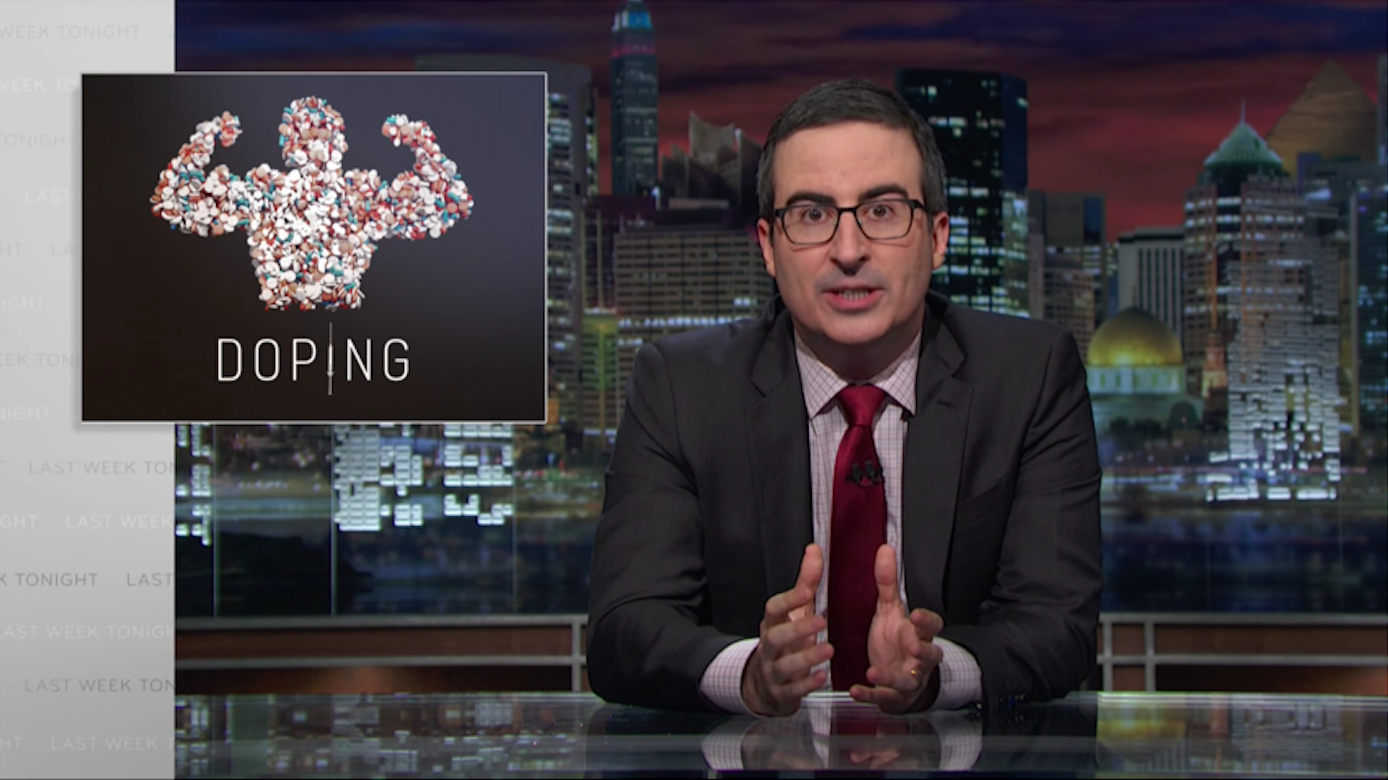 Whether Rio de Janeiro is ready for them or not, the 2016 Summer Olympics are just more than a month away. The run-up to these particular Games has been turbulent amid concerns over the Zika virus (top athletes such as Rory McIlroy have already pulled out), polluted water (U.S. rowers have been training in antimicrobial suits) and the host city's general preparedness to host such a massive event.
There's also doping, a problem that has longed plagued the Olympics. Most recently, Russia's track and field team was banned from the Games by the International Association of Athletics Federations (IAAF) after an investigation. On Sunday's night edition of Last Week Tonight, John Oliver spent a solid 20 minutes breaking down the world of high-performance doping. It's a problem that is practically baked in (or intravenously injected) into the culture of international competition.
Athletes do it because they can
According to a survey leaked in 2013, 29 percent of the athletes at the 2011 world championships said they had doped in the past year. That is a lot, and there's no reason to think doping has dissipated since the survey was taken. The testing process is so complicated and convoluted that athletes are always going to be able to find a way to take advantage of it. And because there are so many organizations involved in doping regulation—from the IAAF to the International Olympic Committee (IOC) to the World Anti-Doping Agency (WADA) to local agencies—there also are plenty of opportunities for various officials to take bribes or offer favors.
About that corruption
This bribe-taking and favor-doing is commonplace, anyway. The Olympics are lucrative. NBC has already sold more than $1 billion in ad space for the Rio Games, and the network's current deal with the IOC is worth nearly $8 billion. So yeah, a lot is at stake. The presence of a facade of regulation is all that really matters, and officials only need to have plausible deniability. They have relationships to maintain, after all. When WADA was informed of Russia's rampant drug use by a whistleblower, the organization's president sent an email to an advisor of the country's sports minister that read, "I value the relationship I have with Minister Mutko and...there is no intention in WADA to do anything to affect that relationship."
The payoff
For an individual, the payoff for doping and getting away with it outweighs the risk of getting caught. There are sponsorship deals, which are one of the primary ways Olympic athletes can make a living. There's also the glory of being the best (kind of?) at something you've dedicated your entire life to, as well as the pressure to compete with other doping athletes. Oliver showed a clip of CBS showing Alysia Montano, who lost at the 2012 Olympics to a Russian suspected of doping, re-watching the race for the first time. She was in tears. "At that moment, I realized I was racing against robots," she said.
So what can be done? Many have suggested just making doping legal, but then the athletes who want to stay clean are penalized. Oliver suggested empowering WADA by making it truly independent, but that doesn't seem very realistic, at least not in the near future. As Oliver said earlier in the segment, "This is all actually making FIFA look good." We can't think of anything more damning.