John Oliver on How Trump's Budget Will Hurt His Supporters the Most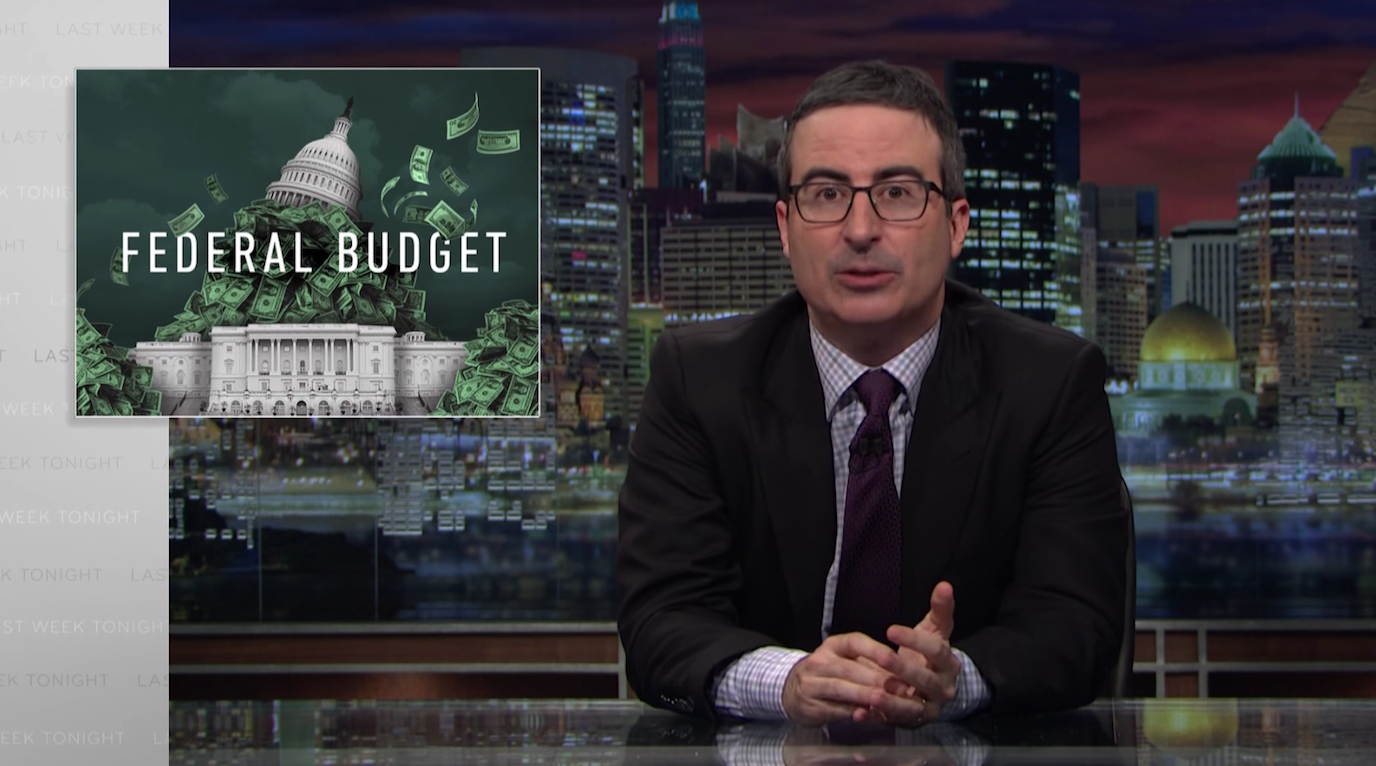 John Oliver is not a fan of Donald Trump's budget proposal. The president's "wish list" for how he wants the federal government to spend its money was unveiled last week, and the Last Week Tonight host used Sunday night's feature segment to detail the ways in which the plan will screw over Americans, particularly those who voted for Donald Trump.
Related: Complete Trump budget expected in May, Mulvaney says
Trump's budget director, Mick Mulvaney, explained on CBS that the proposal was assembled by going over Trump's speeches and converting the policies he espoused "into numbers." The problem with this, as Oliver points out, is that Trump has never been particularly articulate when it comes to detailing fiscal policy, or any sort of policy.
Here are a few examples of what Mulvaney may have been referring to:
At the Iowa Freedom Summit in 2015:
"You got to make the country rich again and strong again so that you can afford it, and so you can afford military and all of the other things."
From a speech in 2016:
"Putin has built up their military again and again and again. Their military is much stronger. He's doing nuclear; we're not doing anything. Our nuclear is old and tired and his nulcear is tippy-top, from what I hear."
These types of statements from Trump have resulted in a budget proposal that calls for a $54 billion increase in defense spending, and a $1.4 billion increase for the National Nuclear Security Administration. Meanwhile, the Department of Agriculture, the Department of Health and Human Services, NASA, the Department of Education, the Department of Transportation, HUD, the Small Business Administration, disaster relief, the DOJ, the Treasury Department and a host of other programs would all see cuts.
The Environmental Protection Agency, which accounted for 0.2 percent of federal spending, would see its budget cut by 31 percent. The State Department and USAID, which accounted for 1.4 percent of the budget, would see theirs slashed by 28 percent. Funding for the National Endowment for the Arts, the National Endowment for the Humanities and the Corporation for Public Broadcasting, which together made up 0.02 percent of the budget, would be eliminated. As Oliver says, "You don't cut those agencies as a cost-saving measure, you do it as a fuck you."
Mulvaney's go-to defense of these cuts has been that the government can't ask coal miners and single mothers to pay for these programs. As Oliver points out, however, Mulvaney was silent on what single mothers might think of the fact that Trump's budget would cut funding to after-school programs like Wings for Kids, which serves 1,600 children in three states. "I really don't know," said a mother asked by CNN what she would do if the program didn't exist. "I would be lost."
Mulvaney also didn't mention what coal miners might think of cuts to the Appalachian Regional Commission, which funded 35 enrichment projects and programs in Tennessee in 2016. Trump's budget proposal even would cut funding for rural airports. "If anything resembling this budget passes," Oliver says, "many of Trump's own voters will wind up getting burned."
For added context, Oliver turned to a particularly relevant passage from The Art of the Deal.
"You can't con people, at least not for long. You can create excitement, you can do wonderful promotion and get all kinds of press, and you can throw in a little hyperbole. But if you don't deliver the goods, people will eventually catch on."
"Oh, I think people are catching on," Oliver responded. "It's taking longer than is perhaps ideal, but I think pretty soon all of us will be fed up, right up to the tippy-fucking-top."