John Oliver Says He Is Concerned About Being Able to Stay in America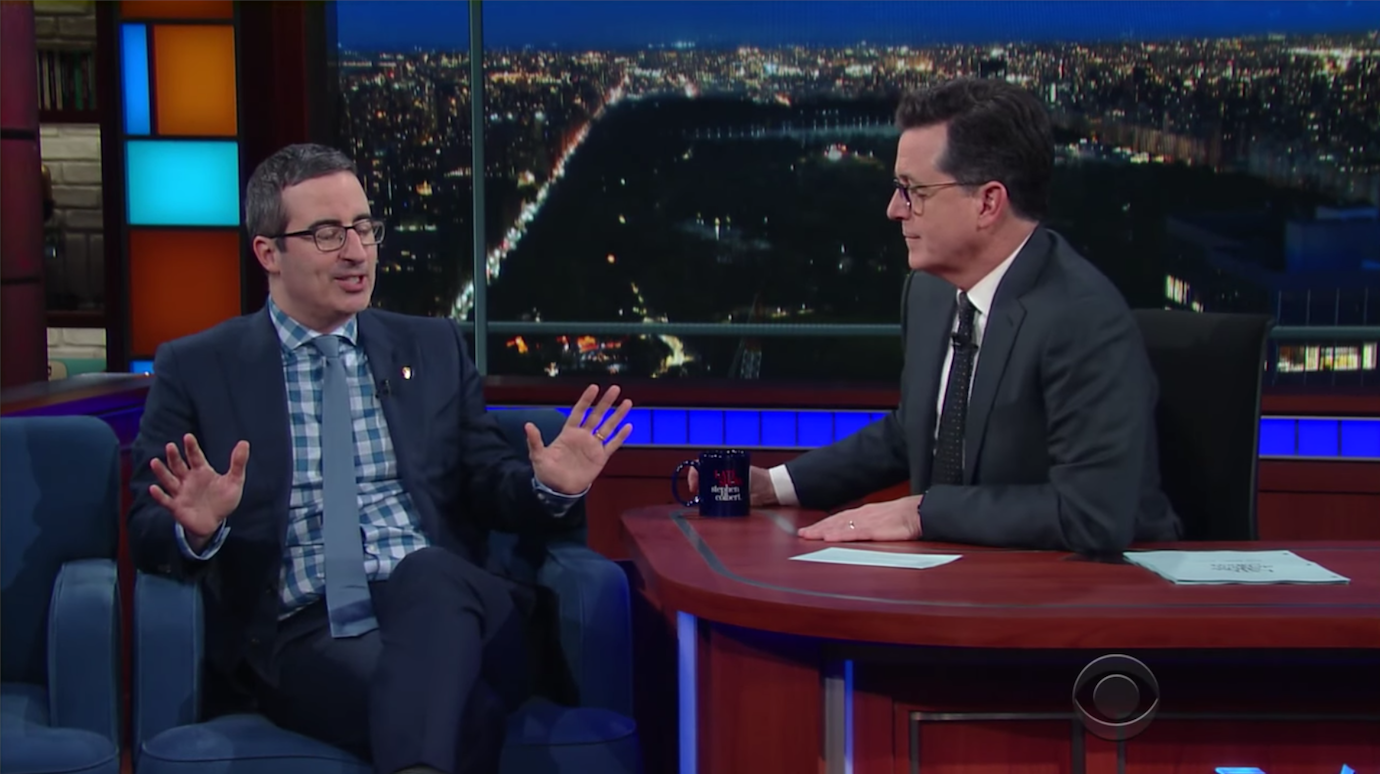 Season 3 of Last Week Tonight With John Oliver ended in November, right after Donald Trump was elected president. As he signed off, Oliver cautioned viewers that "things will not be OK" if people do not "get actively involved to mitigate Trump's damage," and that "it is going to be too easy for things to start feeling normal."
A lot has happened since then, and on February 12, Last Week Tonight will return to HBO with no shortage of material. Oliver on Tuesday stopped by the Late Show to offer his take on the past few months to his former Comedy Central counterpart, Stephen Colbert.
Related: Trump was reportedly 'rattled' that a woman played Sean Spicer on 'SNL'
The biggest news of the day was the confirmation of Betsy DeVos as Education Secretary. Many felt DeVos, a billionaire known for her financial contributions to the GOP, was woefully underqualified for the position. So hotly contested was the decision that the vice president was forced to cast the deciding vote to appoint a cabinet member for the first time in history. "Easiest vote I ever cast," said Mike Pence. John Oliver wasn't as happy with the result.
"I actually think she might—and should—serve as an inspiration to school kids in America, because she shows that they could be Secretary of Education one day," quipped Oliver. "In fact, not just one day, now. They could do it now. They're about as well-qualified now as she is."
Kidding aside, Oliver used DeVos to reiterate the point he made in November about how Americans can't let the Trump administration exhaust them into complacency. "I think people are still feeling viscerally repelled by things," he said. "The problem really arises when you get punch drunk. When you hear something like the Betsy DeVos confirmation and go, 'Well, that's the way the world is now.'"
Of particular concern to Oliver is Trump's executive actions on immigration, which he fears could worsen. He is not an American citizen himself. He does have his green card, and though he acknowledges he's "probably" going to be fine, but that there is "a non-zero chance" that his green card won't guarantee he can stay in the country. "I am slightly concerned," he said. "I have an American wife and an American son now, but who knows what's enough? Having your green card used to be enough. But what we saw with that executive order on immigration—that debacle—is that things aren't what they are supposed to be. We held up Afghan and Iraqi translators at the border who have bled for a country they've never visited, who have sacrificed family members for this country," he told Colbert. "This president has done neither of those things, so it's a little hard to swallow whether they should be a benefit to America or not."
One concern that Oliver shares with many Americans is how exhausting Trump's two-week-old presidency has been. "It feels like his inauguration day was 114 years ago," he said. "We have a long way to go. It's going to be hard. It's easy to be angry on adrenaline, but it's much, much harder when you are just tired, and this is going to be exhausting."
A lot has transpired since Oliver's last episode of Last Week Tonight, but his message is the same: This isn't normal, and Americans who disagree with Trump need to make sure it never starts to feel that way, regardless of how exhausting Trump's actions may become.