John Oliver Slams Trump: You Have to Call Out Charlottesville White Nationalists by Name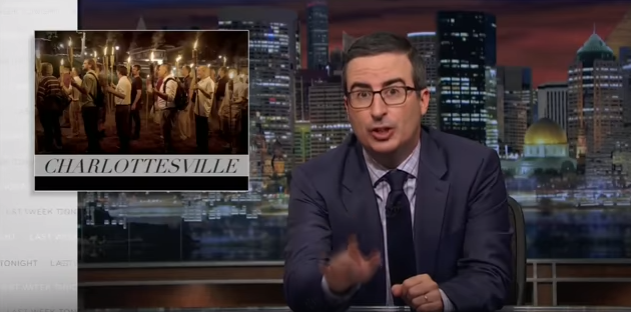 In the wake of the tragic events in Charlottesville, Virginia, this past weekend, people across the political spectrum were quick to condemn Donald Trump's remarks that the root of violence came from "many sides." Trump refused to say the words "white supremacists" or "white nationalists," much less make reference to the incident in which a car, allegedly driven by a Unite the Right demonstrator, barreled through a crowd of counterprotesters, killing one and injuring at least 19 more.
John Oliver piled on the Trump criticism in Sunday's Last Week Tonight episode, addressing the president's missed opportunity to properly disavow the white nationalist demonstrations that occured in Virginia. "This was a white nationalist rally—you have to call that out by name," said Oliver. "There honestly aren't many instances in modern American politics where you could honestly think, 'That guy really should have mentioned the Nazis,' but this is emphatically one of them."
Oliver pointed out that the press repeatedly asked Trump to address white nationalism and the specific domestic terrorist events in Charlottesville, amd he ignored every single opportunity before signing a bill and walking away from the podium.
"He had one last shot before the buzzer as the racism clock hit zero, and he threw an airball so far away it landed in the Third Reich," Oliver quipped.
Trump hasn't explicitly expressed support or sympathy for the white nationalist groups in Charlottesville—which actually led former KKK leader David Duke to lash out at Trump as well. As Oliver put it, "A nonanswer in a moment like this is an answer.
"It simply doesn't get easier than disavowing Nazis," continued. "It's as much of a presidential gimme as pardoning a fucking turkey. It is almost impossible to screw it up. But that's exactly what happened."