John Oliver Warns Meghan Markle About 'Emotionally Stunted' Royals in Clip
John Oliver warned the royals were "an emotionally stunted group of fundamentally flawed people doing a very silly pseudo job" before Meghan Markle and Prince Harry's wedding, in a clip that has resurfaced on TikTok.
The comedian was asked by Stephen Colbert on The Late Show with Stephen Colbert in February 2018 whether he was excited about the royal wedding which was due to take place that May.
Oliver, also a Brit who married an American woman, said: "I would not blame her if she pulled out at the last minute. I don't think you need to have just seen the pilot episode of The Crown to get a basic sense of she might be marrying into a family that could cause her some emotional complications."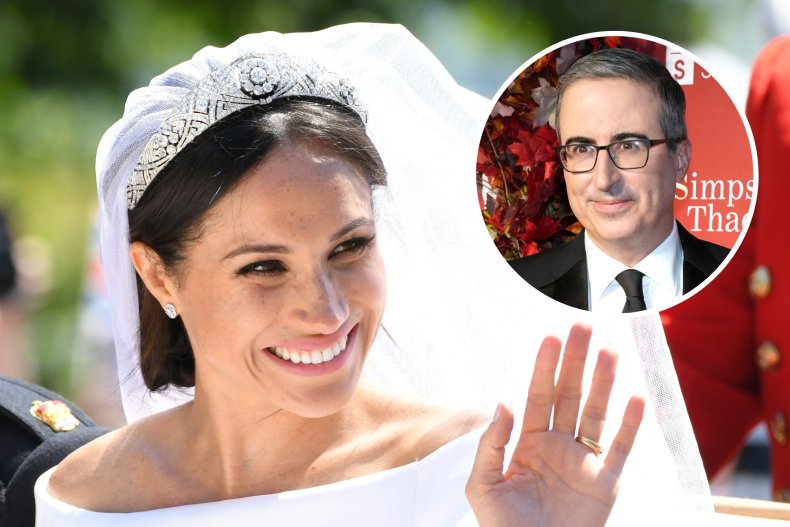 His reference to "emotional complications" has echoes of the story Harry and Meghan have since told about their struggles with royal life, including in the prince's recently released memoir Spare.
The video, on TikTok, was viewed almost 300,000 times and liked over 31,800 times in five days.
In the original interview, Colbert suggested "this generation seem like nice people," earning a skeptical response from Oliver.
"Yeah," Oliver replied. "I mean, they're an emotionally stunted group of fundamentally flawed people doing a very silly pse77777777777777777777udo job. That's what she's marrying into. So, I hope she likes it—it's going to be weird for her.
"I would not marry into the royal family. I'm a commoner. I would not be welcome. Especially after what I've just said."
The light-hearted exchange turned out to be more prescient than Oliver could perhaps have realized at the time, as three years later Meghan would tell Oprah Winfrey she experienced suicidal thoughts while a working royal.
Harry's book Spare also paints a portrait of an emotionally distant family where there are few hugs.
After Princess Diana died, Harry said Charles did not hug him, instead putting a hand on his knee.
Spare read: "What I do remember with startling clarity is that I didn't cry. Not one tear.
"Pa didn't hug me. He wasn't great at showing emotions under normal circumstances, how could he be expected to show them in such a crisis?
"But his hand did fall once more on my knee and he said: 'It's going to be OK.' That was quite a lot for him. Fatherly, hopeful, kind. And so very untrue."
Meghan also suggested her relationship with Prince William and Kate Middleton got off to an awkward start after she tried to hug them.
"It's like, I was a hugger, I've always been a hugger," she said in their Netflix docuseries Harry & Meghan, released in December 2022. "I didn't realize that that is really jarring for a lot of Brits.
"I guess I started to understand very quickly that the formality on the outside carried through to the inside...that there is a forward-facing way of being and then you close the door, and you go, 'Oh...ok we can relax now.' But that formality carries over on both sides and that was surprising to me."
Harry described the moment in his book: "I introduced Meg, who leaned in and gave him a hug, which completely freaked him out.
"He recoiled. Willy didn't hug many strangers. Whereas Meg hugged most strangers."