John Oliver's 'Last Week Tonight' Returns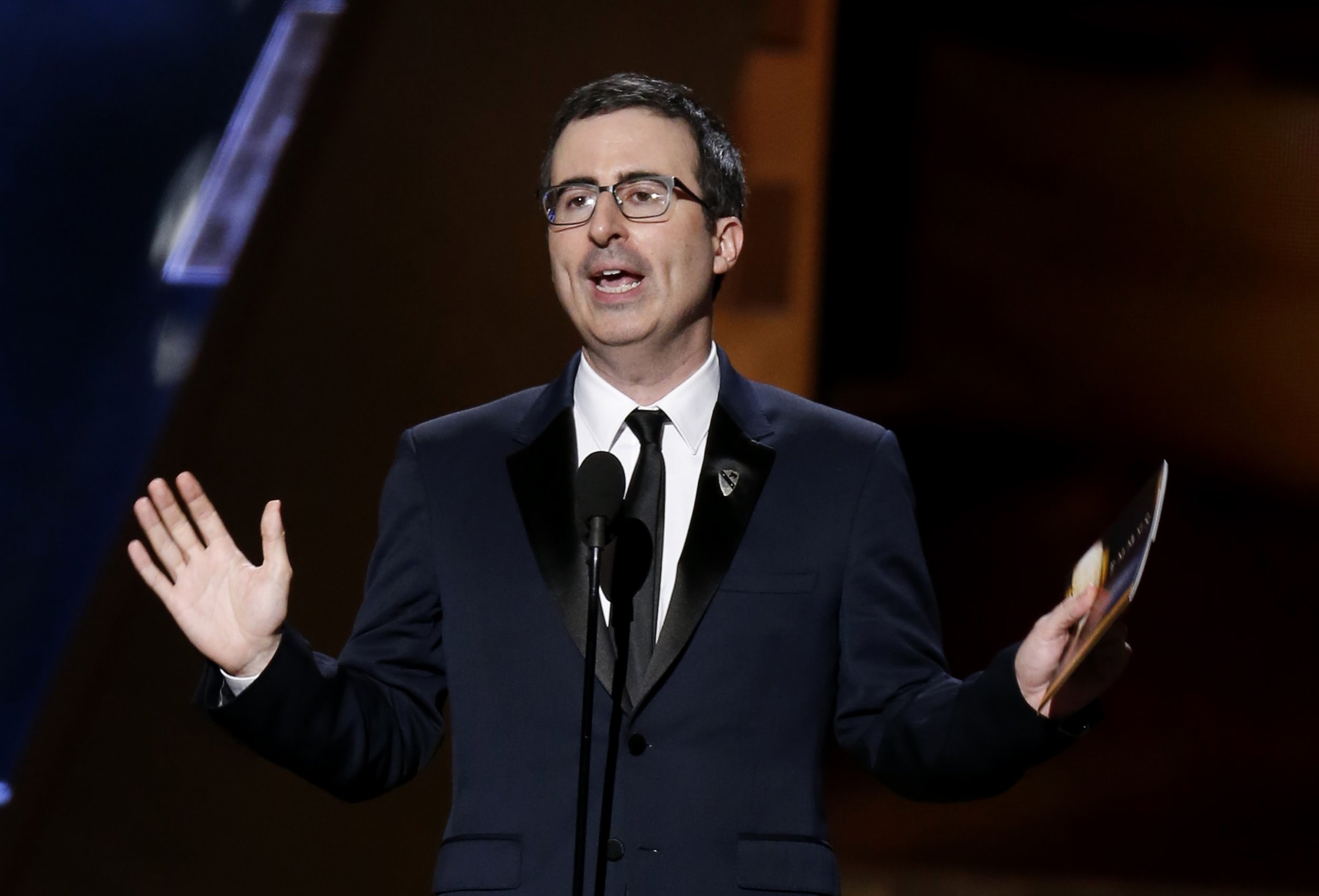 Cross-stitched portraits of Rachel Dratch as a pastor's wife and five vials of, erm, sperm? Just another day on the set of Last Week Tonight, the late-night offshoot of former Daily Show correspondent John Oliver. The HBO series, which sees its third season premiere Sunday night, has become a beloved television staple, thanks to its idiosyncratic approach to comedy. Rooted in daily news and much absurdity, Last Week Tonight prompts laughs (Even this publication has been burned: Touche, Oliver!) and harrowing investigations alike, on subjects as diverse as FIFA and the sugar trade.
The crown jewels of Last Week Tonight are the engaging hijinks that occasionally get "pretty fucking out of hand," by Oliver's own admission. Specifically, he's referring to the televangelism segment last August in which he and his staff—legally—tested out megachurches' penchant for asking the faithful for tax-free money, and promised them riches in return. So he followed suit and asked his viewers to do the same for his "Church of Perpetual Exemption." Oliver set up a P.O. box, expecting to attract a few envelopes in the experiment. Instead, he had to hire five full-time interns to parse through the thousands of dollars and "assorted pornographic materials" that arrived, including the aforementioned vials of sperm. The money's since been donated to Doctors Without Borders, and the IRS itself was under fire following Oliver's televangelism segment. Seems the revolution is still sometimes televised.
"We had to stop because you have HBO going, 'Sure, let's see how this plays out… No, we're done!' Freedom is a double-edged sword!" Oliver exclaimed of the experiment. Sitting at a press roundtable one brisk morning in early February, the sharply dressed Oliver seemed oddly at ease for someone who was was not only preparing for a premiere in less than two weeks, but for whom the pressure has mounted significantly to trump his show's already huge success and surprises. Most notably, during its second season last year, Oliver finagled what turned out to be a gripping interview with whistleblower Edward Snowden, in which he probed the renewal of the Patriot Act: Section 214 and, yes, dick picks.
It required traveling to Moscow, which Oliver admitted was terrifying. "That's basic-level parenting: Don't stare directly in the sun, and don't meet fugitives," he said. HBO didn't know about the Snowden interview until after the team returned from the trip, either, with the tapes having been divided up between several people in case they got stopped. "I thought it would be funny to spring the interview up on people, but that's not something I think most networks are anxious to hear: 'Oh, you have something people want to watch? How about you not tell them it's going to be on?'" he said. "And it was amazing that they said, 'Sure.'"
Oliver said he's not itching for further big interview gets this time around, though. "I definitely want to be the next Barbara Walters down the line: Big gets, and I want to make people cry," he said sarcastically. "I didn't go after El Chapo. Rolling Stone had already given him an offer he couldn't refuse."
Last Week Tonight is coming back at a critical time: The ramp-up to the 2016 presidential election. And with The Colbert Report gone from Comedy Central, people are looking toward Oliver (and perhaps his contemporary Samantha Bee, whose show Full Frontal just had its premiere) to skewer the likes of Ted Cruz and Marco Rubio. Don't expect Oliver to provide you with play-by-plays of every caucus and debate and snide comment uttered by the candidates, though. While Donald Trump will surely be mentioned on Last Week Tonight—it won't be in the way you'd expect. "We'll definitely look at the election this year but we'll do stuff that has more to do with the process," Oliver said, adding that the focus would instead be "looking at how the election is run forensically more than the things that people are saying."
While Oliver wouldn't disclose what that might entail exactly, he did allude to the idea that the show might "try to look at the process of democracy in the United States," and he was quick to quip: "Which sounds hilarious." What about playing "boff, marry, kill" with Trump, Rubio and Cruz? "I'd kill myself so as to not answer that question," he deadpanned.
Behind the funny are writing, research and footage departments whose alums include people who've been with the New York Times Magazine, ProPublica and CSNBC. The departments often swerve with each other while pitching and producing each week's show, he says. There's no time to bask in the success of a show, not even the Snowden interview: They're always looking ahead to the next week with "varying degrees of panic," according to Oliver. During the show's first season, he says the crew would often crash stories within a single week—which, for a research-intensive show that's reliant on data and video, is a taxing prospect. The longer stories come first, and funny comes later, with the scripts "densely packed with jokes." He was mum on potential topics this season, citing the surprise factor and the reality that something could fall through.
When asked if he was looking forward to another year of headlines featuring him "slaughtering" or "annihilating" a joke, Oliver rolled his eyes. According to him, Last Week Tonight has never attempted to go viral, and its success has been entirely accidental. It's always been about the laughs. "Laughter is the only reaction that we have an imminent stake in," he said, adding: "My only focus is this show and trying to make it not shit."
Correction: An earlier version of this article stated that The Daily Show was no longer on Comedy Central. This article has been amended to reflect that just The Colbert Report is, in fact, no longer on Comedy Central, as The Daily Show still is.