John Paul Jones Is Watching His Ex, Bachelorette Tayshia Adams, Find Love
It's not easy watching your ex-girlfriend fall in love on television, according to John Paul Jones, but it may be an important part of the breakup process. After their public split in October 2019, his ex Tayshia Adams is the Bachelorette and he's watched the ABC reality show "here and there."
In a conversation with Hollywood Life, Jones explained that it was immediately difficult to watch, though the process hasn't been without its redeeming qualities. "I felt like it would be a pretty good personal experience [to watch] and from what I've learned, it's kind of like taking an ice bath," he revealed.
He continued. "At first it was really cold and uncomfortable watching your ex-girlfriend flirt and kiss a bunch of guys but then you get used to it after a while. I suppose it was a pretty good thing for [my] own personal development. You develop another sense of comfortability with yourself."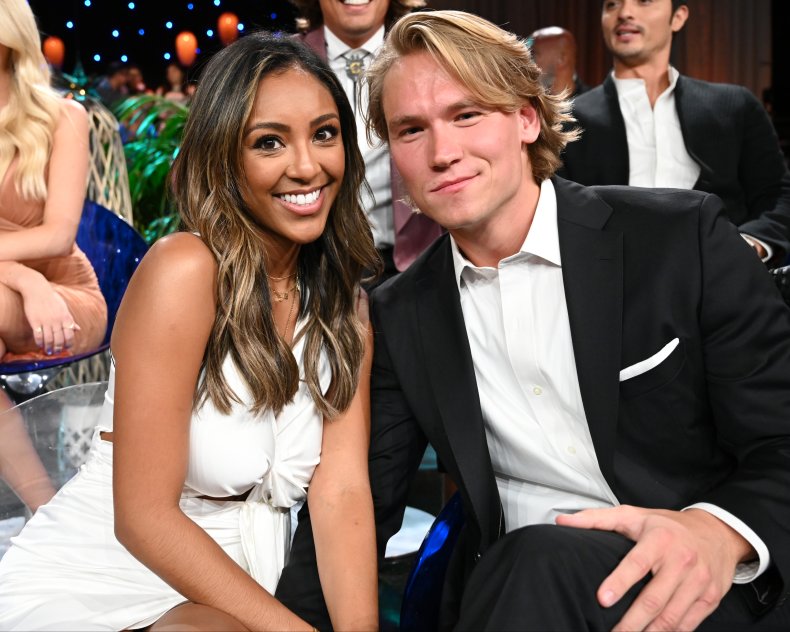 Adams and Jones fell in love on the series Bachelor in Paradise but weren't engaged, like some couples from the series. They never revealed a formal reason for their split but pledged to remain friends. "We are the best of friends and will continue to remain in each other's life because regardless of the situation, we make each other happy," Adams's Instagram post on the breakup revealed.
Now, Adams has truly moved on. She's confessed to falling for multiple men on her season of The Bachelorette, and hometown dates with her final four are just around the corner. Spoilers (read here) claim she may even find someone she'll embark on a post-show relationship with. So what is Jones up to?
Currently, Jones doesn't appear to be dating anyone publicly. The last time he was spotted on a date was in January when he was linked to model Victoria Rose Strehlow. A photo of the pair is still visible on John Paul Jones's Instagram account from January 17. While they've not posted another photo, Strehlow and Jones still follow each other on the photo app.
Jones has also made a point of shutting down other dating rumors on the app by clarifying each woman's role in his life. He's named his cousin in a birthday post, and one of his employees even identified herself as someone who works for Jones when he posted a photo of them. Nothing like the photo with Strehlow has been seen since January.
Maybe Jones is dating in secret, or he may just be enjoying the single life. Either way, if you're looking for some dating drama, just turn your attention to Adams on The Bachelorette. The series will next premiere Monday at 8 p.m. ET on ABC before returning to its normal Tuesday timeslot.