Who is John Ratcliffe? Donald Trump's Pick for Intelligence Chief Slammed for 'Blind Loyalty' to President
President Donald Trump's pick for director of national security has been described as being blindly loyal to the president, and his credentials have been called into question by Democrats.
Texas Republican John Ratcliffe, who earned himself numerous column inches for his staunch defense of Trump during last week's testimony of special counsel Robert Mueller, was named by the president on Sunday as his choice to replace outgoing intelligence chief Dan Coats.
The Republican politician has served as the representative for Texas' 4th district since 2015, and previously served as mayor of Heath, Texas for four terms from 2004 to 2012. He currently serves on Intelligence, Homeland Security, Judiciary and Ethics Committees, according to his biography.
The 53-year old congressman previously practiced law, and worked as the U.S. attorney for the Eastern District of Texas in 2007. Under the George W. Bush administration, he was appointed Chief of Anti-Terrorism and National Security for the Eastern District of Texas in the Department of Justice. According to his biography, in this role the senator "put terrorists in prison, arrested 300 illegal aliens in a single day, and cracked down on drug trafficking and public corruption."
"I am pleased to announce that highly respected Congressman John Ratcliffe of Texas will be nominated by me to be the Director of National Intelligence," the president tweeted Sunday evening.
"A former U.S. Attorney, John will lead and inspire greatness for the Country he loves. Dan Coats, the current Director, will be leaving office on August 15th. I would like to thank Dan for his great service to our Country. The Acting Director will be named shortly," Trump said.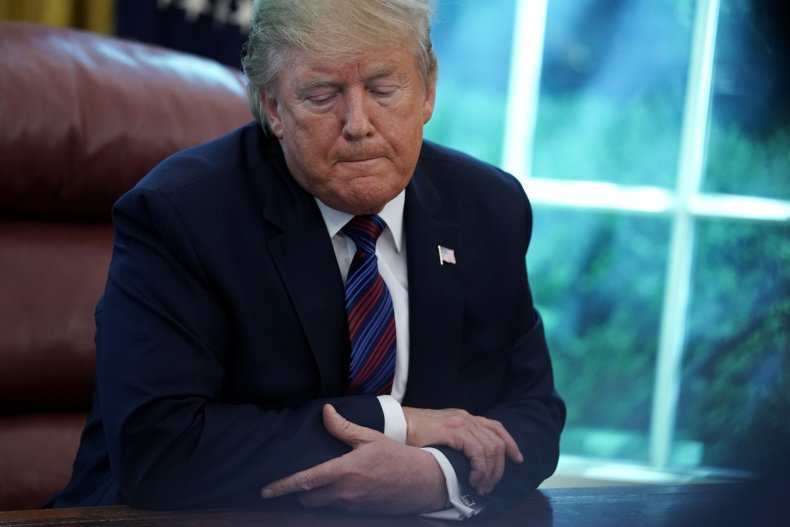 But the president's choice was immediately criticized by Democrats including Senate Minority Leader Chuck Schumer, who said in a statement carried by The Hill that Ratcliffe was too partisan to carry out the role effectively.
"It's clear that Rep. Ratcliffe was selected because he exhibited blind loyalty to President Trump with his demagogic questioning of former Special Counsel," Schumer said. "If Senate Republicans elevate such a partisan player to a position that requires intelligence expertise and non-partisanship, it would be a big mistake."
Meanwhile, The New York Times reported that several Republicans had privately expressed concern about Ratcliffe's appointment, citing similar rationale to Schumer.
Democrat Sen. Elizabeth Warren, who has had numerous run-ins with the president, tweeted: "From day one, Trump has made his disdain for the intelligence community clear. Our Director of National Intelligence should be above partisan politics, speak truth to power, and resist Trump's abuses of authority. John Ratcliffe doesn't fit that bill."
And other commentators on social media pointed to Ratcliffe's comments during Mueller's testimony—with the Texan hitting out at Mueller over the report's note that the president was not exonerated.
"It was not the special counsel's job to conclusively determine Donald Trump's innocence or to exonerate him because the bedrock principle of our justice system is a presumption of innocence. It exists for everyone, everyone is entitled to it, including sitting presidents," Ratcliffe told Mueller at his first Judiciary Committee hearing. "You managed to violate every principle and the most sacred of traditions about prosecutors not offering extra prosecutorial analysis."
During an interview with Fox News on Sunday, Ratcliffe called for investigations into potential wrongdoing by the Obama administration in regards to illegal media leaks related to the Russia probe, stating that "there were crimes committed" under the previous president.
"What I do know as a former federal prosecutor is it does appear that there were crimes committed during the Obama Administration," Ratcliffe told Fox News's Maria Bartiromo.
"You talked earlier about Michael Flynn. His phone call with the Russian ambassador was a highly classified NSA intercept. Someone in the Obama administration leaked that call to the Washington Post. That's a felony," he added.
"Jim (James) Comey, he admitted that he leaked his confidential conversations with the president to a reporter. Did that include classified information? We need a fair process to find out answers to that," added Ratcliffe.
In a resignation letter, Coats praised the achievements of the intelligence community and said it had been a privilege being a part of the president's national security team.
"The Intelligence Community is stronger than ever, and increasingly well prepared to meet new challenges and opportunities," he said. "As we have previously discussed, I believe it is time for me to move on to the next chapter of my life," the letter added—citing August 15 as the date from which his resignation would be effective.
The House Intelligence Committee Chairman, Representative Adam Schiff, tweeted a message thanking Coats for his service on Sunday, although he did not comment on Trump's choice of replacement.
"I want to thank Dan Coats for serving as Director of National Intelligence with such distinction." Schiff said. "He has been a great advocate for men and women of the Intelligence Community, and a good leader. Most important, he has had the independence and strength to speak truth to power."
Congressman Ratcliffe did not respond to Newsweek's request for comment.