John Roberts, SCOTUS' Chief Justice, Beats Harris, Biden, Fauci in Job Approval: Poll
Supreme Court Chief Justice John Roberts has bested eleven other prominent federal officials, including the president and vice president, in job approval at the end of 2021.
According to the latest poll from Gallup, 60 percent of Americans surveyed approve of the job Roberts is doing as he presides over the bench. Roughly a third of those polled, meanwhile, disapprove of his performance on the high court.
That's the highest approval rating of the 11 officials surveyed, and seven percentage points ahead of the next highest-ranked official: Federal Reserve Chairman Jerome Powell.
Dr. Anthony Fauci, the nation's top infectious disease expert, saw a job approval rating of 52 percent. Fauci has become a leading administration official amid the coronavirus pandemic, which continues to spread across the country with the emergence of the Omicron variant.
President Joe Biden and Vice President Kamala Harris both have underwater approval ratings.
As of mid-December, Gallup found 43 percent of voters approved of the way Biden is handling his role as commander-in-chief compared with 51 percent who disapprove. His job rating has fallen significantly since he took office, as he began his presidency with 57 percent approval from the public.
Harris has an approval rating of 44 percent, while 54 percent disapprove of her job so far as vice president.
Roberts's popularity comes as the Supreme Court this year considered several high-profile cases on the future of abortion rights and the Second Amendment, with potential rulings coming in June of 2022.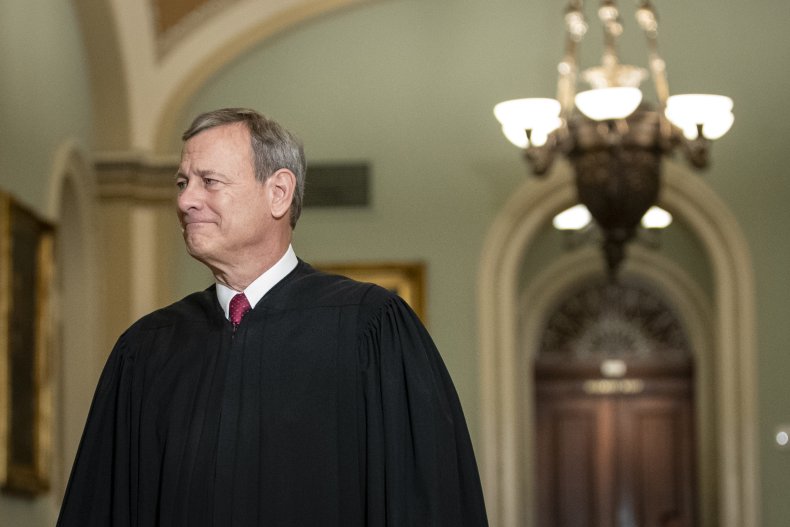 For reproductive rights, the court heard arguments in Whole Woman's Health v. Jackson and Dobbs v. Jackson Women's Health. The first case deals with a Texas abortion ban enforced by private citizens, while the second deals with Mississippi's law prohibiting most abortions after 15 weeks of pregnancy.
Roberts warned earlier this month that the Supreme Court risks its own legitimacy if it allows the Texas law to remain in place. Joining his liberal colleagues in a partial dissenting opinion, Roberts wrote that the purpose of the abrortion law is "to nullify this Court's rulings" and "has had the effect of denying the exercise of what we have held is a right protected under the Federal Constitution."
In addition to having the highest approval rating of the 12 federal officials surveyed, Roberts was the only one to have majority support from both sides of the aisle. Fifty-seven percent of Republicans and 55 percent of Democrats backed Roberts.
Newsweek reached out to the Supreme Court for comment but didn't receive a response before publication.
Gallup surveyed 811 Americans between December 1 and December 16. The poll has a margin of error of plus or minus four percentage points.