John Schnatter Net Worth: Papa John's Chairman Resigned After Using N-word During Conference Call
John Schnatter, the founder of Papa John's Pizza, has a net worth of $1 billion, according to Forbes. The first Papa John's was founded in Jeffersonville, Indiana, in 1985. It now has over 5,000 stores worldwide employing more than 23,000 people.
Schnatter, 56, resigned as chairman of the world's third-largest pizza delivery company after using the n-word during public relations training on the issues of race.
"Colonel Sanders called blacks [n-word]s," Schnatter said during a conference call in May, Forbes first reported, before complaining that Sanders never faced public backlash. He subsequently resigned from the board and apologized for "inappropriate and hurtful language."
The call was reportedly designed to prevent future public relations gaffes similar to Schnatter's comments about the NFL, of which Papa John's was a major sponsor.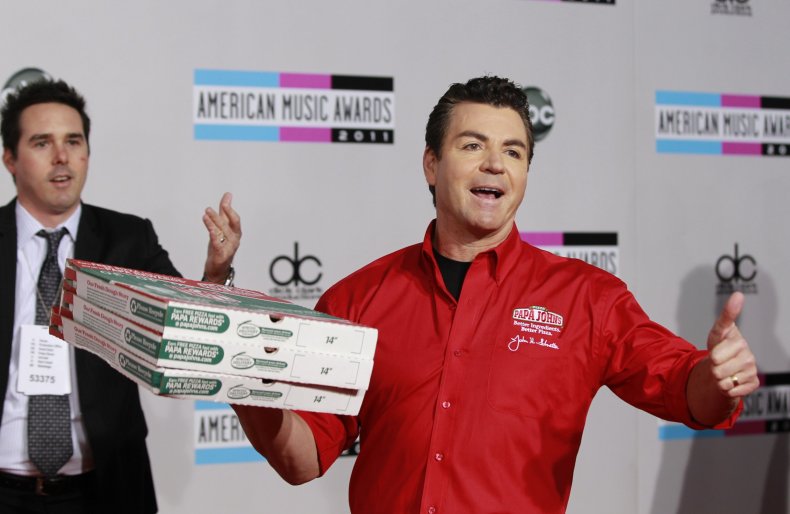 He stood down as CEO in 2017 after criticizing the NFL for not cracking down on black players protesting police violence during the national anthem.
Schnatter complained that the lack of action by NFL executives to stop football players taking the knee during the anthem hurt Papa John's sales.
According to a biography on the company's website, Schnatter says his father, Robert, and his grandfather "Papaw Ackerson" had "drilled into John the importance of hard work."
Schnatter's first job at a local pizza restaurant called Rocky's Pub Sub when he was 15, where he started as a dishwasher and ended as a pizza maker—the first step on a path that would lead to him becoming a billionaire.
After gaining a business degree from Ball State University, he worked at his father's failing tavern, Mick's Lounge, which was on the brink of bankruptcy.
"He knocked down the broom closet of Mick's Lounge, purchased used restaurant equipment, and began delivering pizzas out of the back of the bar," according to Schnatter's biography.
In 1985, when Schnatter was just 23 years old and in the middle of making the family's foundling pizza business work, his father passed away. A day after the funeral, he was back in the pizza store.
"When the whole world's falling apart, that's when you've got to hold onto yourself and stay solid, and get through it," Schnatter said during a 2013 interview on CNBC's The Big Idea.
"And our world was falling apart but we made the right choice through adversity and it's really been a blessing ever since. And it's really the way daddy would've wanted it to be."
The rest, as they say, is history.
Papa John's 2017 annual report records total revenues for the year of $1.78 billion, with a net income of almost $103 million.
The company has a current market value of $1.57 billion, though its share price fell by 5 percent after Schnatter's resignation as chairman.