John Travolta Almost Gave Taylor Swift's 'Video of the Year' VMA to 'Drag Race' Star Jade Jolie
John Travolta doesn't have the best luck at awards shows. In 2014, he mistakenly announced Idina Menzel's performance of "Let It Go" at the Academy Awards by calling her "Adele Dazeem." On Monday, Travolta made another awards flub by almost giving Taylor Swift's "Video of the Year" Video Music Award to Jade Jolie, a drag queen and Taylor Swift impersonator.
The pop culture site Pop Crave posted a brief clip of the real Taylor Swift celebrating the win with her friends. The camera then cuts to Travolta on stage, about to hand the award to Jolie, who wordlessly corrects him. The two share a laugh, and Travolta holds on to the award to give it to the actual Taylor Swift.
Travolta's confusion is understandable. Jolie looks so much like Swift, the drag queen — real name Josh Green — portrayed the superstar in the music video for "Snaked" by fellow RuPaul's Drag Race alum Alaska. That wasn't the only time Jolie posed as Swift; Jolie also appears in Swift's video for "You Need to Calm Down," which also happened to be the reason Swift won the VMA in the first place.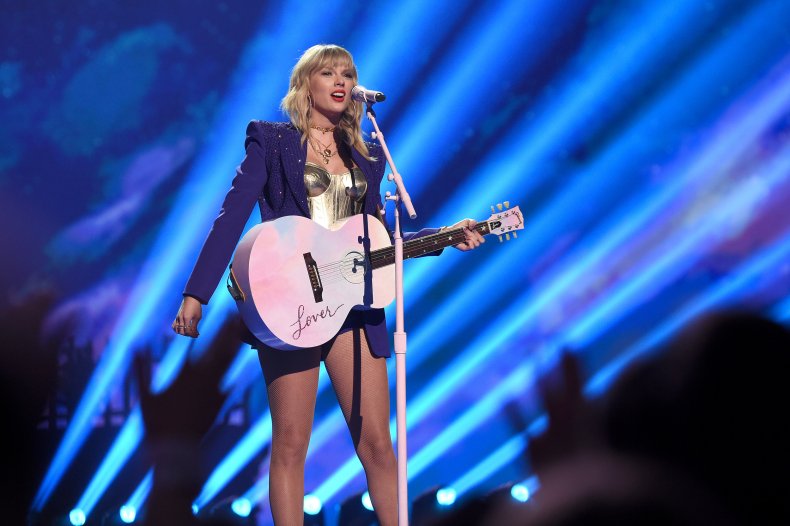 Jolie appears in the "You Need to Calm Down" video as part of a "pop queen pageant." The scene featured a number of drag queens portraying pop stars, including Tatianna as Ariana Grande, Trinity Taylor as Lady Gaga, Delta Work as Adele, Trinity K. Bonet as Cardi B, Riley Knoxx as Beyoncé, Adore Delano as Katy Perry and A'keria Davenport as Nicki Minaj.
Jolie first came to prominence as a contestant on the fifth season of RuPaul's Drag Race — which also featured Jolie's Swift impression as part of the popular "Snatch Game" segment, which parodies the '70s game show Match Game. Though Jolie lost in the sixth episode that season after losing to Coco Montrese in a lip sync battle, Jolie made another appearance during the finale for the eighth season of the show.
Fans who tuned into the VMA broadcast were treated to a performance from the real Taylor Swift — as far as we know — when she opened the show with a performance of "You Need to Calm Down" and the title track of her brand-new album, Lover.
"You Need to Calm Down" received nine nominations at the 2019 VMAs, making it the most nominated video of the night. So far, the song has won two of the awards, "Video of the Year" and "Video for Good," with four more nominations — including "Best Power Anthem" and "Best Direction" — still waiting to be announced.