Did John Wayne's Oscar Come Too Late?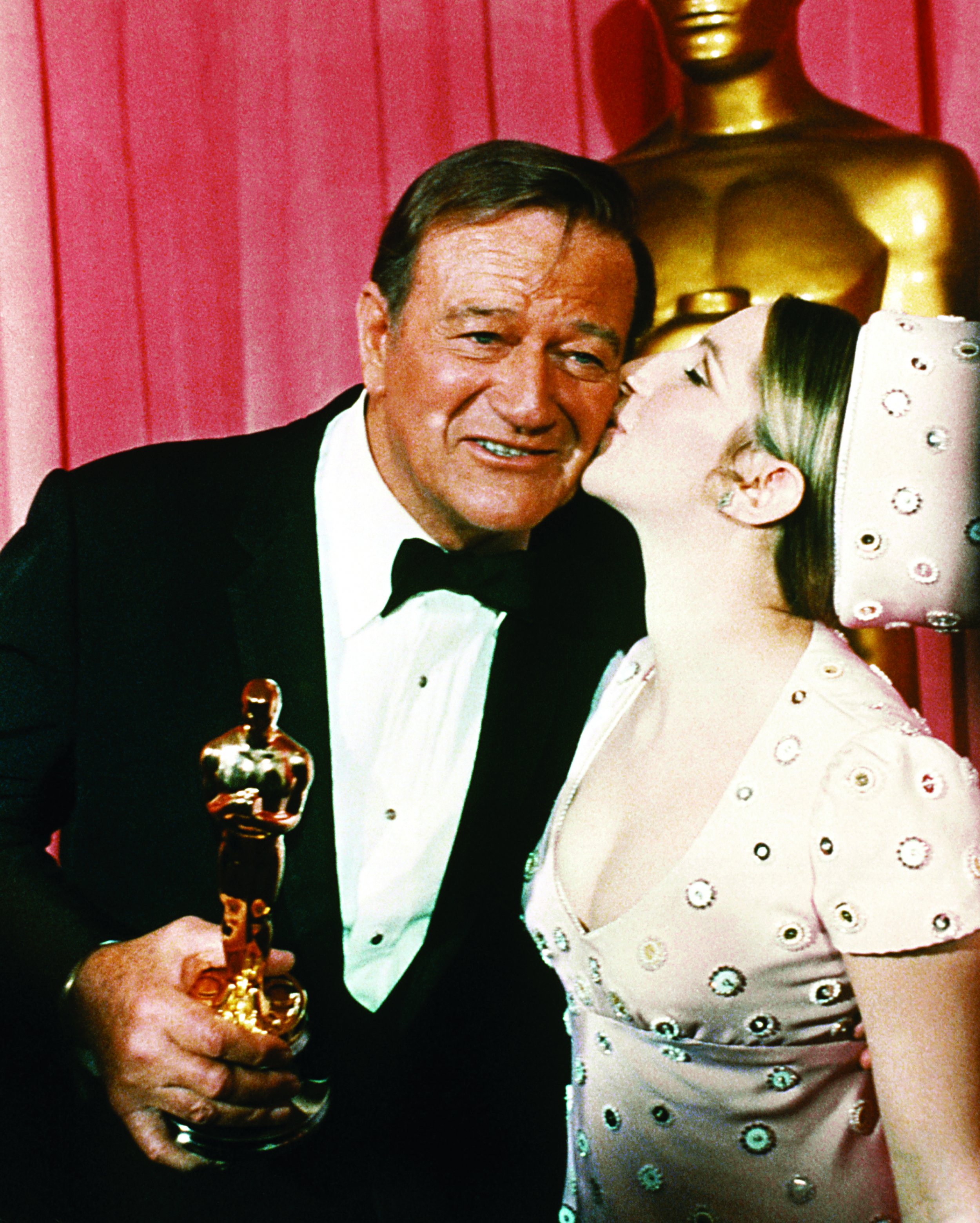 As the iconic movie The Searchers approaches its 60th anniversary, Newsweek sorts out John Wayne's sometimes complicated legacy. This article, along with others that celebrate the life and legend of John Wayne, is excerpted from a Special Edition, John Wayne: The Unstoppable Legacy of America's Favorite Cowboy.
One of the Academy Awards' less prestigious traditions is that of the unofficial lifetime achievement award, given to beloved cinematic personalities later on in their careers not so much for a specific performance as for their ability to loom large over Hollywood. And when the movie business's luminaries gathered in early 1970 to honor the best filmic achievements of 1969, it was time for the most beloved of American idols to receive the culmination of a legendary career: a little man named Oscar. When Barbra Streisand took the stage to present the award for Best Actor, it was little surprise to anyone when John Wayne's name was called and the man himself, resplendent in a bow tie and impeccable hairpiece, offered a typically brief thank you.
"Wow! If I'd have known that I would have put that patch on 35 years earlier," began Wayne, referencing Rooster Cogburn's signature eyepiece. "Ladies and gentlemen, I'm no stranger to this podium. I've come up here and picked up these beautiful golden men before, but always for friends. One night I picked up two: one for Admiral John Ford, one for our beloved Gary Cooper. I was very clever and witty that night, the envy of even Bob Hope, but tonight I don't feel very clever or very witty. I feel very grateful, very humble, and all thanks to many, many people. I want to thank the members of the Academy. To all you people who are watching on television, thank you for taking such a warm interest in our glorious industry. Good night." In an era of orchestra play-offs and endless lists of agents, managers, publicists and hangers-on to thank, Duke's speech might seem like a relic from the days of the strong, silent type. And he wouldn't have had it any other way.
Two years later, Duke blew the lid off the "unofficial lifetime achievement award" in his 1971 Playboy interview.
"I think both of my two previous Oscar nominations—for She Wore a Yellow Ribbon and Sands of Iwo Jima—were worthy of the honor [of winning Best Actor]," Wayne said. "I know the Marines and all the American Armed Forces were quite proud of my portrayal of Stryker, the Marine sergeant in Iwo. At an American Legion convention in Florida, General MacArthur told me, 'You represent the American serviceman better than the American serviceman himself.' And at 42, in She Wore a Yellow Ribbon, I played the same character that I played in True Grit at 62. But I really didn't need an Oscar. I'm a box-office champion with a record they're going to have to run to catch. And they won't."
This was excerpted from Newsweek's Special Edition, John Wayne: The Unstoppable Legacy of America's Favoriate Cowboy, by Issue Editor Tim Baker.