Who Are John Wayne Gacy's Ex-Wives and Where Are They Now?
Convicted serial killer John Wayne Gacy is at the center of Netflix's latest true-crime documentary series, Conversations With A Killer: The John Wayne Gacy Tapes.
Across three gripping episodes, audiences will learn of the horrific murders of 33 young men and boys between 1972 and 1978, and his, at times troubled, background.
Considering the man Gacy turned out to be, alongside his frequent sexual encounters with men, audiences may be surprised to learn Gacy was married, not once, but twice and even had children.
Newsweek has everything you need to know about Gacy's wives and where they are now.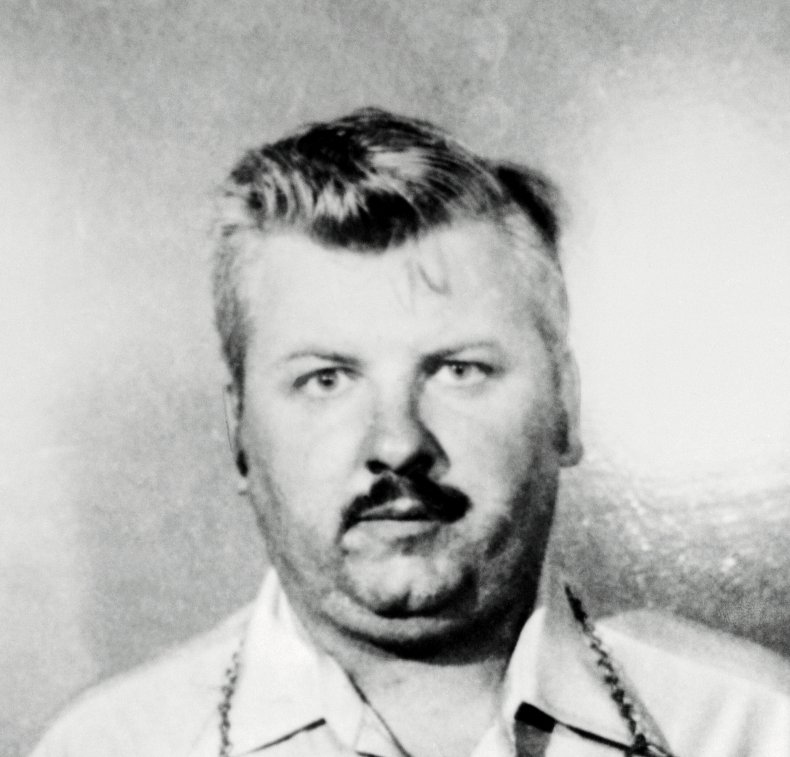 Who Is Marlynn Myers?
Marlynn Myers was John Wayne Gacy's first wife. They met as colleagues at a Nunn-Bus Shoe Company store in Springfield, Illinois and after six months of dating tied the knot in September 1964.
After their wedding, they moved to Waterloo, Iowa where Gacy took on a job as a manager at several KFC restaurants that had been purchased by Myers' father.
In February 1966, Gacy gave birth to their first child, a son. Their daughter arrived in March 1967.
As heard in Conversations With A Killer: The John Wayne Gacy Tapes, their marriage fell apart in May 1968 when Gacy was indicted on a charge of sodomy of a teenage boy amid a host of sexual assault allegations from young men.
On November 7, 1968, Gacy pleaded guilty to one count of sodomy in relation to a 15-year-old boy but pleaded not guilty to charges relating to other youths. He was convicted of sodomy on December 3 and sentenced to 10 years imprisonment. He served just 18 months in total.
The same day Gacy was sentenced to prison in December 1968, Myers petitioned for a divorce. Her request was granted and she received their home, property, and sole custody of their two young children. Their divorce was finalized on September 18, 1969.
Where is Marlynn Myers Today?
Unfortunately, very little is known about Gacy's first wife Marlynn Myers today.
As discussed in Conversations With A Killer: The John Wayne Gacy Tapes, Gacy never saw Myers or his two children again.
Who is Carole Hoff?
Carole Hoff was John Wayne Gacy's second wife. They married in 1972 and remained together until 1976.
Hoff was a friend of Gacy's sister Karen, and as teenagers they had even gone on a date. When they rekindled their friendship in 1971, Hoff was divorced and had two young daughters. When things between them turned romantic, Hoff and her daughters moved into Gacy's home and Gacy's mother moved out, details The New Yorker.
Unknown to Hoff, her husband was a killer. He had murdered his first known victim, Timothy McCoy, in 1972, had murdered twice more by the end of 1975, and following their divorce in March 1976 he went on to murder 30 more young men and boys.
Two years into their marriage, things between Gacy and Hoff became strained, with Gacy often disappearing most of the night and spending a lot of time in the garage. In Conversations With A Killer, audiences hear how he often had young men visit him there.
Additionally, it is heard on Gacy's interview tapes in Netflix's Conversations With A Killer, that he claimed to have told Hoff he was bisexual, but Hoff thought he was joking.
One day, Hoff found porn magazines featuring naked men, and wallets belonging to other young men and eventually confronted her husband about where he was going during the night and their non-existent sex life.
On one of his tapes that play in Conversations With A Killer, Gacy explains: "She was accusing me why'd I have young boys working for me and all this. Was I doing something with the boys? I said 'No.' I was being accused of it all the time, so I just finally said 'F*** it, I'm accused of it so goddam much, I might as well go out and do it which I did."
Where is Carole Hoff Now?
Just like Gacy's first wife Marlynn Myers, very little is known about Hoff's whereabouts today.
However, in the past, she has been a little more outspoken about her time with Gacy than Myers, who has said nothing at all.
Seen in archival media footage in Conversations With A Killer: The John Wayne Gacy Tapes, Hoff recalls thinking Gacy was sexually dysfunctional with women.
She said: "He wouldn't have much to do with me. We hardly had any sex and he found it very difficult to have anything to do with me."
As for his relationships with men, Hoff said: "I was aware of what he was doing. He just felt he was going more for the men and not for the women 'cause he could not function with a woman."
Conversations With A Killer: The John Wayne Gacy Tapes is streaming on Netflix now.