Calls to Rename John Wayne Airport Resurface His Remarks on White Supremacy
It's not John Wayne's roles in critically acclaimed movies like True Grit and The Searchers that the late actor is currently being remembered for. Rather, it's his past remarks about white supremacy that have him under the spotlight.
Following a wave of confederate monuments getting removed, Orange County Democrats are now pushing to have John Wayne's name, statue and other likenesses lifted from the county's international airport in Santa Ana, according to a Los Angeles Times report on Saturday. Wayne was a longtime Orange County resident before his death in 1979.
In a statement, the Democratic Party listed the legendary actor's history of "racist and bigoted" remarks against Black and Native Americans as the inspiration behind their campaign to have Wayne's name and image removed from the airport.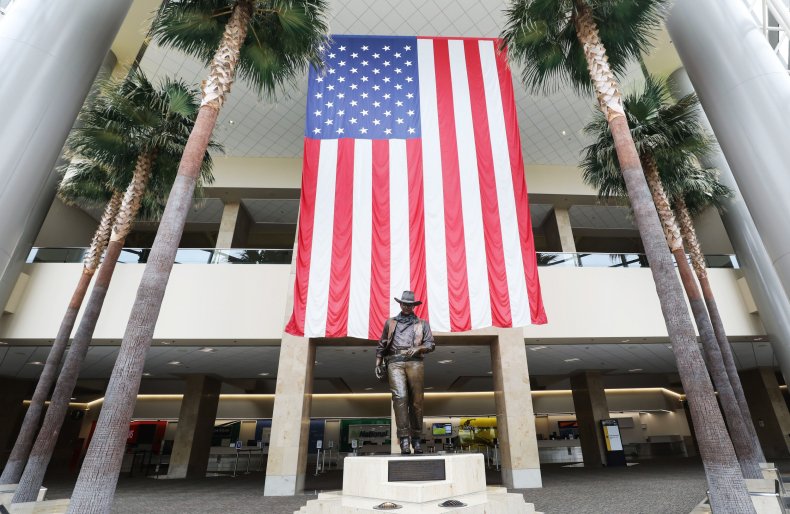 In a 1971 interview with Playboy Magazine, Wayne, who was 64 at the time, said that he believed "in white supremacy until the Blacks are educated to a point of responsibility."
"I don't believe in giving authority and positions of leadership and judgment to irresponsible people," he said.
He also made controversial remarks about slavery, stating, "I don't feel guilty about the fact that five or 10 generations ago these people were slaves," while later noting that he felt no remorse for early settlers' treatment and killing of Native Americans.
"I don't feel we did wrong in taking this great country away from them. (O)ur so-called stealing of this country from them was just a matter of survival," he said. "There were great numbers of people who needed new land, and the Indians were selfishly trying to keep it for themselves."
The members of Orange County's Democratic Party who launched the resolution claim that their intentions to remove Wayne's name and likeness from the airport fell in line with the "national movement to remove white supremacist symbols and names (that are) reshaping American institutions, monuments, businesses, nonprofits, sports leagues and teams."
Newsweek has reached out to the Party for further comment. This article will be updated should the Party send a response.
A representative for the airport, meanwhile, sent the following statement when contacted by Newsweek for comment: "John Wayne Airport is owned and operated by the County of Orange. In 1979, the County Board of Supervisors voted to name the Airport 'John Wayne Airport,' and only the Board has the authority to change the name. Although there have been public discussions and media attention on this topic, the County currently has no plans to change the Airport's name or to remove the John Wayne statue."
Newsweek also submitted a request for comment to Wayne's official website, but has not yet heard back. This article will be updated should someone send a response.
On social media, dozens of people have praised the efforts to have Wayne's name removed from the airport, noting that Wayne's history of racism was no big surprise.
"Folks are only realizing *now* that John Wayne was racist? He didn't even try to make it a secret," one Twitter user wrote.
Another wrote: "John Wayne became a huge star, making a dozen films, during WWII, but never served and was later labelled [sic]a draft dodger. He was certainly a racist, saying publicly in 1971: 'I believe in white supremacy until the Blacks are educated to a point of responsibility.' #JohnWayne."
There are some people who think the measures to remove Wayne's name and statue from the airport are extreme.
"Of course, John Wayne was racist. By the hyper sensitive standards of today, just about every person who has ever lived was racist," one person wrote one Twitter.
This isn't even the first time that Wayne's remarks to Playboy have resurfaced. In March 2019, the same quotes made the rounds online, and sparked some public dialogue about whether Wayne's name should remain on the airport in Orange County.
At the time, Wayne's son Ethan responded to the controversy by telling CNN in 2019, "It would be an injustice to judge someone based on an interview that's being used out of context ... They're trying to contradict how he lived his life, and how he lived his life was who he was. So, any discussion of removing his name from the airport should include the full picture of the life of John Wayne and not be based on a single outlier interview from half a century ago."
This latest discussion about Wayne and his legacy is going on while the country at large is reckoning with systemic racism and white supremacy. At least 22 cities in the U.S. have removed or approved measures to dismantle confederate statues and imagery so far, according to ABC News.
Meanwhile, at Princeton University, trustees voted to removed President Woodrow Wilson's name from its School of Public and International Affairs on Friday, noting in a statement that Wilson's "racist thinking and policies make him an inappropriate namesake for a school whose scholars, students, and alumni must be firmly committed to combatting the scourge of racism in all its forms."
President Donald Trump weighed in on the issue in a tweet shared on Monday.
"Can anyone believe that Princeton just dropped the name of Woodrow Wilson from their highly respected policy center? Now the do Nothing Democrats want to take off the name John Wayne from an airport. Incredible stupidity!" he wrote.