John Wheeler's Death: His Vietnam Demons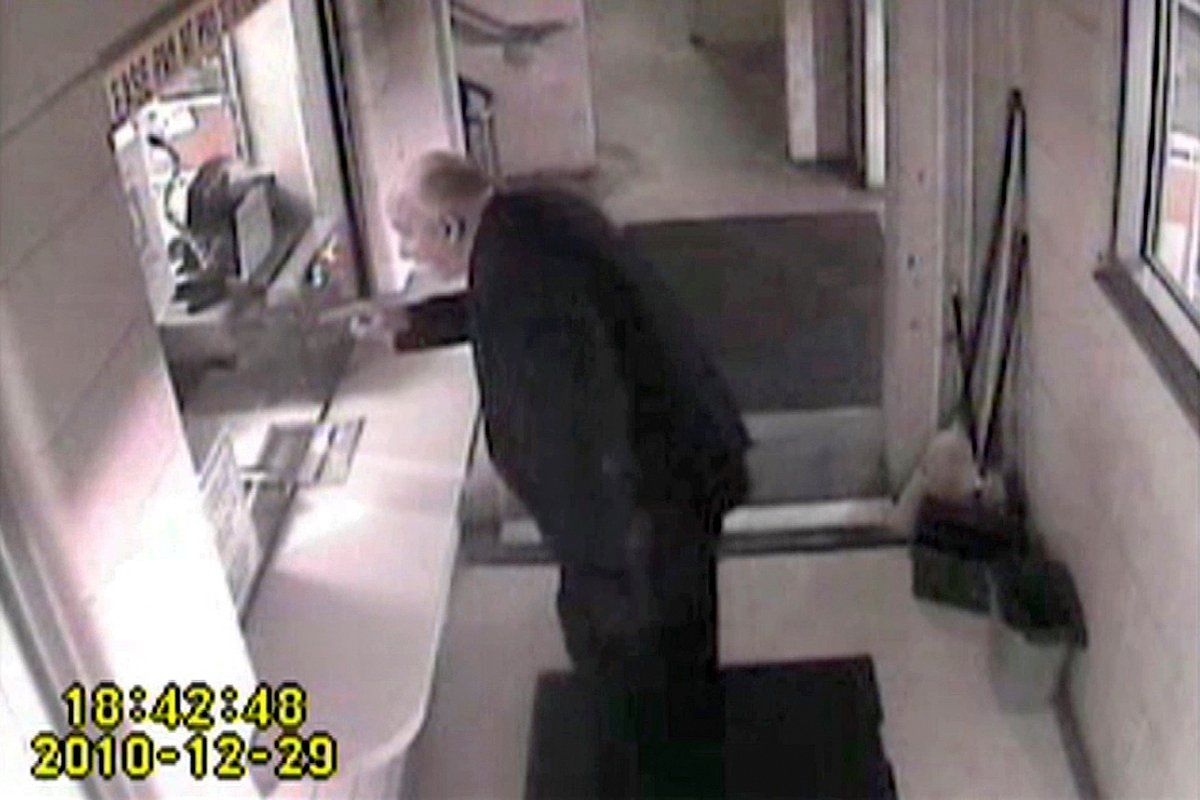 The mysterious death of former Pentagon official John Wheeler, whose body was found falling out of a garbage truck at a Wilmington landfill on New Year's Eve, has generated furious speculation that he was the victim of an urban assault, a professional hit or even a government plot.
Citizen reports and surveillance videos of a visibly disoriented and disheveled Wheeler, wandering around downtown Wilmington for two days, without a coat and carrying one shoe, have only added to the intrigue. No details have been offered by authorities to explain how Wheeler, a West Point, Harvard, and Yale grad who was instrumental in creating the Vietnam Veterans Memorial, arrived in Delaware. There are also no official answers to how he got to Wilmington from his home on the waterfront of New Castle, or how the 66 year old's body ended up in a dumpster along a busy commercial strip in Newark, a college town more than 13 miles away, particularly when his car hadn't been moved from its local parking space since December 13.
While Wheeler's disorientation could have been caused by heart disease or stroke, Wheeler's friends and long-time associates are beginning to quietly wonder whether something much more common and tragic for a Vietnam vet like Wheeler is partly to blame: the culmination of a long history of mental-health issues that have plagued him most of his adult life. Friends say Wheeler has acknowledged having bipolar disorder as well as Asperger's syndrome, a form of autism that sometimes caused him to misread social cues and situations.
He also told friends that he sought treatment for post-traumatic stress disorder (PTSD) and that he was convinced that some of his problems were related to exposure to Agent Orange in Vietnam. While Wheeler was never a combat soldier, (he was a member of the general staff at the U.S. Army's headquarters in Long Binh, Vietnam from 1969 to 1970), friends say that someone as sensitive as Wheeler may have been particularly vulnerable to a war zone's after-effects. "I think some of his problems were genetic but were exacerbated by his wartime service," one friend said.
Whether Wheeler's mix of psychological issues or the medications he was taking prove to be the key to his murder can't yet be proven since so much remains unknown. Wheeler's death was ruled a homicide, but Newark police have made no arrests, haven't released an exact cause of death (pending toxicology reports) and haven't publicly accounted for much of his whereabouts during the last week of his life. Wheeler emailed friends a photo, shot from the window of his Manhattan condo, of the city's recent snowstorm on December 26.
Known as a "constant emailer," Wheeler's Blackberry went dead a little after 5 p.m. on December 28. A few hours later, police got a report that two smoke bombs, the type typically used for rodent control, had been thrown into a house under construction across the street from Wheeler's home in the historic district of New Castle. While officials have not linked Wheeler to that incident, the former special assistant to the Secretary of the Air Force was best known in the town for his three-year legal battle against the owners of that unfinished home, which blocks his view of the Delaware River.
The normally dapper Wheeler was last spotted on surveillance camera shortly before 9 p.m. on December 30 in chilly downtown Wilmington, having somehow swapped the dirtied suit jacket he was seen wearing the night before for a navy-blue sweatshirt with the hood pulled up over his head. He was headed toward a dicey part of town.
In recent years, Wheeler's behavior became increasingly unpredictable. Emails and postings from Wheeler could be charming, insightful, and analytical, or hurtful, baffling, and irritating. One longtime friend said that about a year ago, he started blocking all of Wheeler's emails as spam because he seemed so out of control. "I just couldn't take it anymore" the friend says. When he got the call that Wheeler had died, he says, "My first thought was that it was a suicide."
Some friends say it's possible that Wheeler's death was an act of passion, that he was capable of making someone mad enough to kill him. Others believe it was most likely a random act. But close friends who knew about his medical history believe Wheeler's history of mental illness may help explain reports of his bizarre behavior during the last days of his life as well as the failure of a man known as a great networker to contact friends or the police for help.
Although he became an Army captain, Wheeler seemed a mismatch for the military from the very start, as evidenced by his portrayal in Pulitzer Prize winner Rick Atkinson's brilliant 1989 book on the West Point Class of 1966, The Long Gray Line. At the start of the book, Wheeler is the 17-year-old son of an Army colonel, one of "a long line of soldiers, traceable to at least the 17th century," Atkinson writes. Wheeler's mother urged him to forego West Point for Yale because she thought it better matched his temperament, but Wheeler accepted a spot at the military academy to please his father. Once at West Point, Wheeler realized he was ill-suited for the realities of war and combat. "He was really more of an intellectual," says Jan Scruggs, founder and president of the Vietnam Veterans Memorial Fund, who knew Wheeler well. "He should have been teaching a class on the New Testament and world religions."
Because he graduated near the top of his class at West Point, Wheeler had the ability to defer deployment while he went to Harvard business school. After that, a friend helped him get a general staff job, working on computers for a year, at the Army's headquarters in Vietnam, which was followed by a Pentagon assignment to research chemical and biological weapons.
When some of his closest friends at West Point died on the battlefield in Vietnam, Wheeler found himself wracked by survivor's guilt, and never really got over it, those close to him say. Wheeler told friends that those haunting memories motivated him to throw himself into the movement to create the Vietnam veterans memorial. He ended up the target of most of the critics who demanded a more traditional design than Maya Lin's poignant long black wall engraved with the names of the dead, partly because he took such a high profile in the debate and was not a combat veteran.
While friends say Wheeler considered his work on the Vietnam memorial to be his greatest contribution, they also say his decision to re-immerse himself in the war's legacy resurrected many of his personal demons. Even so, he went on to help create the Vietnam Veterans' Leadership program under President Ronald Reagan, an effort that was followed by a series of jobs starting up or expanding new charities, including Mothers Against Drunk Driving and the Deafness Research Council.
What many don't know about Wheeler's career is that many of these years were marred by periods of erratic, obsessive and manic behavior, as well as periods of depression and unpredictable mood swings. For a year after the war, the troubled Wheeler sought solitude at a Tennessee monastery, and later enrolled in an Episcopalian seminary based in Virginia. Once he rejoined the secular world, he tended to throw himself into causes or become transfixed by certain issues and pursue them relentlessly and aggressively. "He could be tremendously mercurial," one former co-worker said. "He could be the most caring, compassionate, sensitive individual, and other times, he would be completely erratic, fly into fits of rage, and be completely unreasonable. You never knew from day to day which one he would be." Another friend went further. "He could make people feel homicidal toward him."
As a result, his causes both benefitted and suffered from his attention, particularly when he crossed the line between persistence and obsession, persuasion and attack. These tendencies caused some friends to cut off contact with Wheeler out of exasperation. He was temporarily banned from posting on his West Point Class of '66 online bulletin board because his comments were so contentious that others were avoiding the site, friends say.
And yet, in the midst of all this, friends say there were many tales of kindness. Wheeler was famous for working his Rolodex to help unemployed friends find new jobs, solve others' personal crises, or raise money for worthy causes. He had the ability to win back friends with humor and grace, and had a remarkable career by any standard. "He was a really complicated guy," is an expression a lot of his friends use.
Some comfort themselves with the notion that Wheeler's sensational death gave him the national recognition he deserves for his role in helping to secure recognition for Vietnam vets. But ultimately, some say, they blame the aftereffects of Vietnam, the ones that never really go away, for such a tragic end. As one friend put it, "I think he should be considered the latest casualty of Vietnam. So much of his life was consumed by that war."

This article originally appeared on The Daily Beast.