James Byrd Jr.'s Killer, John William King, Petitions U.S. Supreme Court for Last-Minute Stay of Imminent Execution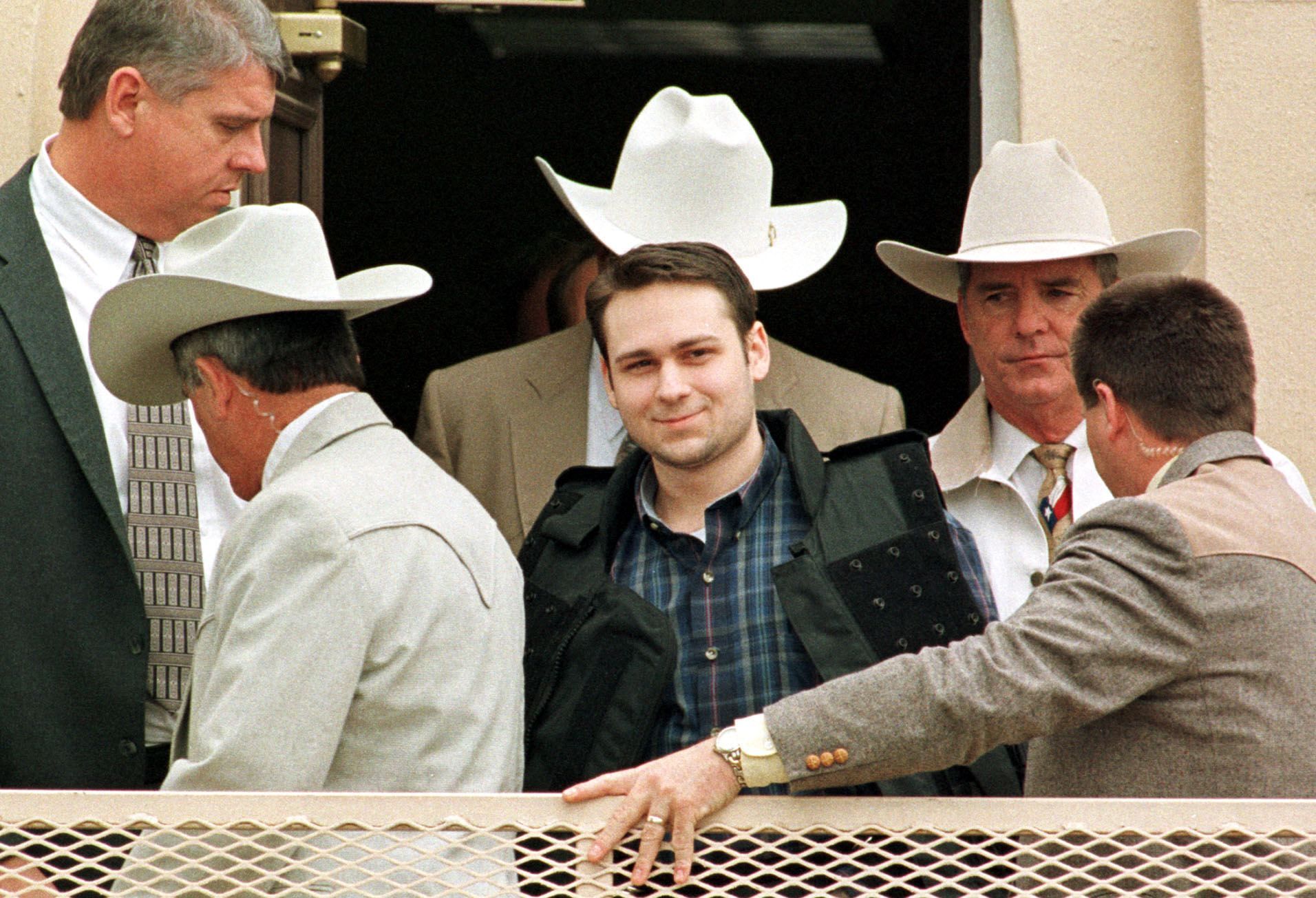 Texas will execute white supremacist John William King for his role in the infamous killing of James Byrd Jr., on Wednesday evening—unless his lawyer's last-minute petition to the U.S. Supreme Court succeeds.
King, 44, was one of three men convicted of the 1998 murder of Byrd Jr. in which the black 49-year-old black father of three was chained to the back of a pickup truck and dragged to his death in Jasper, Texas.
There were two accomplices, Shawn Berry and Lawrence Russell Brewer. Berry is serving life in prison, while Brewer was executed in 2011. King is scheduled to die by lethal injection in Huntsville, Texas, at some time after 6 p.m. on Wednesday, more than 20 years since he was convicted.
The Texas Court of Criminal Appeals on Monday voted 5-4 against granting King a stay of execution. His attorney, Richard Ellis, petitioned the U.S. Supreme Court on Tuesday to grant a stay of execution.
Ellis argues that King's original trial attorneys did not properly defend him or present evidence of his innocence, and, against their client's wishes, conceded his guilt.
The attorney cited the Supreme Court's 2018 judgment in the McCoy v. Louisiana as a precedent in his argument to stay the execution.
Supreme Court justices held in McCoy v. Louisiana that the Sixth Amendment "guarantees a defendant the right to choose the objective of his defense and to insist that his counsel refrains from admitting guilt, even when counsel's experienced-based view is that confessing guilt offers the defendant the best chance to avoid the death penalty.
"This is precisely the violation that occurred in Mr. King's case—his Sixth Amendment rights were infringed when his attorneys conceded his guilt over his express wishes," Ellis wrote in the petition. "Because a McCoy violation amounts to structural error, a new trial is required in Mr. King's case."
Clara Taylor, Byrd Jr.'s sister, previously told Newsweek of her family's frustration with the length of time it has taken to execute King, and their fears of a new trial. "I feel like he had a right to appeal as much as the system allows him to," Taylor said.
"Sometimes technicalities can get a person off, or you get a judge leaning one way or the other who can cause another appeal to be approved, and going through the whole trial over again, we're not looking forward to that at all."
She added: "I think that 20 years was an extremely long time because even in that time period he didn't seem to be any worse off for being on death row. He looked healthy, he's gained weight.
"He looked like he's just enjoying life to the extent that he could enjoy it. It makes you think about your loved one not being given that time to see what he would be like if he grew older."
Bryan Stevenson, a lawyer and founder of the Equal Justice Initiative, which advocates for African-American prisoners on death row who have been wrongly convicted or harshly sentenced, said he did not believe King–or anyone–should be executed.
"We've created a society that has done so little to confront our history of racial inequality and white supremacy that many people still commit racially motivated acts of violence that are tragic and indefensible," Stevenson told Newsweek."
Mr. King should be punished and held accountable but he should not be executed, not because he doesn't deserve to die but because we don't deserve to kill.
"Elected officials, policymakers and court officials have tolerated, accommodated and facilitated racial bigotry for decades. Executing may seem responsive to our collective failure but it's not."
The graphic below, provided by Statista, illustrates the number of inmates on death row by U.S. state.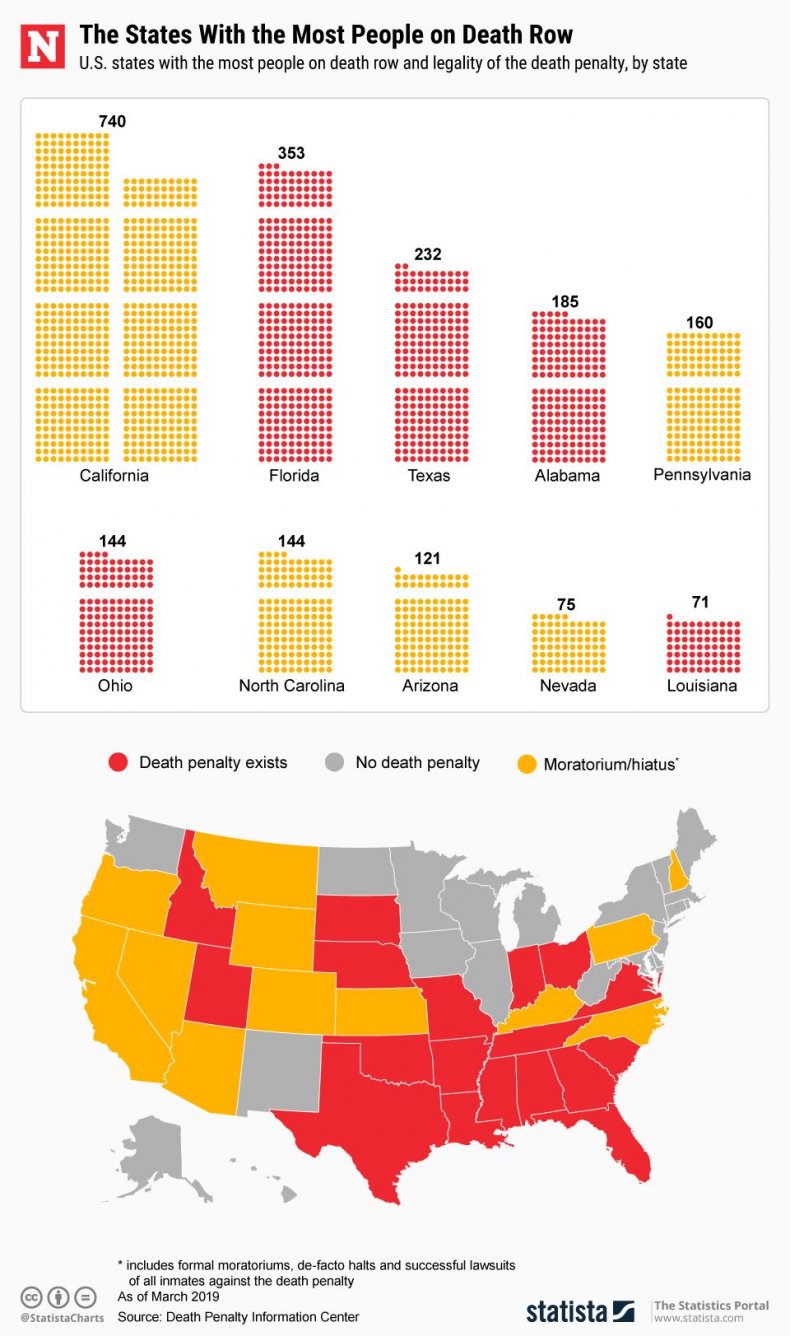 This article was updated to include a comment by Bryan Stevenson.