Johnny Depp, Amber Heard's 'The Rum Diary' Forecast Relationship Struggles
While the Johnny Depp and Amber Heard trial takes a break, fans have found a clip from the film, The Rum Diary, in which Depp and Heard starred together, that seems to forecast the pair's doomed relationship.
The formerly married couple is currently embroiled in a multi-million dollar defamation lawsuit over an op-ed Heard wrote in 2018 where she claimed she was the victim of domestic abuse, without naming Depp. Depp has claimed the insinuation that he was responsible has resulted in a mass loss of earnings in his career.
The couple met on the set of the 2011 movie The Rum Diary and later formed a romantic relationship. Clips of the pair acting opposite each other have been shared online as some claim it reflects, and even serves as a premonition, to their real-life relationship later down the line.
The scene from The Rum Diary where Depp and Heard's characters (Paul Kemp and Chenault) meet is being shared for a line that fans say "didn't age well."
After meeting for the first time in the water, Chenault swims away, to which Paul (Depp) says, "Oh god. Why did she have to happen? Just when I was doing so good without her."
Posting the clip on their own TikTok and receiving thousands of views, likes and comments, Kriiisisme wrote, "When Johnny Depp knew she was trouble before they even happened." The comments to the video ranged from, "The last line of the clip seemed to fit his life so well," to "Run. Johnny, run!!!"

Another wrote, "I bet he thinks that now too!" while another said, "I can't like this, wish they had never crossed paths."
Heard has discussed her experience on The Rum Diary in the current court case involving Depp. She opened up about the start of their relationship which grew during the press tour for the movie. Heard said when the two of them were left alone in a room there was "electricity" between the pair.
In one scene of The Rum Diary, they had a kissing scene which was also brought up while Heard was testifying.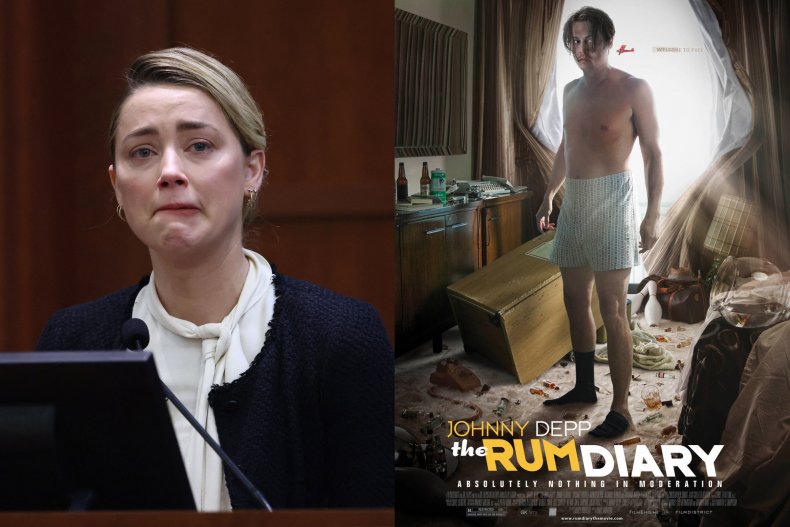 "It didn't feel like a normal scene anymore, it felt more real," Heard told the jury. "There were certain things you do in the job to be professional when you have to do that sort of scene. You don't use your tongue if you can avoid it. Certain things you do to just maintain a certain line, and it felt like those lines were blurred, I mean he grabbed my face and grabbed me in to him and really kissed me, but we were filming a scene."
Asked if Depp used his tongue, Heard replied, "Yes."
This testimony was then picked apart by Twitter user @JeneBete who shared a clip of the scene in question. They say it's Heard who used her tongue first in the scene.
The Johnny Depp/Amber Heard trial generally runs from Mondays to Thursdays but there will be a pause from Monday, May 9, to Thursday, May 12, as Judge Penney S. Azcarate had a previously scheduled conference engagement.
The trial will resume at 9 a.m. ET on Monday, May 16. Newsweek will continue its live coverage of the Depp v. Heard trial, bringing you all the major revelations from the Fairfax County Circuit Court in Virginia.