Johnny Depp vs. Amber Heard: What to Expect During Closing Statements
Johnny Depp's high-profile court battle with ex-wife Amber Heard is set to come to an end on Friday, after several weeks of testimonies placed an often uncomfortable spotlight on their tumultuous relationship.
Depp, 58, has filed a $50 million lawsuit against Heard, 36, over an op-ed published by The Washington Post in 2018, in which she stated that she was a domestic abuse survivor.
Heard did not name Depp in the article, but his lawyers have argued that it was obvious she was referring to the actor. Heard is countersuing for $100 million.
As each star took the stand at Virginia's Fairfax County Circuit Court, they made a host of allegations against one another, including drug and alcohol use, explosive confrontations, and even a claim that Heard defecated on the couple's bed.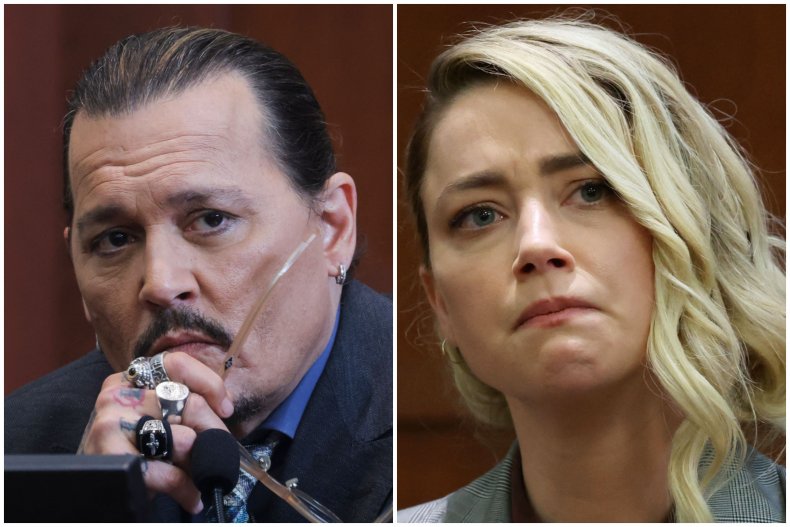 Depp and Heard, whose divorce was finalized in 2017, have also accused one another of domestic abuse. Both have denied the allegations made against them.
Since the trial began last month, a host of experts, friends and former friends have testified on behalf of both sides. There have also been celebrity witnesses, including Ellen Barkin and Kate Moss.
Also brought up during the trial was Depp's former attorney Adam Waldman, who publicly accused Heard several years ago of making fake sexual assault allegations and conspiring to create an "abuse hoax."
Heard said on Thursday that she felt "harassed, humiliated, threatened every single day" as a result of the remark.
While the tide of public support during the trial appears to have swayed heavily in favor of Depp—at least if social media is to be believed—the verdict will be in the hands of the jurors, who have sat through six weeks of evidence and testimonies.
With court proceedings entering their final hours, Newsweek has spoken to legal experts about what can be expected from the exes' attorneys as they deliver their closing statements to the jury.
Jury Instructions
California First Amendment attorney Jeff Lewis told Newsweek that one of the factors that will be key as the trial comes to a close is jury instructions.
"Expect also lots of arguments from the lawyers - likely off-camera - regarding jury instructions," said Lewis, founder of Jeff Lewis Law. "Jury instructions explain the law to the jury and errors in the instructions can give rise to an appealable issue later on so the lawyers and judge will proceed carefully here.
"Some interesting areas regarding the instructions: Virginia's anti-SLAPP law is newly amended. There is not a lot of case law (prior cases) about the law. How will the jury be instructed the law applies to this case?"
Turning to his second point, Lewis added: "Depp is being sued for statements made by his attorney about Heard. In a public figure case, Heard and Depp must prove 'malice' - that the person making the statements did not believe them to be true.
"This is an odd situation because Heard is suing Depp for statements that Depp did not personally make. How the jury is instructed about Depp's state of mind regarding his attorney's statements is something to watch."
Burden of Proof
Lewis noted that the trial has seen the pendulum swing dramatically from being in favor of Heard to now seeing her face an uphill fight to win over the jury.
"Ignoring the evidence for a moment, Heard's burden of proof seemed relatively low going into trial," he explained. "She just has to convince the jury that one incident of violence occurred.
"She does not need to prove that they all occurred, or that the sexual violence occurred. If the jury believes he hit her once, the jury must find that the op-ed was substantially true and Depp must lose. So going into the trial, Depp, not Heard, had the harder case to prove.
"But given how the testimony and evidence has played out, Heard seems to have more work to win back the jury regarding holes in her stories, the gift of the knife to Depp and statements recorded on audio of her taunting Depp."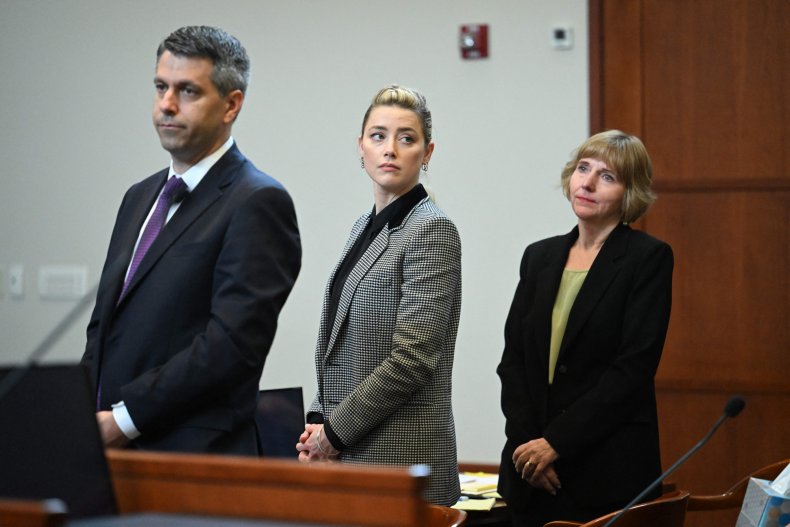 Question of Malice
As for the closing statements, Lewis believes that Heard's side will focus on attempting to hammer home the idea that Depp's career has already experienced a downturn before the publication of her op-ed.
"Expect Heard to focus on the issue of causation: that is that Depp's career was already on a downslide before the editorial was published in The Washington Post," Lewis said. "Heard will also focus on the question of malice: whether Heard subjectively believed her statements about Depp were true."
As for the opposing side: "Expect Depp in arguments to focus on the lack of any credible corroborating witness who saw any abuse.
"Also expect Depp to remind the jury about the expert witness he put on declaring Heard to be borderline personality. Depp's lawyers will make this case as much about Depp being abused as the absence of abuse by Depp to gain sympathy for Depp."
"From Depp's legal team expect heavy emphasis during closing arguments on the knife that Heard gave to Depp, the audio of Heard taunting Depp that no one would ever believe him, and Depp's own testimony at the end of his examination when he confirmed he was a victim of domestic violence," Lewis continued. "From Heard's legal team, expect in closing argument reference to Heard's sister's testimony and makeup artist's testimony. In a he-said, she-said case, third party corroboration or photographic corroboration is crucial."
Discrediting Witnesses
Trial attorney Manny Arora told Newsweek that Depp's team has gone into the final day of proceedings with "all the momentum and have attempted to discredit all of Amber Heard's witnesses as well as her own testimony.
"This was done by the use of other witnesses that were at the different locations referenced. This rebuttal testimony tells a starkly different story."
Looking at the factors he foresees being included in closing statements, he said: "I expect Depp's team will say Amber Heard has borderline personality disorder, among other things, and was the aggressor, taunter, and physical abuser—and Johnny is the real victim. This theory is bolstered by the fact that Heard's allegations don't add up; in that her injuries, if any, were not ever seen or treated by any medical professional."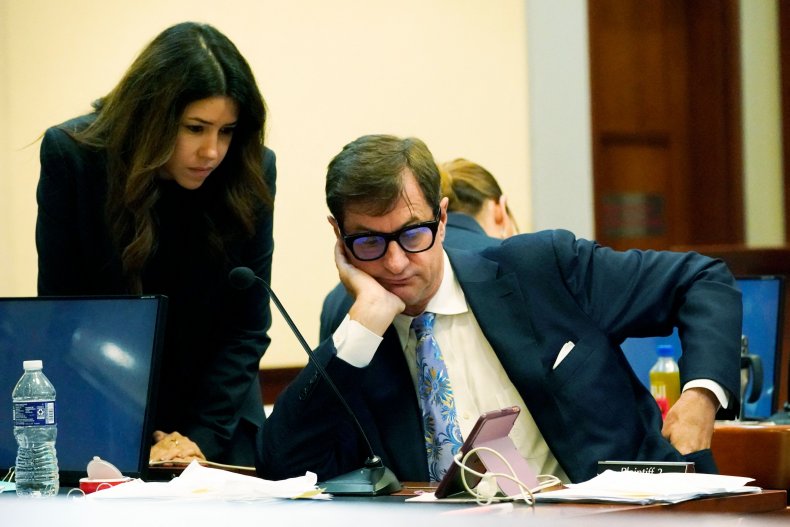 Arora, of Atlanta-based Arora Law Firm, LLC, predicts that Depp's team will also work to convince the jury that drugs and alcohol played no part in harming his career. Since the publication of the op-ed, Depp has lost roles in the Pirates of the Caribbean and Fantastic Beasts franchises.
"Depp will claim that he lost the Pirates 6 movie, and other roles, due to the release of her op-ed," said Arora. "He will further rebut her claims he lost these roles due to his continued drug/alcohol use."
Alternatively, says Arora, Heard's team will say the actress "suffered in silence, has PTSD and other traumas [allegedly] caused by Depp, and hid her injuries to protect Depp because she loved him.
"They will say Depp's drug and alcohol abuse turned him into a monster," he said. "One of the other main themes will be that since Depp is a powerful male in the industry, people will protect him at all costs and therefore he can get away with anything—such as getting her cut from the Aquaman 2 movie—and she is the real victim here."
Fiery Closing Arguments
New York City-based criminal defense attorney Julie Rendelman told Newsweek that she expects the closing statements to be "fiery"—with each side likely having pressing questions to address in the minds of jurors.
"It seems clear at this point that Heard's op-ed piece was about Depp," said Rendelman. "The problem is whether Heard's description of being the victim of domestic violence was truthful and if it was not, whether there was actual malice.
"While some believe there is little credible evidence establishing Depp was physically violent with Heard, there is evidence establishing he was verbally and perhaps emotionally abusive, which is a form of domestic violence.
"With that said, there is credible evidence—from Heard's own words in audio recordings—that she herself was physical with Depp, which raises one possible question for the jury: Can an abuser also be the victim of abuse?"
"Heard's counterclaim regarding the statements made by Depp's attorney seem far from easy to prove," she went on. "First, she has to prove the statements were untrue and with actual malice.
"More importantly, however, she would have to prove that the statements came from Depp and not his attorney. I'm not clear, based on the evidence we have seen, how her team intends to do that."
"I expect some powerful and perhaps even fiery closing arguments from both sides as this is their last chance to make an impression on the jury before they begin deliberations," Rendelman added.
The Depp v. Heard trial concludes on Friday, and Newsweek will be covering all the breaking stories from the Fairfax County courtroom on our live blog.