Johnny Depp Continues Tour in Iconic London Venue While Jury Deliberates
Johnny Depp is continuing to occupy his time while he awaits the jury's verdict in his recent trial with Amber Heard.
The actor and musician has been touring with guitarist Jeff Beck around the United Kingdom, and on Monday night performed at the Royal Albert Hall in London, receiving an overwhelmingly positive reception from the audience.
For the last month and a half, Depp had spent most of his time in a Virginia court room as he sued his ex-wife Heard for $50 million, claiming defamation. He did this after she wrote a 2018 op-ed stating that she was a survivor of domestic abuse, and although she never mentioned Depp by name, his team argue the insinuation has resulted in a massive loss of career earnings for him.
The closing arguments were made on Friday, May 27, and, after Memorial Day Weekend, the jury will meet again to try and reach a verdict.
During the three-day weekend break in the case, Depp flew to the UK and was first filmed performing with the British rocker in Sheffield on Sunday. Continuing the tour, fans at the London gig filmed as Beck introduced Depp onto the stage.
"He came knocking on my dressing room door five years ago, and we haven't stopped laughing since," Beck said on stage as he geared up to introduce Depp to the crowd. A member of the crowd seems to shout, "we love you Johnny" before Beck said, "We kept it quiet for obvious reasons. Here he is..."
Depp then emerges onstage to a round of applause, whoops and hollers from the crowd. Depp and Beck progress to play a song that they wrote together called "This is a Song for Ms. Hedy Lamarr."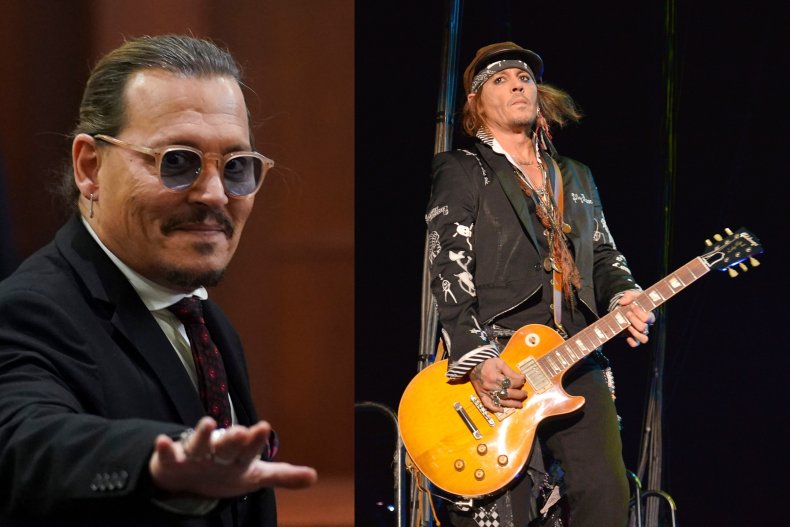 The footage was seemingly originally shared on Instagram by @kwolffcasper before it was re-shared on Twitter. Many of Depp's fans commented on the video, praising his ability and commenting on how happy he seems.
"I'm soooooo happy he's enjoying himself again," wrote @AnalynCamacho while @VixNickNacks said, "The love in that room, it's amazing. I am so glad to have seen the truth in the trial, that others have opened there eyes. Glad to see him finally being able to move on and live, let's hope others do the same."
Eve Barlow's name was also brought up in the comment section for her comments about Depp. Barlow is Heard's friend who was previously removed from the courtroom in the Depp v. Heard trial, but she's been continually outspoken against Depp too.
"Trolls: 'he's moving on with his life, she should too.' She can't. She has to wait for a verdict. He's on tour. It wasn't about the verdict for him. It was about the opportunity of a trial to further his abuse." Barlow added on Twitter on Monday, "Whatever the verdict, he continues freely. She does not."
Barlow had originally tweeted on Sunday pointing out that Depp is currently touring, "That's the domestic abuse victim waiting for his defamation case verdict. The one who's been cancelled."
It is currently unknown when exactly the jury will reach a verdict in the Depp v. Heard case. Jeff Beck is performing at the Royal Albert Hall in London again on Tuesday May 31 but it is currently unknown if Depp will perform again. Newsweek has reached out to Beck for confirmation.