Johnny Depp Says He'll Perform Jack Sparrow at 'Kids' Birthday Parties at This Point'
Johnny Depp said that he will reprise the character of Captain Jack Sparrow at "kids' birthday parties at this point."
The actor opened up about his career after the fallout of his very public marriage breakdown and the loss of his libel case against a newspaper that labeled him a "wife-beater."
Depp has maintained that he has been boycotted by Hollywood since and railed against so-called cancel culture on Wednesday at the San Sebastian Film Festival, where he was controversially awarded the prestigious Donostia lifetime achievement award at this year's ceremony.
The Pirates of the Caribbean star said that the character of Captain Jack Sparrow "will never leave" him that "Jack" is always ready say stupid things to make people laugh.
When asked if he would like to portray the famous role again, the 58-year old told reporters: "I suppose this is the positive side of having, in a strange way, given life to those characters like Captain Jack or whatever character—that I was lucky enough to locate and bring to life the beauty of Captain Jack Sparrow."
Depp said that the "beauty" of the character, whom he portrayed across five films in the franchise is that he can "travel" with him.
"I can travel with Captain Jack in a box—literally Captain Jack in a box—and when the opportunity is right and I'm able to go and visit people and places where the smiles and the laughs and the things that are important the most important things in the world are on the line.
"So I still travel with Captain Jack and if I have the opportunity whenever I do I will go to these places."
He added: "I'll go to somebody's house—man, I'll perform at your kid's birthday party at this point."
Depp spoke about visiting sick children in character and said that making them laugh or smile for a few seconds is what Jack Sparrow is all about.
"I don't need a company to do that," he said. "I can just do that myself and nobody can take that away—that's the greatest pleasure of Jack Sparrow."
Referencing the Pirates of the Caribbean movies, he added: "It was kind of a strange abrupt halt but these are strange abrupt times."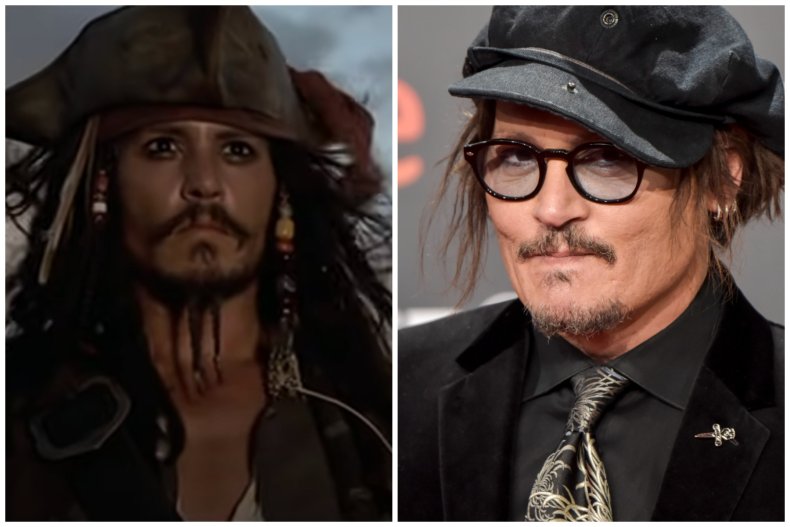 He added to reporters: "He's [Jack Sparrow] never going to leave me, and he's always going to be ready to say stupid stuff to make people laugh and to make them forget about the nastiness at times in life and I'm in there with every morsel straight down to my black-hearted weasley gutted soul."
Elsewhere in the interview, Depp spoke of always holding on to the characters he has played throughout his career.
"It's like you put them away but they're still there, inside some dresser drawer inside you," he said.
Railing against cancel culture during his appearance, Depp said: "It's so far out of hand now that I can promise you that no one is safe. Not one of you. No one out that door. No one is safe."