Kate Moss, Johnny Depp Relationship Timeline From Trashed Hotels to Regrets
The 1990s was a decade of "it" couples, from Pamela Anderson and Tommy Lee to Brad Pitt and Jennifer Aniston. However, few reached a status as iconic as that of Kate Moss and Johnny Depp.
The relationship between the actor and the supermodel is back under the spotlight as a result of Depp's defamation trial against ex-wife Amber Heard. Heard had suggested Depp was at fault for Moss' fall down a staircase during a vacation in the 1990s.
However, Moss has now testified during the trial, saying she slid down the stairs and that Depp did not push her. Instead, he "came running back" to help her.
When did Kate Moss and Johnny Depp meet?
Depp and Moss first met at the Café Tabac in New York in 1994, when he was 31 and she was 20.
A friend told People magazine that the couple couldn't "keep their hands, lips, mouths, legs off of each other."
Trashed hotels—1994
Later that year, Depp was arrested for trashing a suite at the New York's Mark Hotel, where he was staying with Moss. He was not criminally charged, but was instructed to pay the hotel $9,000 to repair the damages done to the room.
Jamaica—1995
The loved-up couple jetted off for a romantic vacation in Jamaica. Unfortunately Moss sustained a small injury as she fell down a staircase. She has now testified under oath, that she slid down the stairs and that it had been an accident.
Celebrations—1996
For Moss's 21st birthday 1996, Depp threw a lavish party at the Viper Room, located on Sunset Boulevard. Depp owned the club at the time.
He sang and performed onstage with INXS frontman Michael Hutchence, but the party ended early when Australian actor/singer Jason Donovan overdosed. In his 2007 memoir, Between the Lines: My Story Uncut, Donovan wrote that he later apologized to Depp who told him: "That's cool, don't worry. We're just pleased that you are OK. Now take some advice from me, go to your room, get some sleep and for God's sake take it easy in future."
Heartbreak—1997
The coupled called off their relationship, with a close friend of Moss saying Depp had "broken her heart."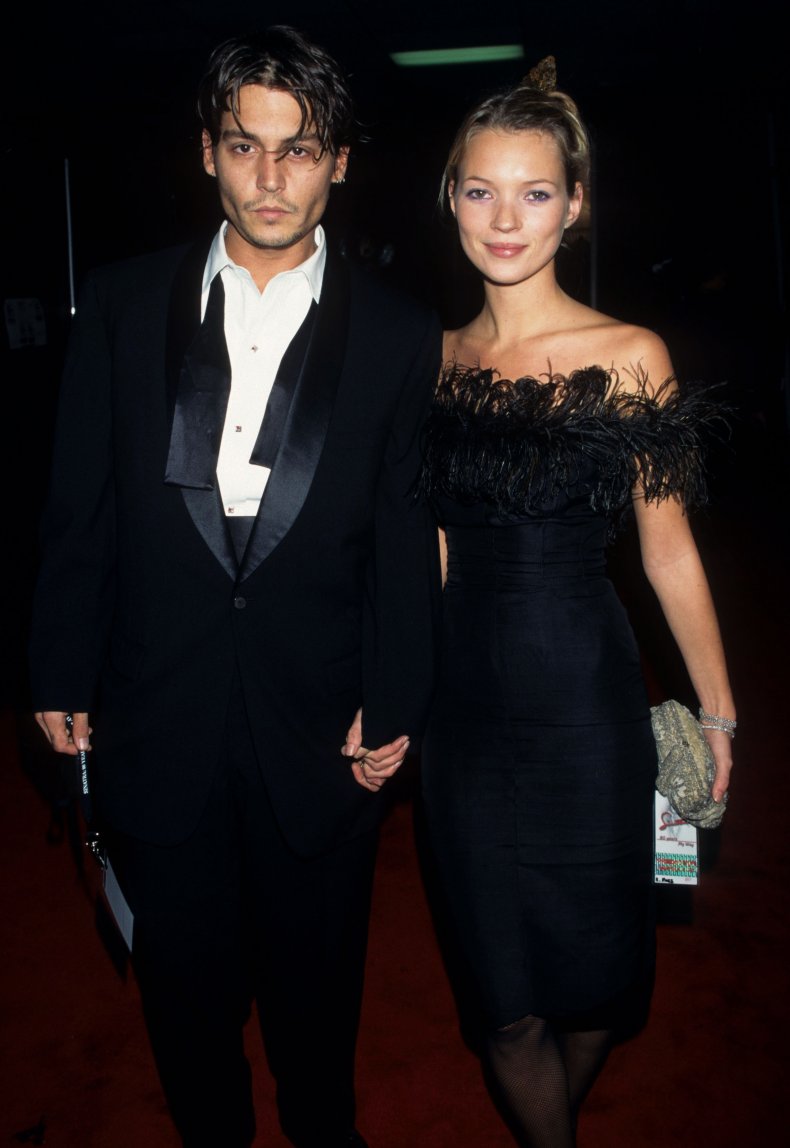 Cannes Reunion—1998
The couple had a brief rekindling at Cannes in 1998 before separating for good.
When asked about the relationship Depp has stated that his "work got in the way" and that he "didn't give her the attention she needed." Interestingly, Moss claims that Depp cared for her, that nobody's "ever really been able to take care of me. Johnny did for a bit. I believed what he said."
After the break-up, Moss was seen partying constantly, usually with Jude Law and his wife, Sadie Frost. A short while later, she spent five weeks in rehab at London's Priory clinic for "exhaustion."
According to both parties, Moss and Depp remain in contact with one another and are close friends.