Depp Lawyer Seems to Celebrate When Heard Mentions Kate Moss
Johnny Depp's lawyer appeared to celebrate in court last week when Amber Heard mentioned Kate Moss in her testimony.
Depp's defamation trial against his ex-wife Heard is on a break this week with court set to resume next Monday.
On Thursday last week, Heard, 36, took to the stand to deliver her testimony and detailed instances of alleged violence she suffered from Depp, 58, and when describing one situation she brought up his relationship with supermodel, Kate Moss.
Heard mentioned a rumor that Depp once pushed supermodel Moss down a flight of stairs when they were dating.
Heard told the courtroom that Depp once went to hit her sister Whitney who was standing at the top of a staircase during an alleged altercation in their home in 2015
"She threw herself in the line of fire," Heard said of her sister. "She was trying to get Johnny to stop. Her back was to the staircase, and Johnny swings at her... I don't hesitate and wait; I instantly think of Kate Moss and stairs."
Footage shared by the Law and Order network, one of the networks live streaming the trial has shown that Depp's attorney Ben Chew celebrated when Heard mentioned Moss and the stair rumor.
The reason why Chew was elated by this mention is set to become clear when Depp's team cross-examine Heard next week, but it is likely because they have evidence to refute the claim.
"When a lawyer gets excited about something you said and they have to cross-examine you you should be scared," reads one comment on the clip.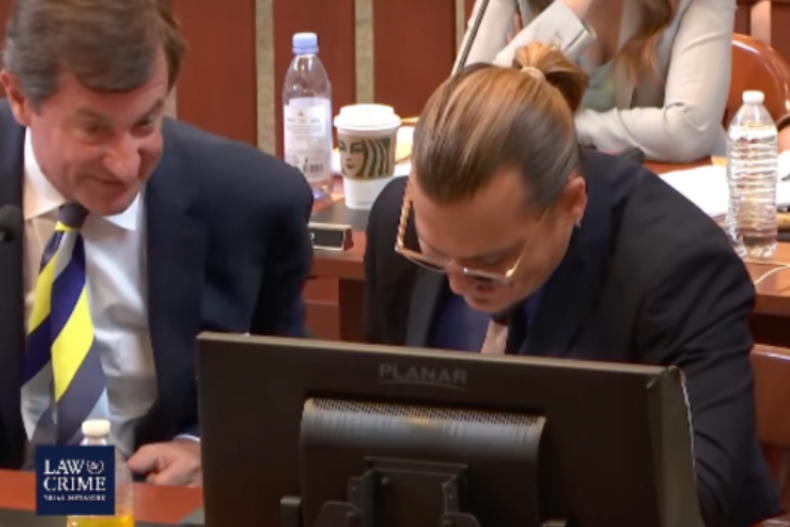 Podcaster Kiki Monique also shared footage of Chew celebrating Heard mentioning Moss on Instagram which has sparked a discussion about what Depp's team planned for the cross-examination with many suggesting that Heard has opened the door to previously excluded evidence.
According to US Legal, "opening the door" is a common law legal doctrine that allows for the admission of inadmissible evidence by a party after an opposing party has opened the door to it by first introducing inadmissible evidence at trial.
Evidence is admitted under the doctrine when deemed necessary to counter the evidence that originally "opened the door."
Whether or not to allow such curative evidence is at the trial court's discretion at both civil and criminal trials, said the US Legal webiste.
One person commented: "Lawyer here! She opened the door so they can present evidence to show JD never abused Kate."
Trial attorney Jenny El-Kadi believes Depp's team were pleased that Heard mentioned Moss is because this trial is a civil case.
"Typically in civil cases, you can't bring up people's prior bad acts. You can't show that as evidence," El-Kadi told the Law and Crime Network, adding such alleged "prior bad acts" cannot be admitted into evidence.
She added that Heard's team introducing the Moss rumor was "very sneaky" because "it did get in."
Depp and Moss famously dated from 1994 to 1997 and the model has spoken highly of her ex in the years since.
In 2012, Moss described their break up as a "nightmare," telling Vanity Fair: "There's nobody that's ever really been able to take care of me. Johnny did for a bit. I believed what he said. Like if I said, 'What do I do?' he'd tell me.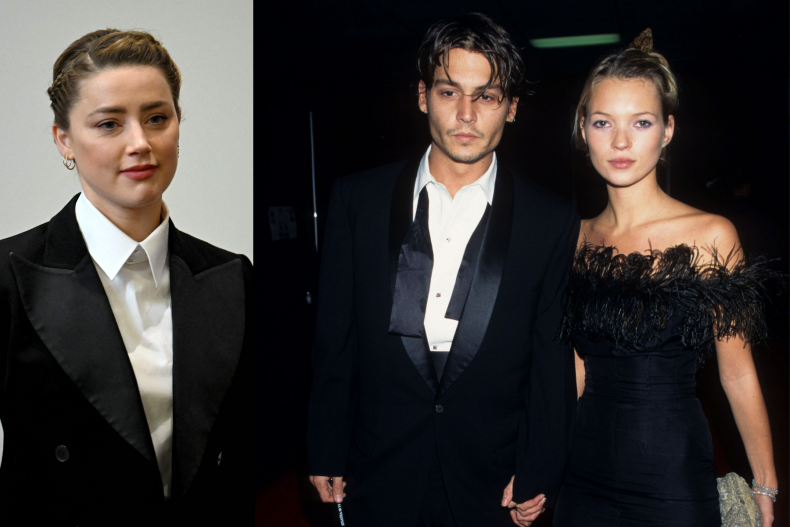 "And that's what I missed when I left. I really lost that gauge of somebody I could trust. Nightmare. Years and years of crying. Oh, the tears!"
The Pirates of the Caribbean star is suing his ex-wife for $50 million for defamation over an essay Heard wrote about domestic violence in The Washington Post in 2018.
The actor's lawyers say that while he was not named, it is obvious that Heard was referring to him, which resulted in him being blacklisted from Hollywood and losing out on roles.
Heard meanwhile, is countersuing for $100 million for damages. Her team has argued that Heard's article was in the public interest.
Both parties have made serious allegations of violence against each other during the proceedings, which are taking place in a Fairfax, Virginia courtroom.
The trial will resume 9 a.m. ET on May 16 until its scheduled end date of May 27, when closing arguments from both sides will be heard.