Johnny Depp Movies Ranked From Worst to Best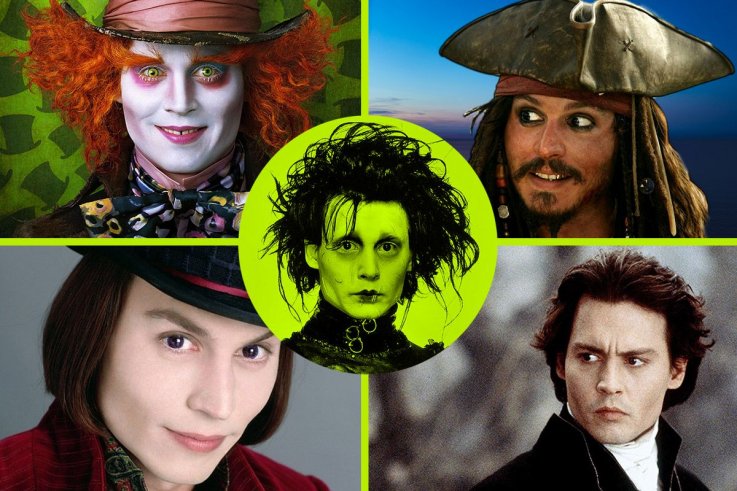 For years, Johnny Depp was one of Hollywood's most beloved leading men. He emerged in the mid-80s with a role in A Nightmare on Elm Street and quickly became a household name as a perfect star for the grunge era—brooding and sensitive, with cheekbones for days.
His early roles capitalised on this star persona. In John Waters's 1990 movie Cry-Baby, he played a bad boy who drives women wild with his ability to shed a single tear down his chiselled face. In the fantasy film Edward Scissorhands from the same year, he again played a sensitive outcast, the titular misunderstood gothic weirdo with a tender heart.
Depp's personal life from that time radiated the same rock 'n' roll glamor as his on-screen roles. He was often photographed with a succession of waifish girlfriends such as Kate Moss, Winona Ryder and Sherilyn Fenn at cool L.A. clubs like The Viper Room, which Depp partly owned.
After playing in number of indie movies, such as Tim Burton's Ed Wood, Jim Jarmusch's Dead Man and Terry Gilliam's Fear and Loathing in Las Vegas, Depp found blockbuster success as Captain Jack Sparrow in 2003's Pirates of the Caribbean: The Curse of the Black Pearl. The rum-soaked, unscrupulous pirate remains his best-known role, and won him a nomination for an Academy Award for Best Actor.
By that time, Depp had settled down with French pop star Vanessa Paradis and had two children. In 2006, he told Associated Press that becoming a parent had "given me real foundation, a real strong place to stand in life, in work, in everything." However, the marriage ended in 2012, and Depp went on to marry actress Amber Heard—a union that ended in 2016 amid Heard's accusations of physical and emotional abuse.
By this time, Depp's image had shifted away from brooding to bizarre. His recent roles, such as his part in the 2013 mega-flop The Lone Ranger seemed to be parodies of his earlier work, not helped by increasingly unsettling reports about the star's personal life. An unflattering 2018 profile in Rolling Stone described an actor whose "boyish insouciance has slowly morphed into an aging man-child, still charismatic but only in glimpses."
Depp's status as a leading man looks to be in peril—writer J.K. Rowling had to publicly defend his casting in an adaptation of one of her books, and in October it was revealed that he would no longer be appearing in any future Pirates of the Caribbean movies.
We look back on Depp's career so far, to try and parse the mixed legacy of the actor. Using data from review aggregation sites Metacritic and Rotten Tomatoes, as well as fan reviews on Rotten Tomatoes and IMDb, we've ranked all of his movies, from worst to best.