Fact Check: Is Johnny Depp Playing Uncle Fester in 'Wednesday' on Netflix?
Rumor has it that Johnny Depp could be returning to our screens in a familiar role.
Depp, who has recently been celebrated victory in a multi-million defamation suit against his ex-wife Amber Heard, has allegedly been cast in Tim Burton's upcoming Addams Family spin-off called Wednesday. The Netflix series focuses on the daughter of the family, but many believe that Depp has been cast in the role of Uncle Fester.
Set for release on Netflix in 2022, Jenna Ortega will play the titular role while Catherine Zeta-Jones is playing Morticia Addams and Luis Guzmán stars as her husband Gomez Addams.
While the internet reacts to the prospective news that Depp will star in Wednesday, the claims are still unconfirmed. Newsweek investigates what we know so far.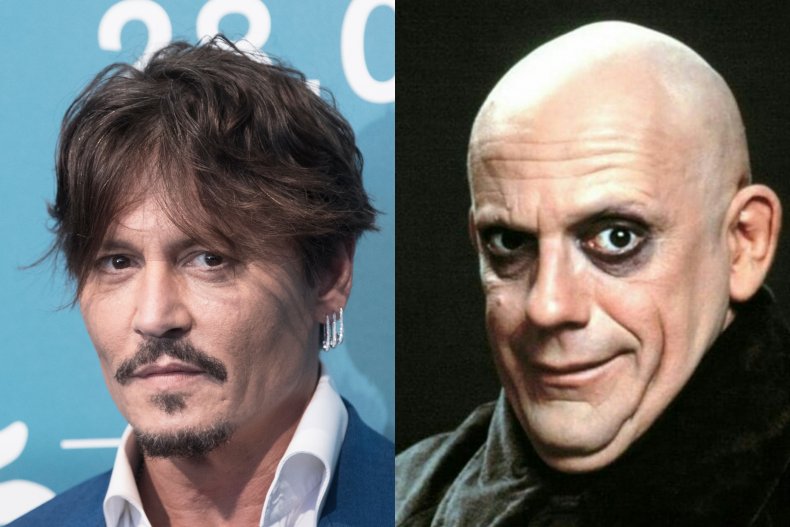 The Claim
The popular showbiz gossip site Deuxmoi shared a claim on their Instagram account on Thursday August 19, 2022, hinting that a certain actor had been cast as Uncle Fester in the new Netflix series Wednesday.
The post read: "Extraordinary lengths taken to protect the identity of Uncle Fester on the latest Netflix offering. This rarely out of the news or courts A++ lister is keeping things quiet so that [Jenna] Ortega's moment is not overshadowed by his ex's ongoing vendetta. But rumors are the first edits show that Tim Burton was right to fight for his casting."
The submission to Deuxmoi was made by "Aquagirl." From there the rumor spread like wildfire across the internet as everyone weighed in on he claim. Although Depp wasn't mentioned by name, many across social media took the several clues within the text to assume it was referring to Depp.
The Facts
Netflix recently released the first trailer for Wednesday, but Depp and the character of Uncle Fester were nowhere to be seen. Multiple casting announcements have been made, for several classic characters within The Addams Family franchise, but as of right now, the involvement of Uncle Fester has not been mentioned.
One of the reasons for the speculation appears to be based on historical connections between Depp and the team behind Wednesday.
Burton is directing Wednesday, and it would make sense for him to "fight for" Depp to be cast given their history. The pair have collaborated on eight movies previously: Edward Scissorhands (1990), Ed Wood (1994), Sleepy Hollow (1999), Charlie and the Chocolate Factory (2005), Corpse Bride (2005), Sweeney Todd (2007), Alice in Wonderland (2010) and Dark Shadows (2012). Wednesday would mark their first collaboration in ten years.
Filming for Wednesday began in Bucharest, Romania in September 2021 before concluding at the end of March, 2022. Depp's defamation trial against ex-wife Heard took place in Fairfax County, Virginia from April 11 until June 1, 2022. Depp doesn't regularly post updates to his social media channels, but his whereabouts throughout the Wednesday shoot were never announced, so the timeline doesn't seem to rule out his potential involvement in the project.
While Uncle Fester's appearance in Wednesday has neither been confirmed nor denied, co-creator Alfred Gough did address the issue in an interview with Vanity Fair. "We have no comment on Uncle Fester," Gough said when asked where Uncle Fester is and who'd be playing him, "Watch the show."
Other classic characters from The Addams Family franchise have been confirmed to return, including Morticia, Gomez, Pugsley, Lurch and Thing, but Uncle Fester's role remains a secret.
Christina Ricci, who played Wednesday Addams in the 1990s, is set to return but in an as of yet undisclosed role. Some Twitter users suggested that the role of Uncle Fester may be gender swapped and Ricci will play an "Aunt Fester."
But, as of August 19, 2022, no official confirmation or conclusive evidence has emerged to support the rumors of Johnny Depp's participation in Wednesday, including a possible role as Uncle Fester.
Newsweek has reached out to Depp, Netflix and Deuxmoi submitter "Aquagirl" for comment.
The Ruling
Unverified.
The reports of Johnny Depp playing Uncle Fester in the new Addams Family revival Wednesday are based on a single-source rumor from a gossip site. No official announcement has been made on this subject, and while hypothetically the casting could be confirmed in the future, there is currently no reliable evidence to suggest that it is anything more than mere speculation.
FACT CHECK BY Jamie Burton