'Johnny Depp Shot' for Men Feeling 'Unsafe' at Bar Sparks Controversy
An alleged flyer advertising a Johnny Depp-themed shot inside a men's bathroom at an undisclosed pub sparked controversy after it circulated online this week.
The flier was originally shared by u/lamodamo123 on Reddit where it received more than 38,000 upvotes and 1,700 comments. The post can be found here.
The National Coalition Against Domestic Violence reports that about one in four men in the United States are victims of intimate partner violence, including pushing, shoving, and slapping.
It is estimated that about one in seven women and one in 25 men receive injuries from intimate partner violence, even if it isn't considered "domestic violence."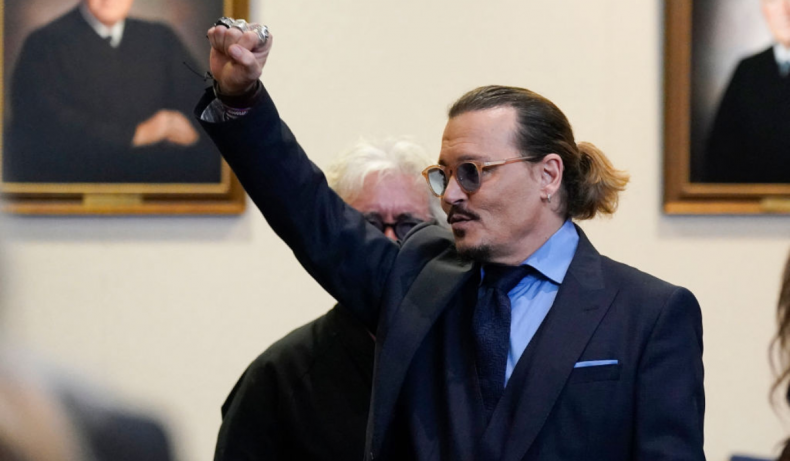 Johnny Depp v. Amber Heard
After the widely broadcasted defamation trial between Depp and ex-wife Amber Heard came to a close on June 1, fans of Depp exploded on Twitter and other social media.
Heard and Depp were both found liable for defamation in their lawsuits, with the jury awarding Depp $15 million in damages and only $2 million to Heard. Yet the discourse more often targeted Heard, with many trolling her throughout the trial.
According to statistics from Social Blade, which tracks social media analytics, Depp saw an increase of 7,368,643 followers in June 2022.
'Johnny Depp Shot'
"The pub I was at had this sign in the men's toilets," the post published in Reddit's popular "Made Me Smile" forum read.
The post included a picture of an alleged flyer advertising the pub's "Johnny Depp shot" that is "here to keep you safe."
"Feeling unsafe or scared, just come to the bar and order a Johnny Depp shot," the flyer read. "We will handle things discreetly and without fuss."
The flyer noted that if someone orders their shot "neat," the bar staff will escort you out of the building, but ordering on the rocks results in a discreet taxi pickup, and a lime means they will call the police.
An 'Angel' Shot
While it might sound like a drink order, an angel shot is actually a discreet code for individuals—commonly women—to ask the bar for help, according to Delish.
While angel shots differ depending on the bar, most follow similar rules when it comes to what each code means, such as "with a lime" meaning they want the police called.
The code allows individuals feeling uneasy about their current situation to openly ask a bartender for help without outright asking.
The concept of an "angel" shot stemmed from a bar in Lincolnshire, England, that went viral for its "ask Angela" initiative in 2016.
By discreetly approaching the bar and asking for Angela, bartenders knew the individual was possibly in danger.
Reader Reactions
While the discourse online was that it is important to have a code for men as well, many believed the shot was glorifying Depp who was accused of abuse by Heard.
"Feel safe with a shot named after the man involved in the most famous abuse trial in history," one Reddit user commented.
"I like the sign but wouldn't be glorifying Depp," another commented. "It's also kinda dumb because your abuser could hear you order it and figure out exactly what it means. Pick a less obvious name."
"If I heard 'Johnny Depp shot' I'd be so curious as to what that is. Kinda defeats the purpose of being discreet," another user commented.
"I do agree that everyone should have access to a discreet system by which they can alert the bartender for help," another user commented. "This is the exact opposite of that. 'Gosh, you know what we should do? Complicate the Angel Shot code by using the name of someone literally everyone knows was involved in a trial talking about abuse recently!'"
"Do they have a different named shot for the ladies in the other bathroom? I always wondered in case your date heard you order it. Like I know 'angel shot' is pretty commonly known now," another Redditor commented.
Depp Fans
But the discourse on Twitter seemed to focus more on Depp's "impact" rather than the concept of angel shots as a whole.
"A sign in the men's bathroom of a pub. He really is bringing awareness to male victims of abuse," Twitter user @lilylysandra wrote.
"There's a long way to go but Johnny is already making a difference for male targets of abuse," user @wonkamatters tweeted.
Newsweek reached out to u/lamodamo123 for comment.
Specialists from the Rape, Abuse, and Incest National Network (RAINN) sexual assault hotline are available 24/7 via phone (1 (800) 656-4673) and online chat. Additional support from the group is also accessible via the mobile app.