Johnny Depp's Team Played Monopoly to Ease Stress of Verdict
One of Johnny Depp's lawyers said on Wednesday that members of the actor's legal team played the popular board game Monopoly to ease stress as they waited for a verdict in the trial between Depp and his ex-wife, Amber Heard.
During an interview with Law & Crime Network, one of Depp's lawyers, Benjamin Chew of the Brown Rudnick law firm, was asked about his experience as the legal team waiting for a jury to reach a verdict.
"We were so tense that one of my colleagues bought a Monopoly game, so we played Monopoly in our little breakout room and I saw a side of some of my young colleagues that I've never seen before," Chew said during the interview. "But the second we heard that the jury was coming in, of course we folded up the game and then it was just our hearts were in our mouths."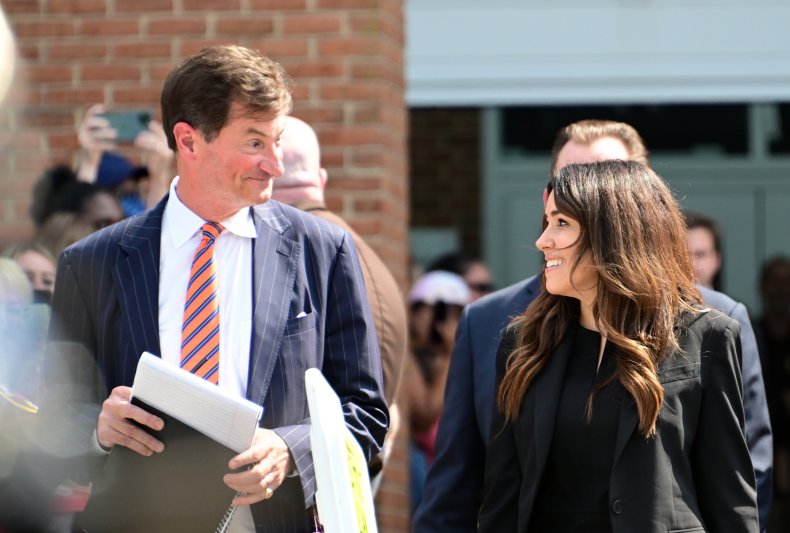 The remarks by Chew come one week after a jury ruled in favor of Depp's defamation claims made against Heard. A jury awarded Depp $5 million in punitive damages and $10 million in compensatory damages for a 2018 op-ed that Heard wrote in the Washington Post, claiming that she was a survivor of domestic abuse. Heard never explicitly named Depp in the op-ed.
The jury also awarded Heard $2 million in compensatory damages after she filed a counter-lawsuit against her ex-husband for $100 million.
Following Depp's legal victory in the trial, another one of his lawyers, Camille Vasquez, received a promotion for her work in the case.
"We are pleased to announce that Camille Vasquez has been elevated to partner. She was a key member of the litigation team that won a jury verdict last week for actor #JohnnyDepp in his defamation trial against ex-wife Amber Heard," the law firm said in a tweet earlier this week.
As the trial lasted numerous weeks and was broadcasted on several major news networks, Chew and Vasquez started to gain fame across social media. During an interview with NBC's Today show, the two lawyers were asked about the fame and popularity they gained since the trial.
"It's been overwhelming and surreal," Vasquez said in response. "But, to the extent that I can encourage young women to stay in school and maybe inspire them to pursue a legal career, then, it's all worth it."
The two lawyers also spoke with ABC's Good Morning America on Wednesday and spoke about the impression both Depp and Heard made on the jury, which ultimately led to Depp's legal win.
"I think that her impression on the jury was what it was. Something that I focused on and something we focused on in that cross-examination was using her words against her," Vasquez said during the interview.
Update: 06/08/22 4:39 p.m. ET: This article was updated with more information.