Johnny Depp said that he's "on the verge of a new life" as he received Serbia's Gold Medal of Merit as part of the nation's Statehood Day celebration on Tuesday.
The actor, 58, was handed the honor in Belgrade by Serbian President Aleksandar Vučić for "outstanding merits in public and cultural activities, especially in the field of film art and the promotion of the Republic of Serbia in the world," per website Balkan Insight.
"I truly, sincerely thank you, President Vučić, and this medal of merit, if I am given the honor to walk away with this, I thank you for being kind enough to bestow it upon me," the actor said after receiving his medal.
He went on: "I will stay true to it and I will do everything in my power to make this the embodiment of my commitment here."
Depp has worked on Serbian-related projects in the past, including shooting scenes for the movie Minamata in Belgrade.
In his speech, the actor spoke of new personal beginnings, as he said: "I'm right now on the verge of a new life and I like it, I like a re-beginning. And I would love for that beginning to start here in Serbia, if you'll have me."
Stating that he was "truly honored" to receive the medal, the Charlie and the Chocolate Factory star joked that he was "scared," before continuing his speech.
"I don't have lots to say, I'm not a good talker," said the screen star. "But from the bottom of my heart, from the very core of me, I humbly and [with] great humility accept this huge honor and I will never let it down."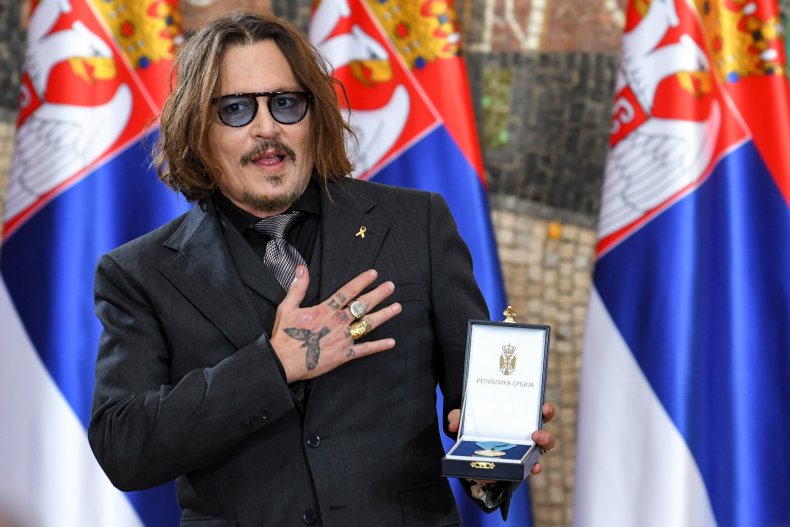 During the ceremony, the Hollywood star received honors alongside a group of individuals that included Kosovo war veterans and political representatives of Serbs in the Balkans.
Serbian Statehood Day observes the first Serbian uprising in 1804 that led to the Serbian Revolution against Ottoman rule.
Depp's honor follows a dramatic fall from grace arising from his November 2020 libel case loss against British tabloid The Sun, which labeled him a "wife-beater" in reference to domestic abuse allegations made by his ex-wife, Amber Heard.
As the trial concluded, the overseeing judge found that the U.K. tabloid's claims that the actor was abusive to Heard were "substantially true."
Amid the fallout from the high-profile London court battle Depp was "asked to resign" from his role in Fantastic Beasts 3. The veteran actor has since said that he has been boycotted by Hollywood.
While attending Spain's San Sebastián Film Festival, where he received the Donostia Award in September 2021, Depp spoke out against so-called cancel culture
"It's so far out of hand now that I can promise you that no one is safe," said the actor. "Not one of you. No one out that door. No one is safe."