Johnny Depp Wrote 'I Love You' In Blood With Severed Finger to Amber Heard
Johnny Depp used his severed finger to write messages to Amber Heard during a heated altercation, a court has heard today.
The incident occurred in a rented property in Australia in 2015 when Depp was filming the fifth Pirates of the Caribbean movie.
The 57-year-old claims the end of his finger was sliced off, when Heard threw a vodka bottle at him in a violent rage. Heard, however, refutes the accusation and says Depp caused the damage himself during a drink and drug binge.
Depp is in court today in the U.K. as he begins his libel trial against the publishers of British tabloid newspaper, The Sun, News Group Newspapers (NGN), for a 2018 article which referred to him as a "wife beater."
Depp said blood was pouring from his injured finger, and the bone exposed when he used it first to write in blood on a mirror before dipping it in paint to continue scrawling graffiti around the house.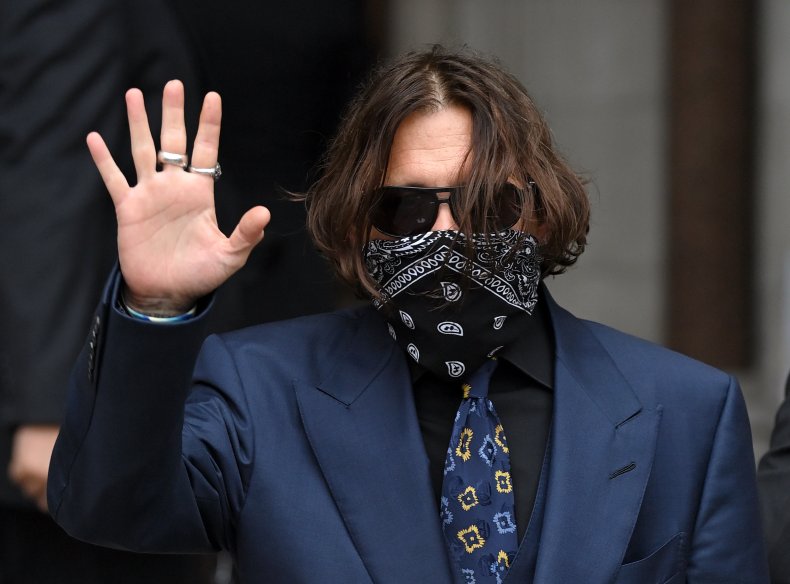 He told the court: "When I realized that the tip of my finger was missing, pouring blood profusely, tip of the bone sticking out, I believe I went into some kind of breakdown, some species of nervous breakdown. It was the end, I couldn't live."
He added: "For me at the time, it was the end and it was the end end", he told the High Court. "I was convinced it was not going to get any better and worse meant death.
"This is a message to her—good luck and be careful—in reference to her ambition to be a big star."
The court heard that Depp wrote a number of messages on the walls and mirrors, one of which was: "I love you." The court also heard that Depp was fixated on actor Billy Bob Thornton with other messages reading: "Starring Billy Bob" and "Easy Amber."
He is also allegedly wrote: "Call Carly Simon, she said it better, babe" in a reference to the singer's song "You're So Vain."
Sasha Wass QC, representing The Sun asked Depp: "Why did you feel it was more important to paint graffiti all over the house, that was not your house?
"It must have taken quite a considerable time. We will hear evidence of a lot of paint smeared around the house."
Depp replied: "I don't remember exactly how long it took me but it wasn't a long and drawn out process. It wasn't long before security were notified and help arrived."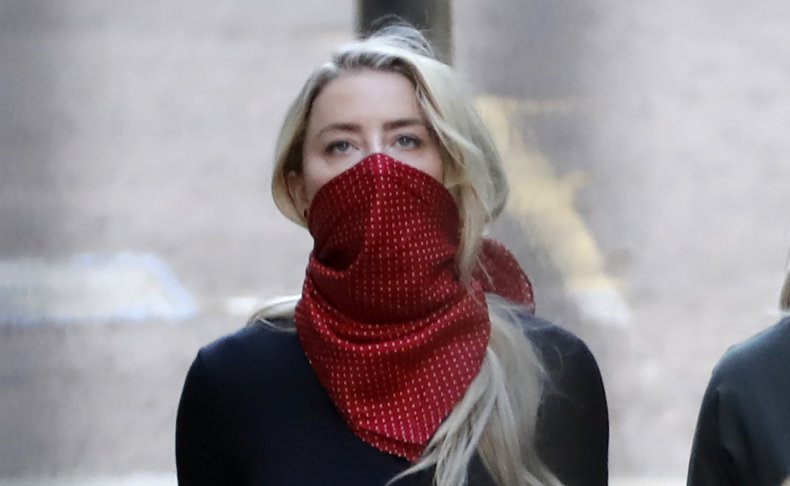 Wass said Heard claims she came downstairs to a scene of "complete carnage" with Depp brandishing his wounded hand and saying, "Look what you made me do. Is this good enough for you, this is what a f***ing idiot I am for loving you."
Depp denied this claim but conceded that he started to write on the mirror with his own blood.
Wass told the court: "These [pictures] are of the house—you had written on a mirror. You had dipped your injured finger in paint to write the graffiti."
Depp than clarified that the message was written in his own blood, adding: "Yes I started using the blood from my finger..."
During her cross-examination, Wass claimed Depp had violently attacked Heard during the fight—alleging he grabbed her by the throat and spat in her face.
Depp denied the claims, dismissing them as "fabricated and vicious."
During yesterday's testimony in court, texts were read out alleging to have been written by Depp to Paul Bethany which read: "Let's drown her before burning her. I will f**k her burnt corpse afterwards to make sure she is dead.''
Depp told the court: "I worked with Paul Bettany. He was a very close friend and he knew details about our relationship.
"He knew that when cocaine and alcohol came into the picture she didn't like him and she didn't like it."